Don Kavanagh tastes oodles of sparklies and finds only a few that please his palate.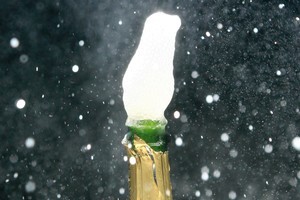 Ooh, the sun is shining, the weather is warming up - makes me think of bubbles.
Sparkling wine and summer are made for each other and there are plenty out there to choose from, whether you're looking for a cheap and cheerful number to knock off with a barbecue or a more sophisticated sort to grace a well-stocked table.
There is so much of it about, in fact, that it's getting confusing. New labels are appearing and entirely new styles are springing up as the wine glut continues to slosh about the tanks of the nation's wineries.
I've now tasted umpteen examples of sparkling sauvignon blanc, and most of them have been utterly vile. It's no wonder that new labels are appearing; if a winery put some of this stuff out under its own name they'd be ruined.
Many of these are simply excess wine that couldn't be sold as straight sauvignon so, instead, they've put it in a sparkling bottle and carbonated it. It's the equivalent of a fart in a bottle, really, and about as charming.
Happily, there are plenty of really nice bubblies out there that are well-made and taste lovely. And buying them needn't break the bank. It's perfectly possible to get a good sparkling wine for less than $20 and often less than $15 in supermarkets.
It's versatile, too. It matches well with a wide variety of food, from fish to desserts. And it comes in a range of sweetness, from bone-dry to lusciously sweet. The sweeter styles, often from muscat grapes, can be fantastic wines and while this may sound either very naive or downright ignorant, the humble Bernadino Spumante is a cracker of a wine that you can pick up for next to nothing.
At the other end of the scale it's hard to beat Champagne. Certainly there are spectacular local sparklers, but there is something magical about good Champagne that can never be replicated anywhere else. There are some really good deals on Champagne coming up, too, as we head towards Christmas, so watch out for them at your local liquor retailer.