From 40 degree desert heat to sub-zero snowstorms, Lisa Tamati has taken on some of the world's toughest races. The ultra-marathon runner tells Alan Perrott about pushing her body to the limit and seeing penguins in the desert.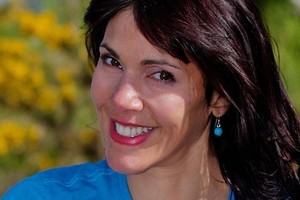 Back in July, Josh Paurini was working at cityfitness gym in New Plymouth, when Lisa Tamati hobbled over and asked for his help with an ankle injury. She'd torn ankle tendons on both sides of her foot and needed to get them right for a race.
"Okay, how long till you leave?"
"Two weeks."
"How far do you have to run?"
"222km."
"Where?"
"Across the Himalayas ... wanna come?"
So there he was, five weeks later, in a tangle of arms at the crest of a frozen pass in deepest Kashmir, hugging, crying, laughing and yelling for all he was worth.
Why? No idea really. All he knows is that he'd witnessed the most incredible feat he'll ever see.
Lisa Tamati calls herself an ultra-marathon runner, and a more inadequate description would be hard to find.
Hers is a unisex sport, where competitors push through physical and mental breakdown in an attempt to complete a course through the most inhospitable environments imaginable.
Several times a year, these men and women gather, without fanfare or fuss, to run hundreds of kilometres for days on end through deserts, jungles and polar wasteland.
And for what? To know they can. "They get so far gone they don't even know they're dying ..." says Paurini.
Only the best and maddest are allowed to tackle "The High" in the Himalayas.
It had been run only once before, in 2010, and every competitor ended up in hospital. Everyone, that is, except for the winner - and even he still hasn't fully recovered. Understandably, race organiser Dr Rajat Chauhan had to be talked into repeating the exercise.
When his decision was announced, Tamati's 43-year-old ears heard one thing: that the title of first woman to complete The High was still up for grabs.
Who'd have thought childhood asthma would lead to this?
As a young girl Tamati not only refused to give in to the condition but constantly dared it to do its worst. If she wasn't competing at gymnastics, she was surfing and swimming with her brothers or out in the bush, rock climbing, tramping and generally shunning anything that meant sitting still.
Come 1994, she was living in Austria after meeting a chap who'd whisked her away to see the world from a bicycle seat.
Her tipping point came three years later when the pair took on a risky and highly illegal trek across the Libyan desert in Egypt. Not only was it a restricted militarised zone, their water ration was barely two litres per day, about eight short of what was needed.
On top of that, carrying 35kg - two-thirds of her body weight - every day gradually deadened the nerves in her back, mangled her hips and spine, and pushed her kidneys to the brink of failure. It took her two years to come right.
Still, she wasn't put off: "I realised how much I love the desert. The landscape, the heat, the sun, everything about it. I just wanted to go back and do it again ... except maybe in a more controlled manner."
Then the couple heard about the Marathon des Sables, a six-day, 243km endurance race over the Moroccan Sahara desert.
While she hadn't jogged in years, let alone tested herself against a mere marathon, there was some logic to the challenge. In contrast to their Egyptian debacle, this event promised doctors and helicopters, 700-odd fellow runners, proper supplies, and far less weight on their backs.
What she hadn't anticipated was the adrenalised madness that swept them up.
"The atmosphere was just amazing, we were surrounded by all these positive, crazy people, all flying their national flags, and all preparing to push themselves to the limit. I just decided to live the whole adventure and eventually found out that I was bloody good at it. So, I was like, 'wow, gimme some more of that' and I became a runner."
The race is now so popular there is a three-year waiting list to take part.
Now, if this sounds vaguely appealing, Tamati missed out a few details. For starters, there are the blisters on top of blisters, chafing, dehydration, exhaustion, sleeplessness, vomiting, fainting and the mental torture that doesn't end once you cross the finish line.
Blogging after her fifth day of running in the Sahara last year, she said: "We went to hell and we stayed there a long time."
By rights, Tamati shouldn't even be a runner. It's only recently that she has been getting regular tests and, frankly, her lung capacity is so small doctors are amazed she jogs let alone crosses deserts.
No matter, she's happy being a below-average runner. If anything, that makes her achievements all the more remarkable. Take her Death Valley run in 2009. She finished 14 hours after the winner, meaning she spent 14 extra hours running on melted shoes in 57C heat.
What she lacks in lungs she makes up for in stamina and a stubborn refusal to give in. Which, while extraordinary, doesn't explain her motivation.
"The thing for me," says Tamati, "is that the days doing this are incomparable to anything else in normal life - and that's the good and the bad of it. You remember every moment of everything you go through because it is such an intense experience ... I'd liken it to soldiers in war. Obviously we're not being shot at, but we go through all that hardship, using all the endurance we can draw on, and come out of it with this bond with your mates that surpasses anything in daily life."
Oh, the stories they must share across hospital beds. Perhaps they'd share a laugh about "zombie running". This is the state where your brain is asleep yet your legs keep going. Ideally, a runner's support crew will step in, hold their charge upright, and stop them running off a cliff.
Then there are the hallucinations, another symptom of sleep deprivation, and this differs for everyone. Tamati sees penguins, mostly. "No idea why, maybe it's because of the heat and the longing for cold?"
She also imagined a bear in the Death Valley and was terrified it might attack, much like the rock monster that came from nowhere in Libya.
Of course there are always failures to re-visit as well.
In Tamati's case, hers was Niger. After contracting food poisoning on the eve of the race, she had set off with diarrhoea and vomiting, yet still managed to finish the 222km course. Her gripe is that she had to give up on the option of continuing to the big boys' 333km mark.
"That's my big failure, the one I didn't finish. I know I was dead sick and I can look back and think 'that's okay, you were stupid to push that hard', but I'm an A-type personality. I get over-focused sometimes."
Then to top things off, there is the post-race low. After around 30 ultra- marathons, Tamati knows when they're coming. But when your mind and body has been overwhelmed, the combination of adrenalin and serotonin exhaustion, coupled with messed-up hormones, will drop anyone into a deep, dark place.
Depression had been an issue for her before running, so she has a coping regime of shutting out the world for a few days, sleeping as much as possible, and waiting for Mum's chicken soup.
All the same, nothing prepared her for the Himalayas.
While "only" 222km long, the course crosses two of the highest mountain passes in the world. The highest point, at 5395m, is the Khardung La pass. Almost 2000m higher than Aoraki/Mt Cook, it's the highest driveable road in the world, and the air is barely breathable.
Obviously it was going to be cold - and it did drop to minus 6C - but when they hit the valley, the heat soared to 40C.
Preparation seemed key, so Tamati arrived in the town of Leh three weeks early to acclimatise. "It was a total balls-up," she says. What she hadn't known was that when open, the road carries a constant tide of military trucks. So, she had arrived expecting oxygen levels less than 33 per cent of that at sea level and then also found herself contending with a perpetual fug of diesel fumes. Given her asthma, this was a serious issue.
Then flooding forced the abandonment of one hotel, a tornado destroyed their tents, avalanches constantly blocked the road, she got food poisoning, one hotel owner practically stalked her, one of the seven runners dropped out in fear for her life and, to top everything off, Tamati's red blood cell count dropped, which meant she was getting even less oxygen to her muscles.
"I got very, very nervous. The locals were constantly telling us 'be careful or you'll die up there' and I started to think 'oh shit, what have I let myself in for? Can I do this?'
"Two crew members had almost died the year before, they fell asleep in their car with the windows up. When you're at over 5000m you don't usually wake up again. Then there was the day where two tourists arrived in the morning and died that afternoon. That was pretty shocking, but I was too committed by then, and I didn't want to fail. That was a huge motivation."
There was also the matter of the film crew who'd flown in to document her effort.
So, on August 11, six nervous runners and their crew cars set off. They had 60 hours to complete the equivalent of 5.5 high-altitude marathons.
The first pass was negotiated without much problem - aside from a few scares from the wild dogs that prowled at night - then everything changed in the valley.
"It was so hot we couldn't get out of the car to help her," says Paurini, a personal trainer and semi-pro basketballer. "She collapsed from sun stroke, so we threw her on the back seat and used wet towels to bring her round. Then she was off again. It was bananas."
After 45 hours, the climb to the second pass finally loomed. Three runners had gone through, but just as Tamati - mummified under as many layers as she could wear - closed to within 12km of the crest a massive snow storm hit.
"I was already having massive problems with asthma and hypothermia," she says, "then we were ordered off the mountain."
"Mentally, that shattered her," says Paurini. It was five long, cold hours before they could go again. Night was falling and Tamati's body wanted to shut down. Paurini and the two other crew members were soon fending off worried medics, claiming they had everything under control.
"But we had no idea," he admits, "we were just doing what she wanted. It was crazy, but she'd done this before and she knows her body."
Tamati was down to a slow walk and stopped repeatedly to gulp at the thin air. A United States medical unit provided a nebuliser, which helped but also added to the weight she was carrying.
"It felt like running five miles while sucking air through a straw," she says, "it was brutal and I had a few panic attacks."
They were almost at the top when Tamati had a meltdown. She was ready to give up.
"And I really wanted her to," says Paurini. "I'd have let her, she already had about 60 reasons to stop before we'd even started, but I sat back and let [Australian journalist] Chris [Ord] talk to her."
"He stopped me crying," says Tamati, "then he was yelling 'come back to me, concentrate on my voice ... you can't f****** do this to us, not after we've come this far'. So it was like 'shit, I can't let them down ... right Lisa, get up'."
Paurini was amazed. "She can go well beyond the best athletes I've ever seen. You just can't train for this stuff, it's 110 per cent mental. No matter how strong you are there is a point where all that's left is the willpower to go left foot, then right foot but by then they don't know who they are or what they're even doing and they're are just too tired to realise the trouble they're in. If it wasn't for the medics I'd say some would be history. It was incredibly humbling."
They reached the top and everyone broke down. "So emotional, just so emotional," says Tamati. "We knew, we've got this baby, it was just 30km downhill - and I can do that in my sleep if I have to. The bond that moment created between us, after the way they pulled me through, they're my friends for life. I can never say enough about them."
"I'm still buzzing from that part," says Paurini. "To stand there, knowing Lisa was safe, I was crying, I was laughing, I was hollering. It was like we had won a gold medal."
The race clock was still ticking, but the team marked the spot where they had stopped, took photos and video to prove they had made it, then headed down the mountain for a brief rest. They restarted at 4am and gently made their way to the end.
If Tamati was banged up, the woman who crossed the line first promptly began vomiting blood. Another was a complete wreck after hallucinating and getting lost. Crazy Ray Sanchez had collapsed over the line, then got up the next day and ran another 40km for kicks.
As he was doing so, and just to reinforce the dangers everyone faced, a bus drove off the road. Thirty people died.
So, what are Tamati's thoughts now?
"Well, I'm not doing that again. Sometimes, yes, it was too much and there are moments when I kick myself for doing it, but it's about testing your boundaries, finding out what's do-able and what's not. I'm not a masochist, the pain is something you just deal with. It's more about when you think that's it, I can't go on, and then, somehow, you pull it out of yourself anyway ... I mean we're all ageing, it's whether you want to wear out or rust out. We're living a life less ordinary, and yes, we might have a few issues we haven't dealt with, but who cares, it's a hell of a ride."
For now she's heading back to the New Plymouth jewellery shop she runs with her mother, Isobel Tamati, and trying to repair her destroyed back.
A film documentary on her Himalayan adventure should be out in December, and until then she has speaking engagements to do and an upcoming health and fitness TV show, The Fit Club, on Maori Television.
Otherwise, her eyes are set on the 100km Antarctic Ice Marathon run. The average windchill temperature this time will be around minus 20C.
She even invited Paurini to join her again.
"Yeah, she asked if I wanted to go," he says. "I told her, 'don't even bother calling me. I love you as a friend but there is no way I'm going down there. Call me when you go somewhere warm.'"
The Fit Club begins on November 3 at 8pm on Maori TV.