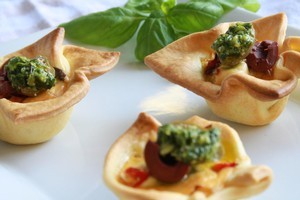 Kelly Young creates a mixed antipasto dish with a difference.
Antipasto tarts
2 sheets savoury short pastry, cut into little squares
24 x 6cm baking paper squares
½ cup uncooked rice
1 cup mixed Delmaine antipasto products:
- Pitted black olives, halved
- Caperberries, halved
- Chargrilled red capsicums, diced
- Marinated sundried tomatoes, diced
- Marinated artichoke hearts, diced
- Marinated feta, crumbled
3 eggs
1/4 cup milk
1/2 tsp Colman's mustard powder
Sea salt and freshly ground pepper
Delmaine fresh basil pesto to taste
1. Preheat oven to 180ºC. Spray 2 x 12 mini muffin tins with oil spray.
2. Line the tins with pastry, leaving a little bit sticking out of the top. Line the pastry with baking paper squares. Divide the rice between the 24 pastry cases to add a little bit of weight and blind bake for 10-12 minutes.
3. Drain Delmaine antipasto products in a sieve to get rid of any excess moisture.
4. Whisk together the egg, milk and mustard powder.
5. Add the drained antipasto products, except for black olives and caperberries, season and mix.
6. Once pastry has been blind baked, remove from oven and turn up heat to 200ºC.
7. Remove baking paper and rice, carefully spoon antipasto mixture into the pastry cases and bake for 25-30 minutes until golden brown.
8. Allow to cool for 5 minutes then remove from moulds and top with half an olive, a caperberry and basil pesto.
Good nutrition
Reducing the fat content in meals is often just about finding alternatives. Filo pastry typically contains 4 per cent fat compared to some shortcrust varieties that would be around 20 per cent fat. To make this recipe gluten-free simply remove the pastry and make an antipasto frittata.
* The Chef's Apprentice concludes tonight on Prime at 6.30.