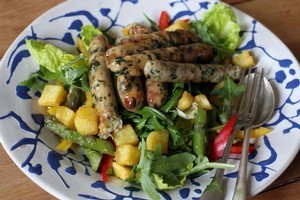 In all honesty, who doesn't like a decent sausage?
Whether we call them "snags" (an Australian term), "bangers" (an English moniker given to their ability to explode on cooking) or "snarlers" (Kiwi slang), a good sausage is a joy to eat.
But it's been through some trials over the years. At the height of nouvelle cuisine, I made scallop mousse-filled offerings. This entree sausage was poached and served with beurre blanc (ridiculous). I ate andouillette on a train between Dijon and Lyon - a sausage made with tripe and innards, boiled and served with mustard sauce (revolting).
A sausage should be true to its description - have identifiable ingredients and not be filled with too much fat or fillers (breadcrumbs or cereals).
If you are frying, barbecuing or grilling, prick the casing with a fork and cook gently on a medium heat. The sausage needs time to cook through to the middle and the skin should be browned, not charred.
I cook sausages by putting them in a baking dish with enough water to half cover, put them into a medium oven and turn them occasionally to encourage all-over browning.
Sausages don't always need to be used intact. Taking a good sausage out of its casing gives you a great meat mix to use in pasta sauces and ragouts. Fry gently with finely diced onion and garlic, add a can of diced tomatoes, and cook down until you have a sauce to use on pasta or soft polenta.
Good sausages are always appreciated. Here are a few ways to use some I have recently eaten.
Liz's Sunday Night Sausages
8 Harmony Organic Beef and Bacon sausages
8 slices of streaky bacon
1 Wrap a slice of bacon around each sausage and secure with a toothpick. Fry the sausages on a medium heat, turning regularly until nearly cooked through.
2 Heat a little olive oil and a tablespoon of butter in a small saucepan over medium heat. Add 2tsp of finely chopped sage and cook for one minute. Add 2 sliced onions and a pinch of salt and cook, stirring regularly, for 20 mins or so, until the onion is softened and golden. Remove the onion from the pan and set aside.
3 Add another tablespoon of butter to the pan and stir in 3 tablespoons of plain flour. Cook for one minute. Gradually whisk in a 1/4 cup of beer and 1 cup of beef stock, whisk in 1tsp of tomato paste and allow to come to the boil.
4 Return the onion to the pan and mix well. Bring to the boil and then reduce heat and simmer, stirring regularly, for 10 mins or until the gravy is thick (add more beef stock if it gets too thick). Stir in a little more sage. Season with salt and pepper.
5 Layer the bacon wrapped sausages in an oven dish, pour over the gravy and cover the dish. Cook for 20 mins in a medium oven. It is essential to serve this with mashed potatoes.
Party food
Pigs in a blanket and devils on horseback are winners whatever the crowd. Make a dough by blitzing 2 cups of self-raising flour, a tbsp of butter and ¾ cup of milk in your processor.
1 Roll out to a thin layer on a flour-covered surface.
2 Spread some grated tasty cheese over the pastry
3 Cut into elongated triangles and roll around a piece of Freedom Farms Traditional Pork sausages, each cut into three.
4 Brush the dough with a beaten egg to glaze and put on a greased baking tray.
5 Wrap pitted prunes in a slice of Freedom Farms streaky bacon with a toothpick to hold them together.
6 Put on a baking tray. Place both in a medium oven and cook until the bacon is sizzling and the dough has puffed up like a scone (the pigs may take longer than the devils).
7 Arrange on a platter and serve with some chutney.
Bangers in buns
This is great nosh for a late-night offer at the end of a party.
1 Before the party, slow cook onions - finely slice the onions and add some butter and oil and, if you like, a bit of beef stock. Season well with salt and pepper.
2 Cook gently in a heavy pan, adding water to slow the process down until the onions colour. Drain on a paper towel.
3 Cook some good beef sausages in the oven as above (I used Hellers Angus Pure). This can be done earlier and the sausages reheated before making up the rolls.
4 Split some white rolls, spread with mayo, fill with a few crisp iceberg lettuce leaves, add a sausage and top with the onions. Offer mustard and your favourite chutney.
Lamb Koftas
I used some Grey Lynn Butchers lamb merguez to make these koftas.
1 Gently remove the casing from the sausage and divide into three, reforming the filling into a bullet shape.
2 Place on a baking tray and put in a medium oven till cooked through. Remove and drain on a paper towel.
3 Skewer with a bamboo stick.
4 Serve with a dish of natural yoghurt with some chopped parsley, mint, lemon juice and zest mixed through and, if you like, a swirl of pomegranate molasses.
Chorizo and Silverbeet Tart
Chorizo sausages have usually been smoked and cooked and can be eaten without further preparation, like a salami. You need to cook fresh chorizo. I cooked some Grey Lynn Butchers fresh chorizo sausages in the oven and then sliced them to make a tasty open tart. If you buy a ready-to-eat chorizo, you only need to slice them to make this.
1 Line a large pie tin with shortcrust pastry (I used bought pastry) and chill until ready to fill.
2 Cook the fresh chorizo, drain on a paper towel then slice or, if using ready-to-eat chorizo, simply slice (allow 3 slices per person).
3 Mix eggs and cream together (allow one egg and 1/3 cup of cream per person). Season with salt and pepper.
4 Shred silverbeet leaves.
5 Grate tasty cheese or crumble some feta.
To assemble the tart
1 Spread the shredded silverbeet into the tart shell.
2 Sprinkle with the grated cheese or feta.
3 Pour over the egg /cream mix and dot the sliced chorizo on top.
4 Bake in a medium oven until the pastry is cooked and the filling has puffed up and coloured - at least 15 minutes.
5 Serve with a simple salad made from very finely sliced red onion, diced fresh tomato, a squeeze of lemon juice and a splash of olive oil, with salt and pepper to taste.
Sausage salad
The humble sausage has become bespoke in the hands of Sausage and Associates. Here's a way to make the most of their distinctive flavour.
1 Cook some asparagus spears and some peeled boiling potatoes until tender. Drain and dry, then cut the potatoes into small cubes.
2 Gently poach some Sausage and Associates' chicken, rocket and sage sausages (2 per person). When cooked drain and keep warm.
3 Shallow fry the potato cubes in oil, drain on a paper towel and keep warm.
4 Make a bed of torn cos leaves, rocket, sliced peppers and the asparagus on a large platter.
5 Heat some good olive oil in a pan and whisk in some lemon juice to make a hot vinaigrette.
6 Arrange the warm sausages and potato cubes across the salad base and pour over the hot dressing. Serve immediately with some crusty bread.

Contacts
Grey Lynn Butchers: 531 Great North Rd, Grey Lynn, ph 09 376 3567. Sausage and Associates
www.sausageandassociates.co.nz
Freedom Farms, Harmony Pork and Grey Lynn Pork are all SPCA Blue Tick certified. Grant Allen has been a professional cook for 30 years. He works as a caterer in Auckland. www.facebook.com/pages/COOK/129548833745200