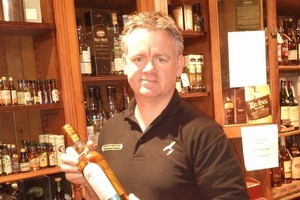 Bart Burgers is the proprietor of the Whisky Shop in the heart of Auckland City, specialising in single malt whisky. Burgers' passion for whisky is surpassed only by his knowledge, which he will be bringing to the Whisky Masterclasses at Taste of New Zealand.
What attracts you to whisky?
Whisky for me is a lifestyle, it's not just something that comes and goes, it's a totally absorbing entity. I breathe, read, live whisky, it encompasses my life, a total passion. I was a teenager in Dundee, Scotland when I tried whisky for the first time - it was love at first sip. I brought some home and shared it with mates who loved it, I went to tastings, and got to know people in the trade.
The popularity of whisky seems to be increasing. Why do you think this is?
In 2002 the availability of whisky was nowhere as good as it is now. This has changed due to people such as myself importing whisky - and key players in New Zealand who conduct tastings.
They have opened the eyes and the palate of public. Now there is about 10 times more choice than there was a decade ago.
Which region is your favourite for whisky?
I would have to say Islay, an island on the West Coast of Scotland where there are eight working distilleries. And of those, my favourite is Ardbeg. However all the whisky on Islay has a profound taste - smoke and peat. Heat source makes a difference to the peatiness of a whisky, some distilleries use a combination of heat sources, but Islay uses peat bog, which is vegetable matter like bracken, that dies off and is absorbed by the ground. They dry the peat bog, which produces a dry burnable fuel which in turn creates oil and smoke that coats the barley kernels in a residue. This is what gives whisky a particularly peaty flavour.
What makes a good whisky?
One of the most important factors is people. The staff at a distillery who understand the trade, know the timing and sample regularly will ultimately effect the taste of the whisky. But it also depends on the stills - a high neck still will produce a lighter style of whisky, whereas a low neck with a short distance for the heavier gases to rise will be heavier. Barrel management is very important. Most distilleries use oak barrels which have had previous occupants - wine, bourbon or sherry (which adds a nuttiness) to name a few. And finally water - most distilleries are built near an abundant water supply, and some use hard water, others use soft - they both have their pros and cons. Whisky must mature for at least three years, anything under that isn't whisky, it's called White Dog.
Is watering your whiskey down a sin?
I don't think so, all whiskies have to be at least 40 per cent alcohol - under that then they won't be called Scotch whisky. Some companies water their whisky down at the bottling process, so if someone wants to water that down, they're diluting something that's already diluted. When whisky isn't watered down at the factory it's called cask strength and the consumer can add water to dilute to suit their taste.
What is a highlight of your whisky master class?
All 21 classes. The whole schedule is at whiskyshop.co.nz. But for me personally the chance to meet "newbies" in the whisky drinking industry and passing on knowledge about what single malt whisky has to offer is an absolute privilege.