Growing up in Samoa gave chef Michael Meredith an appreciation for seasonal, fresh food. During the Rugby World Cup finals week he will put his Pacific background on display in a special VIP dinner.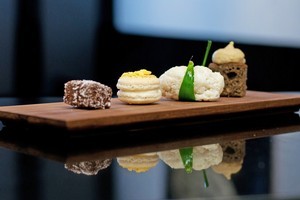 It's not often Michael Meredith gets nervous. The award-winning chef behind Mt Eden fine-dining establishment Meredith's is used to dazzling diners with unusual combinations and textures. But 800 is a lot of people. That's how many he's cooking for, including Prime Minister John Key, top rugby players and other VIPs here for the Rugby World Cup. During finals week they'll be guests at the Westfield Style Pasifika: Best of Pasifika fashion event, at which Meredith and Martin Bosley have devised a three-course dinner with a Pasifika theme. And though Meredith is confident in the dishes, the success of the event will largely come down to how well it all unfolds on the night.
"I know the idea of the dish, the flavour, and I trust the concept but I've got to times that by 800. I want to make sure I've got the base flavours right and the seasoning correct. It's a challenge. But it's a cold dish too, so that will help."
This year the event will run for two nights, including a public event and the VIP show Meredith and Bosley are catering for. The New Zealand fashion showcase as a Pacific Island nation will this year mark a certain sporting event, with one-off rugby-inspired designs from competing countries, as well as Kiwiana creations from local designers.
Meredith's entrée is a play on ceviche, served with raw scampi tail and Pacific flavours of coconut, avocado, passionfruit and grapefruit with a lime dressing. His fellow chef, who runs Wellington's famed Martin Bosley's Yacht Club Restaurant, has come up with the main course, and two of the four desserts. Meredith's sweets include his take on the Kiwi classic, a simple chocolate and coconut lamington, with chocolate mousse rather than sponge. The other is a Pasifika macaron with a fruit-infused biscuit and passionfruit butter cream.
"Everything that has influenced the way we think and cook and breathe we had to bring together to showcase on the night," says Meredith, whose Pacific island upbringing comes through in his cooking. Growing up in Samoa gave him an appreciation and grounding for where food came from, and of eating seasonally - if something wasn't available, it wasn't on the menu. Food was prepared above ground in an umu, which gave the food a crispy texture. He remembers eating a balanced diet of protein and starch - fresh fish and taro - and coconut cream in just about everything. His family would eat what they'd grown and harvested, the animals they'd slaughtered, and from his mother's pancake stall. In later years the local cuisine came to be influenced more by Chinese and European cultures, with chop suey and corned beef becoming popular. There wasn't much sugar in the islands and he coveted apples which were expensive.
"It was a basic life, and we came to understand the whole cycle of life."
At age 12, Meredith and his family moved to New Zealand, where he couldn't wait to try his first apple. Instead of last night's leftovers and taro, he began to eat Weetbix with milk in the mornings. Cold breakfasts were a new experience but cooking for the family was not - he'd been doing that since he was 8, a typical chore for young people in the islands. Meredith learnt to cook under the guidance of his mum.
When he decided to take his cooking more seriously in his 20s, his attention turned to French cuisine, cooking with French techniques and ingredients. As a young man Meredith didn't think of Samoa as a glamorous culture food-wise but once he'd gained confidence he began to look to his identity for inspiration.
Those fortunate enough to have experienced the degustation menu at his restaurant will already appreciate how memory is at the heart of Meredith's food. They would have no doubt delighted in the playful nostalgia of classic dishes such as bacon and eggs (Meredith's is a gourmet version in which the wait staff pour over a stock into which the diner is invited to break the yolks and swirl), of beetroot meringues forming a kind of luxury party food, and of course, the Pacific elements in his dishes, from oysters served with limu (seaweed), to his chocolate and coconut fruit desserts.
"As you get older you start thinking about your heritage and your background, things that you remember as a child. I always try to bring those memories back into my cooking."
Not so long ago it would have been tricky to pinpoint what distinguished New Zealand cuisine, other than our fondness for pies or the fact we add beetroot and egg to our hamburgers. Now, it's a different story. Unlike the Chinese, Spanish or French cultures, says Meredith, our food scene is exciting because it's so new and in the process of developing.
"We're a melting pot of cultures so we're very open to ideas. The English have their meat and veg, now you're seeing the influence of Polynesians, Chinese... We're open to trying things and I think that's the exciting thing about it. We're developing our identity in the world, and it has a unique flavour."
* Westfield Style Pasfika 2011, on October 18 and 19 at Vector Arena, celebrates our unique story through lighting, staging, sound, fashion and performance. Cultural, traditional and contemporary elements come together in a 90-minute spectacular. This year includes designs from the world's best for Rugby World Cup including John Rocha, Yojhi Yamamoto, and Elizabeth Emanuel, alongside NZ's World, Zambesi and Sabatini.