When she's not writing cookbooks or filming her cooking show, Annabel Langbein is thinking up new ideas to add to her business.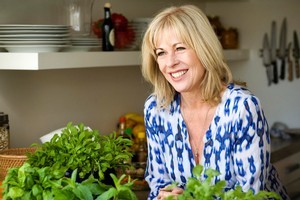 On arriving at Annabel Langbein's elegant Remuera home I couldn't help but think: this is a far cry from her television show, Annabel Langbein The Free Range Cook. There she's seen foraging in the wilds around Lake Wanaka, where she and husband Ted, have a holiday cabin and luscious garden, and cooking up the spoils in her rustic kitchen.
At her substantial Auckland residence, it's much more Martha Stewart than mucking in. With a function to prepare for later that night, Annabel Langbein HQ is a busy hive of activity with staff arranging flowers and making sure the food supplies are all sorted. Langbein herself has been out to yoga and shopping for shoes. But when she does turn up, she looks every bit the advertisement for living "the good life" as she likes to describe it.
Langbein is on a roll. On the day we meet she's only days away from heading off to Europe to promote herself as "The Free Range Cook", her first stop being France where she'll launch the French edition of Annabel Langbein The Free Range Cook, the cookbook that accompanied the TV series.
It's going to be called Annabel au Naturel in the French market, a title that makes her giggle with glee.
After the whirlwind tour, which includes a party at the residence of the NZ ambassador to France as well as the Frankfurt Book Fair where she will host a morning tea for 150 media people, Langbein returns to New Zealand just in time to launch her new book, Annabel Langbein Free Range in the City, at the opening night of the Taste of New Zealand Festival in Auckland's Victoria Park on Wednesday October 19. There she will join international chefs Rick Stein and Gary Rhodes as well as a great line-up of local chefs for the four-day festival celebrating our food and hospitality industry. And, as if that's not enough, planning is under way for the next series of The Free Range Cook.
Langbein confesses she's having the time of her life. "I feel as though I've just started," she tells me when we sit down to talk. "Food is in my DNA and there's nothing better than being able to share what I know with others. I love it and it feels fabulous to be doing this at this time in my life."
Langbein has been working steadily in the cookbook and food writing business for a long time. She published her first cookbook, Annabel Langbein's Cookbook, back in 1988 and since then it's been almost a book a year as well as putting in the hard yards with radio, live cooking demonstrations and magazine appearances, to build the business so that one day she can achieve "global domination by spatula".
Her energy and focus is impressive and Langbein is the first to admit that her achievements would not have been as possible without the support of husband Ted and her team of staff who assist with bringing her "tonnes of ideas" to fruition.
Yet it is also obvious that it is her own driving ambition that is the primary force behind the brand. It is rare to meet someone so single-minded with regards their goals and yet she admits it hasn't always been that way. "To qualify for a New Zealand Trade & Enterprise grant a few years back I had to complete a business plan and that was the best thing for me. Prior to that, I had got what I wanted - not from any carefully laid plans but rather through determination and hard work. But it took its toll doing it that way, it was exhausting and I took things too personally. Now it's easier, it's a business and decisions are for the good of the business."
How did the whole "free range" concept originate? Langbein explains that she had an epiphany of sorts some time ago during a time when she was feeling tired and worn out. Reflecting on how settled and relaxed she always felt holidaying in Wanaka with her family she wondered how she might bring some of the rituals from there back to her busy life in Auckland.
Always an avid gardener she noticed that whenever she got out to tend her garden, whether in Auckland or Wanaka, it always grounded her in ways that were difficult to explain. So did the yoga, the conscious slowing down to accommodate friends and take time out alone or with family. And with this came her own way of involving food and cooking in her life, keeping it simple, unfussy and seasonal to ensure that it was "fun and easy". It got her thinking that she could share her ideas with others. According to Langbein, it's too easy to get caught up in the fast pace of our everyday lives and forget that cooking and growing your own produce is therapeutic on not just a physical level but also an emotional one. It's "good for the soul" she repeats again and again throughout our conversation and while it's hard to disagree, I can't help but think that it must also help to have a team of staff, including a gardener and the aforementioned flower arrangers, to pitch in.
In saying so, that doesn't detract from Langbein, who appears every bit the trooper and woman of action prepared to do what it takes to get what she wants, and she has that rare combination of a business brain and a penchant for creative thinking.
Her new book is testimony to how creative and "spilling over with ideas" she is at the moment. The new book is packed full of recipes - 223 in total. How does she come up with all those recipes and tips for easy cooking?
"I'm curious, always have been, and I just love food so I am forever on the lookout for what others are doing and good ideas. Last month I was in a great Mexican restaurant in Melbourne eating a wonderful salad of theirs and all the time I was busily putting it together as a recipe in my head - in fact you might even find my version of it in my latest book."
Certainly her latest book contains recipes that cross the globe in their influence - from coconut tamarind prawns to Tunisian chicken salad to strawberry limoncello tiramisu - but the common factor seems to be her continued focus on simplicity and making cooking and entertaining as stress-free as possible.
Just before I leave, we take a walk around the raised vegetable beds at the Auckland property and Langbein shows me her latest installation - a worm farm. She's excited about it as it fits with her philosophy on minimising waste and trying to lead a lifestyle that's sustainable, even in the heart of the city. "My very favourite thing is inspiring people with fun, easy-to-prepare recipes", and you can't argue with that.
VIP Viva
Taste of Auckland is back - but this time it's called Taste of New Zealand, and gives you the chance to enjoy the best of our restaurants all in one location. Each participating restaurant will be serving unique tasting menus along with a selection of top wines, and a whole host of leading food producers will be sampling and selling their wares. The concept is a hit in cities such as Milan and London, and this year's festival will be back among the trees at the lovely Victoria Park from October 19-23. Viva is delighted to have four VIP tickets to the afternoon session on Friday October 21, along with $80 worth of festival currency each to spend how you wish, exclusive exhibitors goody bags, and reserved seats to join Viva's restaurant critic and television personality Nici Wickes in the Fisher & Paykel Chefs Kitchen for a cooking session.
Click on this link to enter the draw.
Follow the prompts on the screen and enter this week's key words "Taste Festival".
Entries close on Monday October 10 and the winner will be announced on Wednesday October 12.
* Readers can download six free preview recipes by clicking in the link.
Langbein will be giving a cooking demonstration at Taste of NZ at Victoria Park in the Fisher & Paykel Kitchen on Friday October 21 from 12.30pm-1.15pm. The festival runs from October 19-23; see Taste of NZ for timetable and ticketing info.