Annabel Langbein continues her quest for world domination with a new book.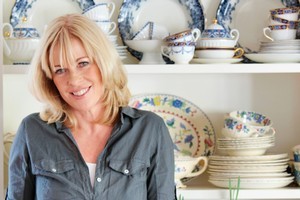 Television cook Annabel Langbein may have a huge smile on her face when she says her mantra is: "World domination by spatula" yet she's clearly not joking about the extent of her ambition.
With international book sales nudging two-million copies and her television show The Free Range Cook running in 79 territories, she's already a global force to be reckoned with when it comes to matters culinary.
It's all part of a concerted plan to make unpretentious cooking from seasonal ingredients more accessible to home cooks everywhere.
"I looked at what I wanted the future to look like and imagining that future helped set a course. That future looked at people all around the world being excited about cooking and wanting to engage in exploring their own creativity and just discovering the pleasure of food and that through food it's a really simple way to have a good life," says Langbein.
"What fascinates me now is that idea of culinary anthropology. Food is a conduit to culture, to community. It's the bridge that joins us."
About five years ago, after seeking and gaining permission from her family, Langbein deliberately and painstakingly set out on a path to achieve her goals.
"I hired a couple of brand experts from New York and worked with someone who used to run the Food Network in America. And I started looking strategically at where the gaps were, what people are looking for [and did] lots of market research."
When her You Tube video clips of two-minute cooking lessons caught the eye of executives from FremantleMedia, Langbein was summoned to a meeting in Cannes which culminated in the words: "We want you to be a star."
Seed money funded a pilot show of The Free Range Cook which was test-marketed before Langbein was given the green light to produce a thirteen-episode series. (Filming for a second series begins soon.)
She seems a trifle overwhelmed at the favourable reception the series - which is set in and around Langbein's photogenic cabin in Wanaka - has garnered internationally.
"Uzbekistan," she says with disbelief. "And it's on in Brazil at the moment and I get tweets from people in Brazil. I don't think I ever understood the power of television; it's huge."
Langbein laughs good-naturedly about the Telegraph review of the cookbook which accompanies the television series.
"That was quite funny, really," she says of the somewhat dismissive review which begins: "Langbein is the epitome of the modern-day TV cook. She's blonde and cheerful, grows her own veg, spends time in a lakeside cabin and produces delicious stress-free food without losing her cool. If you can stand the thought of all that you'll like her book which does indeed portray an annoying idyllic life."
Idyllic it may well seem yet Langbein holds that it's the sheer authenticity of her work that helps give it such mass appeal.
"It's real, it's our cabin, everything you saw we grew. It's very honest and it has an integrity. I didn't have a squillion-dollar kitchen. I had a $20 gas-burner. It's not about stuff; it's about engaging with people and nature."
She attributes some of her success to good timing in responding to people's desire "to feel that they can take something back from this oppressing industrial food-chain".
Her core message about harvesting, cooking and eating fresh, local, seasonal produce is one that has been under threat in the wake of globalisation, the rise of fast-food giants and a yen for ready-made meals.
"I think we're at risk at the moment because we've got this huge global industrial food-chain taking over so much of what we eat and the consequence of that is diabetes and obesity and it's a huge cost to people personally as well as to the economy."
Langbein - who, as a member of the Sustainability Council of New Zealand, is involved with concerns such as water quality, bio-security, climate change and genetic modification - takes a softly-softly approach to communicating her views about the politics of food and its production, distribution and associated issues.
"I didn't use any plastic on The Free Range Cook but I think people get really turned off if you shove things down their throat."
Rather, she hopes that her subtle, almost subliminal, messages about simplicity and largely shunning packaged goods, may be absorbed by viewers and readers.
Activism aside, at heart she's a true foodie.
"I get withdrawal symptoms if I don't cook. I am obsessed about food. I just have to cook."
Even on holiday in Hua Hin, Thailand, Langbein needed her cooking fix and spent a few days observing in the kitchen of the Sofitel hotel.
"I learned to make the most amazing green papaya salad, pad thai and delicious green curries. You're seeing it from the local cooks so it's much more real."
Similarly on sabbatical in Sicily, when her children - Sean, now 19, and Rose, 17 - were little, Langbein befriended a local restaurateur who allowed her to "sit up on the bench and watch them cook. I've always had that curiosity".
It's this single-minded drive to immerse herself in the world of cooking rather than any formal chef qualifications (she holds a Diploma of Horticulture from Lincoln University) that has prepared Langbein for the role she now holds on the international stage.
In fact, she believes being self-taught makes her well placed to demystify the process of cooking for others.
"I think laterally so I'll go: 'Okay, I've made that salsa verde and that's a handy thing. Now I'm going to smear it over a piece of chicken and roast it. I'm going to purée it with avocado and make a different kind of guacamole.' So I'll give people trigger ideas that can then encourage their own creativity."
Langbein freely admits she has a "really big vision".
Living visited her Auckland home on the eve of her trip to France for the launch of Annabel au Naturel, the local version of her book The Free Range Cook.
Her new 220-recipe book Free Range in the City proves that an urban location is no impediment to cooking her uncomplicated style of cuisine.
"The idea [is] that if you're living in the city you can have this free range life by going to farmers' markets, growing some herbs on the windowsill, developing a community."
Having grown up in Wellington, Langbein left home aged 16 to live and work "hippy style" along the Whanganui River. For a few years she handled chainsaws, operated heavy machinery, recovered deer, cleaned up cemeteries and painted marae.
"Annabel was a bloody good girl," wrote one of her employers from those days.
"I was a possum trapper. My poor parents," she says.
Husband Ted, whose support she is most grateful for and who she first encountered while "poaching possums" on his Gisborne farm, is now an integral part of the unstoppable Annabel Langbein juggernaut.
As the brand gains momentum offshore, it's likely they'll spend more time in Europe. Evidently, there's also "a deal on the table" in the notoriously difficult-to-crack US market.
So what does Langbein make of her extraordinary journey from average Kiwi mum to bona fide global phenomenon?
She beams her trademark smile and says: "I feel I'm just at the start-line."
* We have three copies of Annabel Langbein's latest book Free Range in the City (RRP $59.95) to give away. To enter the draw please email your name and contact details to living@hos.co.nz with "Annabel Langbein" in the subject line by tomorrow, Wednesday October 5.