The latest trend in London - and California - is raw food. Journalist Samuel Muston gives it a go.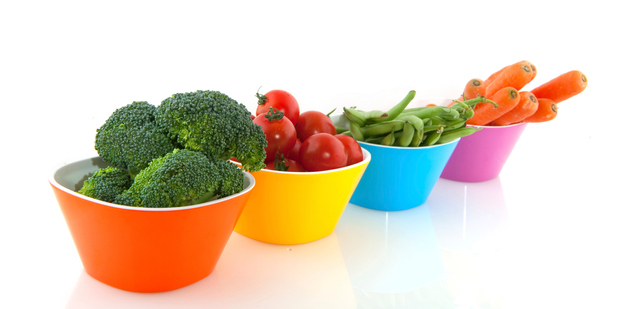 Bring up the topic of raw food at the dinner table and most people will start suppressing smiles and exchanging amused glances. If they've heard of the gastronomic trend towards eating only uncooked fruit and vegetables, they probably associate it with Californian health fanatics, hippies and the more full-on wing of the animal rights movement.
No longer is that exclusively the case, though. After bubbling along quietly, the raw food revolution is starting to gather pace - and celebs are leading the way. Thom Yorke, Moby and Keira Knightley have all been eating raw food in the name of optimum health and mental wellbeing. And Demi Moore has spoken of the glowing hue it lends to the skin of devotees.
But if you're not a health-conscious rock star, or Hollywood actress, isn't a diet of uncooked food a little, well, dull? In the name of culinary inquisitiveness and with a little help from London food company Raw Fairies, I decide to give my oven the week off and try my hand at being a "rawie".
Monday
Constipation and rashes are two words you don't want to hear in connection with your lunch. But according to nutritionist Gareth Edwards, a raw-food specialist at London's Hale Clinic, that is exactly what I can expect from my new diet. "If you've spent your entire life eating meat, drinking coffee and throwing salt on your food [yes, yes and yes again] your body is going to be quite shocked when it suddenly only gets lots of veg, salads and fruit, so you should expect a period of detoxification." Detoxification, he explains, can be quite tough. As well as an upset stomach and pores secreting the accumulated grime of 23 years living high on the hog, I should expect light headedness and lethargy.
"No two people react the same, of course, but after about 10 days you should start to feel the positive effects." Demi's raw food glow? "You might indeed get the raw food glow." Some comfort, of course. By lunchtime, however, I'm worried that if I was to do this for 10 days I'd end up maniacally lusting after cheese toasties and never be able to face a lettuce leaf again. For now though, I've got an Italian salad with balsamic dressing to deal with, and it is surprisingly filling.
Tuesday
Eating a diet that consists of only uncooked fruit and vegetables requires a certain change in mindset. You have to regrind the lens through which you view food. Breakfast this morning, for instance, sounded promising. Raw Fairies' chia pudding with blueberries conjured images of raw pastry, thick blueberry puree and a few chias, whatever they might be, sprinkled on top. When it arrived there was no pastry, the blueberries were a modest presence and the chia (which turned out to be seeds) looked like translucent caviar. It tasted, however, quite delicious: thick and viscous like porridge but sweeter and not as heavy.
Christina Agnew, a trained nutritionist and a director of Raw Fairies, is not at all surprised I enjoyed it as much as I did. "The chia seeds breakfast is one of those things that our clients go wild for," she says. "It does look rather odd, you could say a little like frogspawn, but that's because of the way we prepare it. We loosely follow an old Mexican recipe which calls for the seeds to be soaked overnight in nut milk. The milk gets partially absorbed and causes proteins and omega 3 fats to burst out of the seeds. It looks unusual, but tastes delicious."
And that's the thing about this type of food; when you're presented with raw mushrooms, brown-green smoothies and gelatinous seeds, the accumulated prejudice of 20-odd years of eating cooked food says: "this probably isn't going to taste very pleasant". But, when it reaches the tastebuds, it's a different story.
Wednesday
I'm starting to feel like a cheat. I may be a little peckish, but I'm not getting along too badly as a rawie. But, then again, all my food is being prepared by a chef and delivered to my door. How easy would it be to go raw if you didn't want to subsist on salad? Isn't raw-food cookery, with its dehydrators (a sort of room-temperature oven used for reconstituting vegetables), overnight soakings and sprouting jars a bit tricky and technical? "Nonsense. It's incredibly easy," says Kate Wood, the author of the definitive raw (un)cookbook Eat Smart, Eat Raw (Grub Street). "None of the recipes in my book takes more than 30 minutes to prepare and you can do nearly all with normal kitchen kit."
Her five-minute broccoli dip certainly passes the quick and easy test. A mix of sprouting broccoli, lemon, onion, yeast flakes and sea greens, it was incredibly moreish, and fantastic smeared on dehydrated raw onion bread. Her recipe for sesame seed mayo (available to download here) also passed muster.
Kate herself is 100 per cent raw - as are her three teenage sons, by choice, she points out - but she isn't prescriptive. "Once you get used to the "strange" notion of not eating meat and not cooking everything, you see that this is actually a pretty nice way of eating and you don't need to be raw exclusively, you can dip in and out," she says. "Look at it like going for a curry or Japanese food, it's simply a different way of eating, not a lesser form of cuisine."
Thursday
The spinach quiche looks pretty good; tastes good, too. Especially seeing as it doesn't contain any butter, eggs, flour or milk. Buckwheat fills in for the pastry and cream derived from spinach takes the place of dairy products. Cured tomatoes give the dish a tangy edge. I'm at Saf in Shoreditch, London's first gourmet raw-food restaurant, coming to the end of a delicious dinner.
Fatih Guven, a seventh-generation Turkish chef and the only raw foodist in his family, is head chef, and Joe McCanta, also a rawie, is the head mixologist and the man behind the restaurant's pimped-up smoothies and fruit cocktails. I drink CBK - pear, carrot, pineapple and a cayenne pepper - and feel rather perky. They look like they don't need perking up. But despite exuding good health, they aren't preachy. "We didn't want Saf to be some alternative lifestyle hangout. We didn't win the awards we have - a Zagat rating, an Evening Standard award and AA rosette - by just dishing up salads and hippy philosophy. We're an inventive, gourmet restaurant that just happens to be raw," says McCanta.
Every one of the recipes is their own creation, Guven points out. "We don't start from the perspective of how can we recreate a cooked dish and substitute ingredients? We work with raw flavours and create dishes around them. And sometimes you end up creating whole new types of food. I'm incredibly proud of our cashew cheese, a first of its kind, for instance. This type of cooking is very innovative." Their philosophy of healthy hedonism translates well into real life. After trying the five-course tasting menu, I leave with a spring in my step, feeling far from sluggish.
Friday
Claude Bosi, chef patron at double Michelin-starred Mayfair restaurant Hibiscus, isn't overly impressed with my new diet, however. "It is rather limited - you are definitely denying yourself some wonderful flavours," says the Frenchman. "Though, of course, it is a very healthy way to live."
And maybe he has a point. Unless you can afford to eat out at Saf every evening or have a changing menu of food delivered to your door, one of the great joys of life - the joy of eating - can quickly get lost in all that cold food. And as full of vitamins, carotenoids and minerals as my diet has been this week, I've often felt hungry and the weight I've lost - five pounds - has pushed me below my ideal BMI.
That said, there have been compensations: my palette seems to have become more responsive, for a start. The earthy flavour of beetroot seems to have a slightly sweeter tinge to it and I find myself recognising new flavours. And, massive change, I no longer start my day with an espresso; I feel fresh and alert in the mornings without one. And call it self-delusion or wishful thinking, but I could swear my skin looks pretty healthy, too.
- INDEPENDENT