They have always been linked but the fashion world is increasingly looking to the art world for inspiration.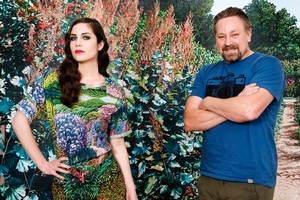 Let us take a stroll through the gallery of fashion for 2011: to your left, the lush, hyper-real gardens of Auckland-based artist Karl Maughan. Up ahead, the iconic brushstrokes and palette of a Vincent van Gogh. Next to that, a haunting Gillian Wearing photograph; a twisted, larger-than-life dollhouse by Dinos Chapman; and Boo Ritson painted models wearing Jil Sander womenswear. There, a piece from Max Gimblett on a T-shirt, various wordplay prints by Sydney based artist Nell, followed by an intricate, digital print by Auckland artist Andrew McLeod. And finally, an Alexander McQueen inspired dress made out of lettuce.
This is not a list of somebody's fantasy fashion art gallery. It is the state of fashion right now: Maughan's florals appear at Stolen Girlfriends Club, van Gogh at Rodarte and Max Gimblett's brushstrokes recently walked the Workshop runway at NZ Fashion Week. Wearing's work is on the cover of POP magazine, while Ritson paints, and Chapman collaborates with photographer Nick Knight for the soon to be launched art-fashion magazine Garage.
Gimblett has worked with Workshop, while the work of Nell features on pieces from Australian label Romance was Born and McLeod's prints on pieces from Jimmy D. And that lettuce dress? Well, that's part of a series of food as fashion appearing in Garage.
But is it art? The same has been asked of fashion for centuries.
It could be somewhat of a stretch to consider the wearability of local designers as "art", but haute couture? Definitely. Manager of Auckland art gallery Gow Langsford, Anna Jackson, agrees that fashion can be art, "although in some ways the two were more closely related a hundred years ago when the definitions of what art can be were less defined, or rather less theorised.
An artist, for example, may not have differentiated between a painting and a textile fabric that would be reproduced many times in the same way that an artist today might. Today a textile designer, painter, and fashion designer have quite different and distinguished roles".
The relationships between them all, however, have been longstanding; from French couturier Paul Poiret, who immersed himself in the artistic world and considered painters as his colleagues, to fashion designer Elsa Schiaparelli's famous surrealist collaborations with artist Salvador Dali.
The world of fashion today continues to draw much of its inspiration from the arts (the immediate visual appeal is obvious, and an artistic inspiration or collaboration can also lend an intellectual air), whether it be subtle references to what designers see hanging on the walls of a gallery, the interesting lives of artists themselves, or a more literal interpretation of an art-fashion print collaboration.
Christian Dior's 60th anniversary couture show in 2007 was a blatant celebration of fashion as art, featuring outfits inspired by and referencing various painters, fashion illustrators and photographers.
Locally, Kate Sylvester and Twenty-seven Names are two brands that often look to the art world - Sylvester's "Art Groupie" collection in 2008 was influenced by surrealism and art muses, while an earlier 2004 collection referenced an imagined collaboration between artist Jackson Pollock and fashion designer Claire McCardell.
Wellington-based label Twenty-seven Names has used various art practices in its campaigns and collections - "All of our favourite inspirations come from the art world," says co-designer Rachel Easting, who studied fine arts. A sew-it-yourself patchwork tee with the phrase "Words Tend to be Inadequate", from a couple of seasons ago, paid homage to Tracey Emin's appliques and Jenny Holzer's truisms, while their "Twelve" campaign imagery for spring/summer 2012 featured groups of models in reference to the work of artist Vanessa Beecroft. A recent exhibition held as part of NZ Fashion Week earlier this month showcased a collection with a palette was lifted from Edouard Manet's The Balcony.
This idea of fashion looking to art is common, and Gow Langsford's Jackson believes that the enduring relationship between the two worlds is due in part to their similarities.
"Although there are obvious differences they are in many ways the same thing - both subject to and creators of trends, style and taste; and both ultimately reflections or indicators of the cultures and time in which they are created".
But what of art looking to fashion?
Some of the artists already mentioned have mutual relationships with the fashion world, looking to and using elements of the industry in their work: Beecroft often uses fashion shoot aesthetics, and for her piece VB35, chose to work with Gucci for the wardrobe; while at the opening of the Louis Vuitton store on the Champs-Elysees in 2005, she placed her models on the shelves next to the displayed luggage.
Cindy Sherman has used the imagery of fashion photography in her work, with her various fashion series in the 1980s and 1990s; and has collaborated with the likes of Comme des Garcons, Marc Jacobs and Balenciaga.
But are you ready to be walking art, for your dress to be a wearable canvas? This season especially, local fashion seems to be harbouring a desire to be taken seriously, with collections that have some culture and intellect behind the fabric. These are less about subtle inspiration and more of a collaboration; explicit ideas of walking art and literal use of artistic prints.
The vibrant gardens of artist Karl Maughan formed the basis of Stolen Girlfriends Club's spring/summer collection, with stunning textile prints featuring variations of Maughan's 2009 work Kumeroa.
Maughan first met Stolen Girlfriends Club's creative director Marc Moore at a popular Auckland cafe, and the idea of a collaboration grew from there - the artist offered various works to be used as prints, and Moore selected Kumeroa.
He explains that though Maughan's work appears to be picture-perfect, there's a sinister edge; a contrast that inspired the collection as well.
"We reflected the image in Photoshop in two different directions. The result is a modern, futuristic kaleidoscope eye puzzle of flora with a twisting garden parth."
These stunning printed pieces, everything from T-shirt dresses to palazzo pants and denin jackets, will arrive in store early next month.
A bold blue floral that featured in a recent Karen Walker collection, and will return as part of her upcoming Resort range, is another local artistic collaboration, using a well-known hydrangea photo by Derek Henderson - a photographer who works across art and fashion. He is one of several local photographers now working on books that blur the lines between art and fashion: his involves nudes of model Zippora Seven, with illustrations from Kelly Thompson, while photographer Craig Owen, who has shot for numerous fashion magazines, is working on a book of images of model Ngahuia Williams.
Workshop is a local pioneer of fashion-art collaborations, with relationships with various high-profile New Zealand artists including John Reynolds John Pule and Martin Popplewell. For winter 2012, they have worked with Max Gimblett, a collaboration that debuted at NZ Fashion Week earlier this month - two styles within the collection referenced Gimblett's incredible archive of work: a skull and quatrefoil print touched on ideas bought forward by his 1998/9 Herald and 1994's Delacroix & Caduceus; while various handpainted pieces looked to 1995's The Red Sea and 1998's You Can't Chase Two Rabbits. The New York based artist explained in the press release that, "crossing over from art to fashion was seamless and makes all the sense in the world".
Another artist-designer collaboration showcased at NZFW was that between Jimmy D designer James Dobson and Auckland-based artist Andrew McLeod. The pair has worked together before, and continued their partnership for next season with an incredibly detailed print described as being reminiscent of ancient tapestries - featuring iconography, chinoiserie, Japanese woodcuts, colourful circuitry, brain scans and flowers (there's also a camel hidden in there).
Dobson explains that the Silk Road print came from a series of the same name that McLeod had exhibited at Ivan Anthony Gallery.
"For me, I imagined this cult of witches, with a long history very reminiscent of the Silk Road, borrowing from various ancient cultures and religions - but they were also very much about the future and new technology. This clan of "warrior witches' are from the future while still retaining their very primal and elemental history."
It's a stunning collaboration, and a perfect match too - the black-loving pair initially bonded over their mutual love of Norwegian black metal. But some art-fashion collaborations can find their charm, or quirk, in their unexpectedness - like one for spring/summer between Australian street brand Something Else and Ken Done, an artist synonymous with tourist kitsch.
Others stand out for their ambition - at New York Fashion Week last week, the most obvious fashion-art connection came at Rodarte. Designers Kate and Laura Mulleavy offered an homage to Vincent van Gogh, with pixellated, abstract prints featuring some of the artists most iconic works - Starry Night, Sunflowers, Almond Blossoms.
After the show, Laura explained that the artist's brushstrokes infused everything in the collection: the palette, embroidery and the designs.
"Every decision we made, we asked: Could this be part of a Van Gogh painting?"
The pair was inspired by various Van Goghs they had seen in a museum, and also their own art history studies.
There are less literal collaborations between art and fashion too: that of the financial contribution. Money exchanges hands in these print collaborations, sure, but some fashion houses choose to lend their support in other ways: like the US$200 million (NZ$242.6m) Louis Vuitton Foundation for Creation art museum, set to house LVMH head Bernard Arnault's collection of artwork (it will reportedly open next year).
Miuccia Prada and partner Patrizio Bertelli have built a large-scale gallery in Milan, and have been long-time supporters of art - they established the Fondazione Prada in 1995, and have exhibited pieces from their vast collection, which includes works from Louise Bourgeois, Damien Hirst and Maurizio Cattelan. Prada has an Carsten Holler slide in her office.
Next year, the Metropolitan Museum of Art in New York is reported to be holding an exhibition looking at the work of Prada and Elsa Schiaparelli, another fashion designer closely related to the art world. But Prada says she refuses the connection between art and fashion, and to the Telegraph, made the line between the two explicit.
"A designer can be very creative, but art is something that stands by itself, and fashion is something you sell."