The New Zealand influence has seen cafes and restaurants in Britain paying more attention to early diners.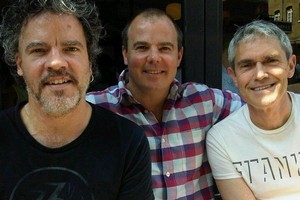 Eating Peter Gordon's trademark tangy Turkish eggs, I feel like I'm being transported from Covent Garden to the familiar surrounds of Ponsonby Rd. I'm at Kopapa, the Providores founder's ambitious venture with former Gourmet Burger Kitchen owners Brandon Allen and Adam Wills, which has boldly taken the Wanganui-born chef's fusion stylings into the heart of London's West End.
"The first time we had them [the Turkish eggs] on at Providores we did them traditionally, which has raw garlic whipped into the yoghurt with the poached eggs and chilli butter," says Gordon of the moreish dish. "People were having it for breakfast at 9.30 on a Monday morning and were going 'there's raw garlic in my eggs', so we dropped that quite quickly. We also do eggs with yuzu hollandaise and our own smoked salmon. Both restaurants do a bacon and a vege fry-up. It's a good mix of traditional and funky."
The Seven Dials establishment opened only last December and has quickly become a favourite place for expat Kiwis and native Londoners alike to kick-start their Saturday or Sunday with a delicious, sophisticated meal before moving on to the nearby theatres and high-end shops.
And unlike the more compact Providores in nearby Marylebone High St, you don't have to wait in line around the block for ages before finding a precious table.
"At Kopapa every seat apart from the bar is bookable whereas at Providores it's not," says Gordon. "Some of our regulars at Providores now go to Kopapa because they can have something fairly similar and not have to queue. But there are others who have been to Kopapa but prefer the Provy, while others prefer Kopapa. Both client bases are probably fairly similar but there are some Providores regulars who live nearby and have been coming almost every weekend for several years. There's also a farmers' market behind us in the Waitrose carpark, so a lot of people do their shopping and then come in to grab a coffee or some eggs. There isn't such a regular clientele at Kopapa but then it's still quite new."
London's brunch scene was almost nonexistent when the Providores arrived 10 years ago. "When we first started, it was quite an unusual thing to do," says Gordon. "Restaurants certainly weren't doing brunches because it was considered cafe-style but since then a whole wave of brunchy places have opened up. It's now become an important part of the British weekend. In the early days, we were mainly supported by Kiwis and Aussies because they were used to it from back home and it was something that wasn't happening here."
One of Gordon's original partners, the Modern Pantry's Anna Hansen recalls that brunch has always been an important part of the Providores remit. "It was big there and it's been big at most places I've worked in my career," she says. "Because of the whole cafe culture, even restaurants are now opening for brunch because there are so many people out and about enjoying it. It's a good opportunity."
While brunch has been an integral part of the Clerkenwell-based Modern Pantry's business plan since it first started trading in 2008, Hansen believes coffee is the driving force behind the upswing.
"They go hand in hand," she says. "People are now more inclined to seek out good coffee and brunch rather than just go to their local greasy spoon, which still has a place. Everybody loves a greasy spoon but it's also nice to go somewhere with nicer surroundings and with maybe a bit more providence to the ingredients that are being used."
The Modern Pantry's coffee is supplied by Caravan, which roasts its beans in the basement of its restaurant in nearby Exmouth Market.
"There's been a coffee culture in New Zealand for a long time and that's slowly starting to feed through here," says Miles Kirby, who formed Caravan with Wellingtonian Chris Ammerman in 2008. "It seems to have been happening pretty rapidly over the last year or so. We've seen some other brunch places and coffee roasteries opening and some of them are doing exactly what we're doing, which is quite flattering."
Head Chef at the Providores for five years, Kirby is a member of the so-called "brunch bunch", alongside his former colleagues and good friends Gordon and Hansen. "Brunch is an important part of what we do but we're not just about poaching eggs," he laughs. "Anna and Peter's food is also amazing in the evening and lunchtime and I like to think that people come here and enjoy the food at other times of the day as well."
Their answer to Gordon's Turkish eggs, baked eggs in a tomato and pepper ragout, is one of the most intriguing items on Caravan's menu and with its delicate combination of North African spices it doesn't disappoint. "We cook it in a small balti pan, break the eggs on top of it and throw it in the oven so that the egg and the sauce become one," says Kirby. "We then put some grilled chorizo on top if you want, with yoghurt, parsley and olive oil."
While traditional fry-ups are still popular, you can also opt for cornbread French toast with bacon, rocket and tomato or some homely coconut bread.
"That's been on there since we started but we change the toppings with the seasons so it comes with poached nectarines at the moment," says Kirby, who believes that Caravan's fare is more down to earth compared to Gordon and Hansen's more fanciful food. "We all grew up in New Zealand and had the same breakfast experiences, so there's bound to be similarities. We're a bit more rustic, which suits our whole brand. It's a totally different feeling having brunch at Providores, where it's a rather formal affair upstairs although it's more relaxed downstairs. You come here and the music's turned up. It's a fun place."
While the time of day has its in-built constraints, Hansen doesn't rein in her natural instincts. "The limitation is that you're having to think about what people are going to want to eat, which is stuff like eggs, but I wouldn't not use a crazy ingredient because it's breakfast time," she laughs. "I would still use tonka beans or turmeric to do whatever it is that I normally do but I would consider the timeframe within which it is eaten.
"Our waffles have cassava in them and we've been doing them with Russian fudge and bacon. We've also been doing our ricotta pancakes with goat's curd, liquorice and apple compote. It's a safe offering with a little bit of a twist."
However, Gordon maintains that it is easier to experiment earlier in the day. "For brekky, you can have a vanilla verjus syrup, which we serve with bacon, bananas and pecan French toast," he says. "If we were to turn that into a savoury lunch or dinner with the same sort of ingredients in a slightly different combination, it might be too left-field. But for breakfast, people are used to having salty and sweet in the main dish - like a mango salsa with some bacon, smoked salmon or chorizo."
According to Nikki Stewart from Shoreditch's recently opened Long White Cloud, Kiwis and Aussies are fond of eating bacon with banana. "English people think it's a bit strange to begin with but then they really like it," she says. "We do them with French toast and agave syrup, which is a bit healthier than maple syrup."
Praised by Time Out for their "good as gold" Kiwi grub such as corn fritter stacks with bacon and sweetcorn and cheese on toast, Long White Cloud is the latest in a long line of antipodean cafes that also includes Pacific Social Club in Hackney Wick, Bethnal Green's Allpress and Chiswick's half-New Zealand, half-Argentinian Lola and Simon.
Local outfits like Brighton-based Bill's, whose Covent Garden branch is just down the road from Kopapa, have also upped their game.
"We keep getting asked to extend our breakfast and brunch dishes further on into the weekend," says founder Bill Collison, whose bubble and squeak mustard mash with fried eggs, ham and hollandaise will leave you wanting more. "On Saturday and Sunday, people rise later and want breakfast at 2pm, especially if they've had a heavy night out on the town the night before."
Even where I live in suburban Teddington, you don't have to settle for mere bacon and eggs. You could tuck into a smoked salmon frittata with goat's cheese or a chorizo and pepper omelette at Girasole cafe or try Shambles restaurant's special Italian brunch of polenta cake or focaccia with mortadella ham.
Elsewhere Dishoom in St Martin's Lane's Bombay Breakfast of bacon naan roll with coriander and tomato chutney is worth investigating while Negril on Brixton Hill adds some Jamaican spice to the traditional full English.
But with sheer delights like Kopapa's Turkish eggs, the Modern Pantry's famous sugar-cured New Caledonian prawn omelette with coriander and smoked chilli sambal and Caravan's baked eggs, the Kiwis cannot be beaten.
"The English have always loved fry-ups for breakfast and they've always gone out to eat in the mornings, particularly at weekends," says Kirby. "It's just been about taking those ingredients and making them better, putting good coffee with them, improving the service and creating a good environment. The culture has always been there, it's just been about refining it."