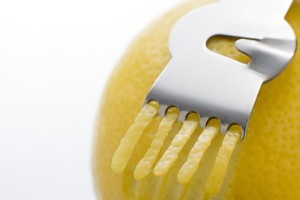 A lemon tree is one of the most worthwhile small trees to have. The best fruit are produced when the tree is planted in full sun and fertile soil with adequate moisture.
Varieties:
* Lisbon - large hardy tree, best crop late winter/spring;
* Yen Ben - smaller fruit, fruits in July;
* Eureka - ever-bearing, doesn't tolerate extremes of heat or cold, heavier summer crop;
* Genoa - smallest lemon tree, heavy crops in summer;
* Lemonade - bears July/August;
* Villa Franca - similar fruit to Lisbon and Eureka, ripens in summer, good for subtropical climates;
* Meyer - hardy tree, good fruiter year-round, sweet lemon, more frost tolerant than others.
In the kitchen:
Lemons are used in sweet and savoury dishes. Skins can be pickled, candied, preserved or zested. Try zesting lemon skin and combining with caster sugar into whipped cream for a delicate topping on meringues.