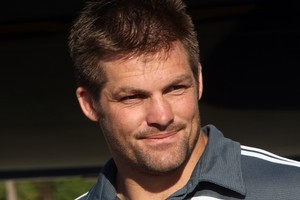 Until about a week ago I honestly believed I would be able to ignore this Rugby World Cup circus.
I know it's the 'national game' but it's not a sport that's ever captured me in the way it seems to grab most of my compatriots. So while I was aware the tournament was imminent I thought perhaps the sum total of my involvement would be partaking in an office sweepstake.
How wrong I was.
Emerging last Friday from the cosseted world of Fashion Week I saw a city reborn. The newly-renovated Wynyard Quarter was packed with people enjoying meals and drinks at the myriad restaurants that have sprung up. Every fifth car appeared to be covered in World Cup-related bunting and when I ventured back into the office I found team flags strung from the ceiling.
I'd have to be asleep to miss the fact this tournament is about to kick off and - surprisingly - I think I may be starting to get just a teensy bit excited about it.
I should mention at this point that my lack of interest in rugby isn't entirely my fault. It just wasn't on my radar growing up.
Perhaps the fact that my mother is Swiss and my father spent his formative years in Singapore has something to do with it. Sitting down as a family to watch 'the game' never featured in my childhood.
My paternal grandparents incidentally, both of whom are New Zealand-born, are certainly fans. I'm told Grandpa even played a bit at Mt Albert Grammar back in the day - so the family's not an entirely lost cause.
I have felt at times over the years that I must be missing out on something. And I have tried to take an interest. But to no avail.
Over the years I asked successive boyfriends - most of whom seemed to enjoy watching the odd match - to explain the game's rules to me. And I'm sure they tried, but at the ripe old age of 29, I still don't understand all that rucking and mauling business.
I've tried to watch the odd game on telly, I really have, but there's something about the stop-start nature of play that seems to make my mind drift off - which is saying something as I've been known to watch televised sailing regattas for hours on end.
I just cannot comprehend what it is that fascinates other New Zealanders so. There seem to be whole tracts of the game when you can't see the ball at all as it's buried beneath a pile of limbs.
While living in London I did go to an All Blacks game at Twickenham but I honestly could not tell you what the final score was or, indeed, who won.
I do remember that it was bitterly cold and illustrated to me once and for all that sitting in an open-air stadium in the middle of winter watching grown men chasing an oval ball around just wasn't my cup of tea.
Best left to people like my flatmate at the time - another ex-pat Kiwi who would regularly get up in the middle of the night to watch, not only All Blacks games, but provincial teams' matches as well.
Now that's commitment.
Here, in no particular order, is what little I do know about rugby:
* A game lasts 80 minutes.
* Scoring a try earns a team a certain amount of points, which can be augmented if the person assigned to kick the ball - often Dan Carter in the All Blacks' case - manages to convert it (that is, get it between the posts).
* Drop goals are another way to gain points.
* Passing the ball forwards to another member of your team is not allowed.
* The game was invented in England.
* Richie McCaw is the current All Blacks captain.
* Jonah Lomu apparently did something quite impressive during the 1995 Rugby World Cup... which may or may not have been held in France.
It's fair to say then that I'm no expert, but I'm starting to think this tournament may be the one that finally addresses my long-standing ambivalence towards the sport. There's an air of celebration seldom seen in this country and I don't want to be the party pooper.
Besides, I hardly have a choice in the matter.
I was keen to visit Sydney-based friends over Labour Weekend but my husband informs me that's finals weekend... and we won't be going anywhere.