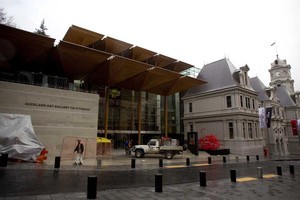 The refurbished Auckland Art Gallery throws open its doors to the public today, revealing a grand design for the country's greatest treasure trove of New Zealand and international art.
Gallery director Chris Saines says the $121 million heritage restoration and glittering expansion heralds a renaissance for the city, already thrilled by the Wynyard Quarter and the new Q Theatre.
Alongside the 1887 French chateau-style building, Australian firm Frances-Jones Morehen Thorp in association with New Zealand firm Archimedia have designed a 14.5m high entrance atrium featuring a series of dramatic kauri canopies, permanent and temporary artworks, including a colourful floral chandelier by Korean artist Choi Jeong Hwa.
With the exception of the Grey Gallery - originally the city's public library - the increased gallery floor plate has a totally new look and feel.
The old East Gallery has been returned to its former glory and renamed the Mackelvie Gallery, to honour James Mackelvie, a Scottish collector and early patron.
International art curator Mary Kisler says work on the gallery is a real celebration of craftsmanship.
The biggest drawcards are 15 works by the likes of Picasso, Matisse, Mondrian, Dali and Cezanne being donated by American philanthropist Julian Robertson and his late wife Josie and flown out this week in the billionaire's private jet from New York to go on show until October 31.
Another attraction is Toi Aotearoa, a chronological story of New Zealand art. The lower Grey Gallery is dedicated to New Zealand art from 1900 to 1965.
The art gallery opens to the public at 11am today. About 800 of the 15,000 artworks in the collection will be on show.