Get in the mood to party with these small but perfectly formed treats.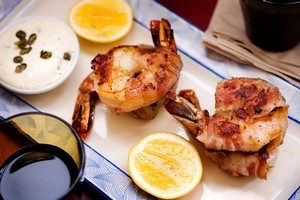 When you're mixing and mingling at a party it's nice to nibble on delicious morsels that don't require a juggling act of napkins, plates and glasses. One dainty mouthful is all it should take for your guests to enjoy a taste sensation to accompany their drink of choice.
Social gatherings demand fashionable food that still allows time for conversation. The recipes today are quick, tasty and look good - especially when presented on a special platter or two.
First up we have winter vegetable fritters. I have made these with a combination of kumara, parsnip and carrot, but grated pumpkin, yam and a little potato and silverbeet would also work well. Just make sure all the ingredients are grated or finely chopped to ensure they cook evenly. Sage is fried briefly and removed from the pan just as it becomes transparent. A little mascarpone adds another texture and is topped with the crisp sage leaves.
Prawns can be as large and luscious as you can find but remember that these recipes are all about managing easily without mess. I wrap them in pancetta and then cook them in a pan or on the grill until golden and the pancetta almost turns into a salty delicious crust. Offering a lemony caper aioli is deliciously refreshing.
The third recipe is for tiny fish cakes, which are encrusted with sesame seeds. These can be made from any fish you choose and are easily whizzed in a food processor with mint, chilli, a little fish sauce and lime. A finely diced melon salsa adds colour and a clean, fresh flavour and you only need a little spooned on each before plating.
So enjoy making these wee canapes and be aware of keeping platters topped up and offering plenty of small napkins [and somewhere to put them]. Platters with a few leftovers rolling around and empty bowls of sauces are never very inspiring.