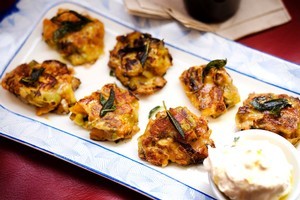 Makes approximately 24
2 cups grated raw winter vegetables or finely diced cooked vegetables - carrot, kumara, yam, pumpkin, silverbeet
Salt and freshly ground black pepper
100g plain flour
1 tsp smoked paprika
1 tsp finely grated lemon zest
2 Tbs parmesan, grated
1 egg
Olive oil
Fresh sage leaves
Mascarpone
1 Put the vegetables into a large bowl and season.
2 Stir through the flour, paprika, lemon zest and parmesan. Whisk the egg and fold through.
3 Heat a frypan and add enough olive to barely cover the surface. Cook small spoonfuls of the fritter mixture until golden on both sides. The cooking time will vary depending on whether you are using raw grated vegetables or cooked.
4 Drain on paper towels. Wipe out the pan and add more olive oil. Cook the sage leaves briefly - until they become transparent and before they change colour. Drain on paper towels. Serve the fritters with mascarpone and top with the sage leaves.