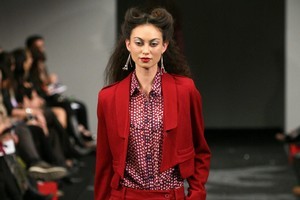 Sending a bold purple winter coat down the runway first was a strong reminder that Andrea Moore knows her stuff when it comes to tailoring - and it seems colour.
There will be no dull grey moments next winter with this collection.
A sharp take on the tuxedo suit in burgundy was a refreshing interpretation, along with coats in turtle green, bright blue cord and a rich teal.
Bold prints - think red zebra stripes and harlequin checks - were all presented in wearable wrap dresses, tunic tops and pretty blouses.
Beautifully styled by Jackie Meiring who showed just how to work this look.
OUR ONE-WORD REVIEW: Polished.