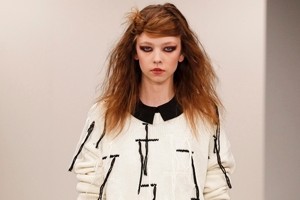 It may have seen the first technical glitch of the week - every producer's worst nightmare, music cutting out halfway through the show - but Blak's show was a confident, wearable take on a spooky fairytale theme.
Called Märchen, the collection looked to the dark side of fairytales, with models made up to look like a procession of haunted princesses - special mention must go to Jarrad Godman and Matt Templeton for the beautiful crowns of twigs on each girl - with a strict palette of black, white and blood red.
Silhouettes and fabrics were soft and billowy; while lace formed the backbone of much of the range, coming in various colours and styles - from a black lace cropped shirt to a lace sleeves on a shirt dress, a navy blue lace dress with dipped hemline and deep ruby hued dress with uneven hemline.
A long velvet dress with cobweb detail stitching, worn over a black lace long sleeved top was a stand out, as were the prints - including a quirky herd of horses reminiscent of a Florence Broadhurst, and an exclusive print featuring an intricate maze of chained hearts, thorned roses and scarabs.
The mystical theme isn't exactly a new idea, and often it can be translated too literally - but Blak designer Teresa Hodges' take on the theme was just subtle enough.
OUR ONE-WORD REVIEW: Spooky.