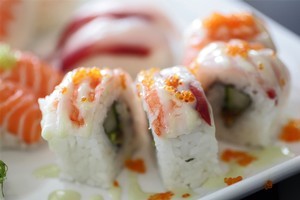 There comes a time in the pursuit of weekend leisure when eggs benedict and a double-shot flat white at the local cafe just doesn't do it any more.
Brunch is ticking over into lunch - is that the time already? - as you're still finishing the paper and trying to work out how you can postpone cleaning the guttering until next weekend. The stomach is rumbling - but you're hungry for something different.
The last time anyone counted Auckland had more ethnic restaurants than you have had hot dinners. (The term "ethnic" is contestable, of course, when Dine by Peter Gordon is serving ravioli with wasabi-flavoured fish roe, but in this context it means that there are likely to be items on the menu whose names you don't recognise or can't pronounce, or both).
The point is that, if Sunday is a time for adventures, it's a good day to try something different for lunch. The city's diverse dining scene gives you the chance to dip a toe in uncharted waters without forking out a fortune.
We've lined up a few of our favourites from the various culinary traditions easily accessed in a neighbourhood near you. Your scrambled eggs may never taste the same again.
Mediterranean
Mezze Bar
Address: 9 Durham St, Auckland City
Ph: (09) 307 0209
Website: mezzebar.co.nz
This place, which seems to have been around since the invention of food, is the ideal place to start if you are wanting to step out of your bacon-and-eggs comfort zone. Its menu, which takes a tour of the Med clockwise from Spain to Morocco, will tickle tired tastebuds without proving too challenging. The staff are efficient, intelligent and cheerful, sometimes dangerously so. Try Spain (meatballs in a sherry and tomato sauce); France (seared tuna on a salad of green beans and potatoes); Greece (kakavia, a rustic fish stew) or exotic dips with charred Turkish bread. It's easy to mix and match main-course sizes with smaller tapas dishes to share. For the indecisive or plain daunted, help is at hand: their website explains how you can set up a lunch, with a predictable cost per person, in which they will decide what you're eating. A companion and I enjoyed patatas bravas (a Spanish classic of chunks of roast potato with tomato salsa and aioli); skewers of grilled lamb with harissa (a superbly spicy Moroccan paste); and garlic mushrooms with chorizo (we mopped up the juices with chargrilled bread). They serve wine and beer but the delicious range of teas is worth exploring.
Cost per head: $25-$30
Must try: Pretty much everything, really, but the mussels with a Greek almond-and-garlic dip take some beating.
Yum Cha
Grand Park Seafood Chinese restaurant
Address: Alexandra Raceway (Gate B), Cnr Manukau Rd & Greenlane East, Epsom
Ph: (09) 638 6998
In Cantonese, "yum cha" literally means "drink tea". You should definitely do that when you have yum cha - tea is a better accompaniment than any liquor - but meanwhile eat "dim sum", tasty little dishes that you select from trolleys pushed past your table by staff announcing - usually incomprehensibly - what's on board. Aficionados will wisely advise you to steer clear of the deep-fried options, such as spring rolls (even if they do leave the local takeaway's for dead) though the taro dumplings, with their filigree floury shell, are sensational. Better still is the steamed stuff that comes in round bamboo boxes: translucent dumplings of prawn and watercress or pork and mushroom, plus chilli squid. Other highlights are tiny ribs of braised beef and packages of glutinous rice stuffed with chicken bits. Larger groups can share substantial dishes, such as rice noodle rolls and crispy duck or pork. It would take a spirit more adventurous than mine to risk the dessert trolley, which includes what looks like a brick of macaroni and small tarts with electric-yellow fillings. Make sure you ask for chilli and soy dipping sauces and turn your teapot lid upside down when you need a refill. Auckland has plenty of yum cha places, especially in the southeast, but Grand Park, which is always busy, is rightly regarded as one of the best and there is ample parking. The downside on Sundays is that they set a time limit of 45 minutes (an hour for big groups). The queues at the door explain why. No wonder "dim sum" means "touch the heart".
Cost per head: $25-$30
Must try: Siu mai (pork and prawn dumplings) are the classic dim sum; chicken feet look as appetising as they sound.
Peking Duck
Empress Garden Restaurant
Address: 27 Jervois Rd, Herne Bay, Auckland
Ph: (09) 376 5550
They call Peking Beijing now but the name of the yummiest of Chinese feasts hasn't changed. Fortunately it's easy to get Peking Duck in Auckland that is every bit as good as they serve in the Chinese capital - and the birds won't have been force-fed in large factory farms. (All duck sold in New Zealand is grown in New Zealand). Empress Garden is one of the best operators in town although there are plenty in Auckland's southeastern suburbs and Love a Duck in Balmoral is excellent. You usually need to call ahead and book your bird, which is served - your choice - two or three ways. In the first course, you take crispy skin and meat and wrap it, with cucumber, spring onion and hoisin sauce, in light pancakes which you eat with your fingers; in course two, the flesh is stirfried (with sweet bean sauce and bamboo shoots) and eaten in a wrapping of lettuce leaves. A third course - classically a duck soup made from the carcass - is probably worth going for on a leisurely Sunday lunch. The per-head cost rather depends on how hungry you are: a whole duck is $70 two ways at Empress Garden and will feed three hungry people or four of more moderate inclinations. Do that maths and enjoy. It's an ideal lunch for sharing.
Cost per head: $20-$30
Must try: Duck. Chinese tea is the ideal accompaniment - and it's usually free anyway. Ask for some chilli sauce on the side to liven things up a little.
Malaysian
Bunga Raya
Address: 2/3062 Great North Rd, New Lynn
Ph: (09) 827 8666
Opinion may be divided as to whether this is the best Malaysian restaurant in Auckland - some diners have other favourites - but the enthusiastic online endorsement echoes my experience. Malaysian food is possibly my favourite of all the Asian cuisines because if its variety. Historically the country has always been at the crossroads of Asia and the food reflects that history by borrowing promiscuously from the cuisines of neighbouring countries. So, apart from the ethnic Malay dishes, you'll find dishes here whose roots are embedded in the cultures of the Chinese, Indian, Indo-Chinese and even Portuguese who have at one time or other made their home in Malaysia. Galangal (a wild ginger) and belacan (an intense concentrated fish paste) distinguish so-called nyonya food, a blend of Chinese and Malay that was fusion cuisine for about 500 years before the term was invented. The menu at Bunga Raya - the name, incidentally, is Malay for hibiscus flower - runs to about 90 items, which gives endless room for choice. It is a good idea to go in a group because you can sample widely. Every time I've gone the friendly proprietors - who see the ordering process as a consultation with experts rather than simply picking dishes - have urged me to cut back on my order and you see the wisdom of their advice when the generous servings land on the table. Bookings are essential - the place is invariably packed with Malaysian clientele (always a good sign) and some dishes, notably the steamed duck, need to be ordered a day in advance. Highly recommended dishes include the coffee pork chop, the nyonya curry fish and anything with eggplant.
Cost per head: $20-$30
Must try: The tom yum soup - much less fiery than the Thai classic but still head-clearingly spicy. The small serving can be shared between three or four people and really gets you in the mood.
Korean Barbecue
Oceanview Buffet Restaurant Shed
Address: 23 Princes Wharf
Ph: (09)355 6770
Website: oceanviewbuffet.com
This place was called The Koreans last time I went but the change of name has had little effect, presumably because the expectations of regular clientele don't change. There are others around town - Faro in Lorne St is highly spoken of - but not all open for Sunday lunch and this one is pretty much a non-stop operation. The harbour view is excellent - though not as good as suggested by the picture on the website, which shows Sydney Harbour Bridge seen from Kirribilli - and conducive to good digestion as you work your way through an all-you-can eat buffet. Long counters and islands are laden with bain-maries containing dishes some of which would be familiar to fans of Japanese food (sushi rolls, called kim bap, and sashimi). In the centre of each table is a gas barbecue on which you cook meat (pork belly and lamb shoulder sliced thin) and seafood (prawns and baby octopus, the day I tried). This is, to be blunt, more a quantity than quality operation - some of the seafood had to thaw on the flame before it started cooking - but it's a good family outing because barbecuing at the table is hands-on fun.
Cost per head: $29.90, less for kids
Must try: Make full use of dipping sauces and the side dishes pa muchim, shredded spring onions with chilli. The correct accompaniment is soju, a vodka-like sake, drunk ice-cold. You may prefer tea.