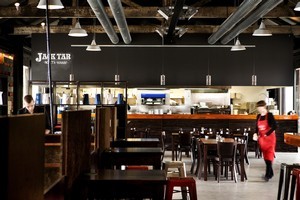 Jack Tar: Jellicoe Street, North Wharf. Photo / NZ Herald
Novel Auckland eateries are cropping up all over the CBD, just in time for the RWC. Here are just a few that come recommended.

1. Jack Tar
Jellicoe St, North Wharf, Wynyard Quarter
Jack Tar lives behind the Auckland Fish Market, a gastropub in an overhauled goods shed. You'll find reasonably priced seafood, tapas, pizzas and more. Ideal for a hearty family feast.
2. Depot
86 Federal St, Auckland, ph (09) 363 7048.
Depot by Al Brown is the long-awaited Auckland restaurant experience by the chef known for Wellington's Logan Brown. The food is straightforward, tasty and fresh.
3. Red Hummingbird
84 Federal St, Auckland, ph (09) 363 7078.
A great tapas menu and dynamic decor (including a giant birdcage, wall-mounted taxidermy and graffiti art) make Luke Dallow's newest bar venue a welcome city addition.
4. The Conservatory
Jellicoe St, North Wharf, Wynyard Quarter
A wine bar, cocktail bar and bistro with areas for lounging, dining and casual drinks. It has a botanical theme, right down to its watering can cocktail jugs, and an open fire by the sea.