Unveiling more than 60 looks on the catwalk, the bridal show at NZ Fashion Week is set to bedazzle writes Melissa Gardi, editor of New Zealand Weddings magazine and creator of the show.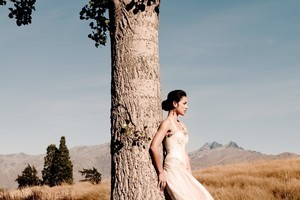 There's nothing like a parade of bridal gowns on a 30m catwalk to get you in the mood for a wedding. Not to mention the glamorous hair and makeup, the dramatic lighting, the scent and sight of flowers, and sitting among hundreds of other people waiting for each "bride" to make her debut.
But in this case there are more than four dozen brides. And a dozen grooms. And a parade of little people.
Instead of an aisle, there's a catwalk, and instead of Richard Wagner's Wedding March, Florence and the Machine and the Foo Fighters will set the scene.
An entire team from Bobbi Brown will work their makeup magic, while stylists from Dharma Salon will be on hand for hair.
Bridal wear traditionally involves classic silhouettes (think stock-standard strapless necklines with A-line skirts) that rely on fanciful fabrics and whimsical flourishes for dramatic effect.
This year's bridal show at New Zealand Fashion Week will prove there's much more for a modern bride to choose from.
The colour range is wider than the usual ivory, and styles challenge tradition, involving shimmering metallics and dynamic hues. There'll be as many looks to choose from as there are venues to marry in, whether your nuptials take the form of church vows, a beach or garden event, or rooftop party.
The aim of the show is to celebrate New Zealand bridal designers and to introduce some of our best local designers to couples planning their big day.
These days it's not a question of what shade of white you choose - brides are marrying in many colours, donning various skirt lengths, and opting for all kinds of headwear.
They are abandoning tradition in favour of celebrating their unique individuality.
Here, the designers in this year's show reveal their newest collections, which reflect their individual style.
THE WILD ORCHID
Elizabeth Soljak, A La Robe
It's the largest family of flowering plants, one of A La Robe designer Elizabeth Soljak's favourites, and this year the orchid is also the inspiration behind her newest bridal gowns. This is a collection steeped in colour and volume, without the constraints of boning or zips. "I've created volume with lots of layered silks and cotton. The light textures, raw edges and tones add depth to the styles," says Soljak.
"And since most New Zealand weddings are in the summer months, the lightness of the fabrics I use works well." When looking for the perfect dress it's the emotional reaction to a gown that a bride should pay attention to, she says. "How you feel in the dress and what mood the fabric sets are really important. Imagine yourself standing in your wedding venue, and if you can clearly picture yourself in a particular gown, chances are it's the one."
THE ARCHITECT
John Zimmermann
"When I began my career in the creative world more than 25 years ago, there were two choices as a man - architecture or fashion. Frankly, I couldn't stand the thought of five years' study, so I opted for fashion," confesses designer John Zimmermann. Renowned for his strong sense of structure and formality, Zimmermann's newest collection takes bridal wear to daring new heights.
Inspired by a sense of refinement and 18th century architecture, Zimmermann has only just begun to build his glamorous empire. He doesn't sell off the rack, preferring to personalise his gowns for each bride to be.
"I design for the woman who wants some magic in her life, who is sensuous and body conscious," he says. "This collection comes from a desire to find new ways to drape the body, whether that's through luxurious fabrics or highlighting a silhouette with crystals, rhinestones and sequins." Standout looks include a gown bejewelled in head-to-toe sequins, and the use of hats instead of veils.
THE CROWNED DAUGHTER
Vinka Design
In a world where tradition reigns, Anita Turner-Williams holds court in a new kingdom of self-empowered brides. With a mother named Vinka who single-handedly ran the wedding dress world of mid-20th century New Zealand, Turner-Williams grew up in a bridal gown workroom, modelled for her mother on the catwalk and just might be the second coming.
Her newest collection celebrates a historic moment in the life of a woman, with a nod to the bride with a bit of attitude. But the perfect fit is always top priority. "A bride needs to be able to enjoy the whole day and night without her gown restricting her," she says.
Sumptuous, textural fabrics such as lace and silks are used throughout the collection and are embellished with ruffles, feathers and tulle. Expressing her strong vision but not being bound by tradition will ensure Turner-Williams her place on the bridal world's throne.
FORWARD THINKER
Sera Lilly
Having shown more than 40 ready-to-wear looks on the catwalk in 2010, Sera Lilly returns to NZFW exclusively this year with her newest bridal collection, which she explains as "1920s old-school glamour meets the modern mavens of the red carpet". The 27-year-old designer is celebrated for putting real people on the catwalk. Whether she breaks the rules of traditional bridal wear, or breaks the constraints of the fashion industry, her designs are always captivating.
THE OLD WORLD INTELLECTUAL
Anna Schimmel
Hailing from Europe, designer Anna Schimmel marries old-world European classicism with contemporary New Zealand fashion. "I'm an absolute perfectionist and designing bridal gowns means I don't have to compromise - each one needs to be perfect and luxurious."
After 15 years' experience in Europe, Schimmel created her first bridal collection nine years ago. This season, her inspiration has come from New Zealand's ocean, air and summer sunsets.
Clean lines and attention to craft are the foundation of Schimmel's work, but she'll up the ante on the catwalk this year with shimmering gold fabrics and gold details. "Over the past decade, while the pace of life has vastly increased, I've noticed there's been a shift toward simplicity. While we're choosing simple silhouettes, we're going all-out by using fabrics in a big, beautiful, light and airy way."
THE NEW ROMANTIC
Alma J
Life's more exciting when there's a bit of drama, and the same applies to wedding gowns. Alma Jong's mission for her newest collection is to transform a simple statement into an ode to joy. "I search for moments of drama in everyday life, and that's exactly what I strive for with my bridal dress designs - dramatic highlights."
Fascinated by beautiful fabric from an early age and trained in fine art, Jong looks at designing bridal wear as a sculptural process. The golden era of Hollywood has influenced her newest gowns - a combination of classic elements and contemporary trims to fit the elegant, sophisticated style of the modern bride. Don't expect one strapless gown after another - as Jong says, "I love experimenting with different styles of sleeves and straps to enhance a feminine neckline. And I've been designing belts and silk floral accents to enhance the body of a woman."
THE BRIGHT STAR
Modes
Spanning a store more than 465sq m in area, with thousands of off-the-rack dresses for every member of the bridal party - not to mention children's couture, jewellery and accessories - Modes is definitely a calling card in Newmarket's shopping district.
"It's a fun process creating a collection - just like a wedding, much of our enjoyment comes from the planning of it all," says Diane Stephenson. The inspiration for the current range comes from classic Kiwi venues such as gardens and beaches. "The fabrics we're using are light and the palette is bright,' says Stephenson.
Last year's "darling" moment will return with eight flower girls walking the runway accompanied by designs for the mother of the bride, bridesmaids and the bride herself.
MR DETAIL
Crane Brothers
Murray Crane stays true to designing things he likes. Without attributing his inspiration to any single cause (although he loves country music and you might get a sense of 1960s Riviera from his most recent collection), it's clear that colour, prints, and floral elements are strong themes. Cufflinks encrusted with semi-precious stones, as well as signet rings make their way into the ensembles, acknowledging the resurgence of heirloom jewellery.
The self-proclaimed pedant, who now designs hundreds of outfits a year for grooms, says when it comes to choosing a suit, there's no rush. "Take your time. Get something you love and don't compromise." When it comes to the big day, it's all about not sweating the small stuff, Crane says. "Look great and have fun - the photos will tell a story of a well-dressed, happy couple, not whether or not the seating plan was correct."