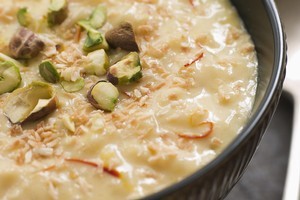 Perfect for a wintry pudding, kheer is the Indian equivalent of our rice pudding - but with an abundance of flavour. You can mix and match your own flavours by changing the nuts and dried fruit or adding in coconut.
1/4 to 1/2 cup basmati rice washed and drained (1/2 cup for a thick pudding)
5 cups of milk
Pinch of saffron strands (soaked in a little hot milk)
1 Tbs raisins
1 Tbs sliced almonds
1 Tbs chopped cashew nuts
1 Tbs chopped pistachio nuts
1 Tbs chopped dried figs
1/4 tsp cardamom powder
3/4 cup sugar (more or less to taste)
1 Put the milk and the rice in a pan and bring to a boil.
2 Lower the heat, simmer gently, stirring occasionally.
3 When the rice is soft and the grains are staring to break up add the raisins, almonds, cashew nuts, pistachios and dried figs and stir.
4 Simmer well and add the saffron. Simmer for another four minutes, add the sugar and cardamom powder and stir until the sugar is completely dissolved.
* India's Ganges river is being celebrated at Auckland Museum today between 11am-2pm with music, dance and drama performances by Prayas, followed by chai and Indian sweet treats.