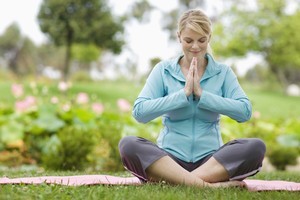 Yoga is an ancient discipline that has surged in popularity in gyms and Western studios. Susan Edmunds talks to experts about finding the right fit.
Yoga and its spinoffs are available in classes all over the city, in school halls, gyms and specialist centres. Converts rave about the benefits of regular practise of the 5000-year-old discipline for the mind, body and spirit. But for a beginner, it can be overwhelming to work out which teacher, type of yoga or method of learning is the best fit for what you hope to achieve.
Sharon Byron-McKay, director of the New Zealand School of Yoga, says yoga asanas (poses) cannot be patented, so anyone can call what they are teaching yoga. "In Auckland finding yoga that is taught with any real belief in the ancient art is pretty rare."
True yoga should be about more than just the physical exercises. Louise Thompson, who teaches yoga at Positive Balance, says she became a convert while working in a high-stress job in London.
"It's an ancient wisdom for body, mind and spirit that has been handed down over generations of yogis. A traditional yoga class will involve an emphasis on the breath in a way that elevates it from a regular exercise class, it will also involve aspects of relaxation and meditation. [It] is about more than just the body, it will energise you on a mental and emotional level as well as working every muscle in your body, building your strength and improving your flexibility."
Don't be afraid to ask about the credentials of various yoga teachers when deciding where to learn. Jude Hynes, director of training at the Yoga Academy, says it's important to recognise the difference between a person with a "bendy body" who has decided to open a school and someone who has done training in the philosophy and ethics of yoga.
"Look at the qualifications of all the teachers. Often one is qualified and the rest aren't. How many hours training have they had? What's the difference between 200 hours and 500 hours?"
She says teachers should be prepared to talk about the length of their training, what the context and structure of it was and what ongoing learning they participate in. They should be specialists in one particular type of yoga - the traditional types are bikram, iyengar and ashtanga - not dabbling in lots of different varieties. Hynes says the best teachers will be people who regularly practise yoga themselves.
Once you are in your first class with an instructor, watch with a critical eye. He or she should be going around adjusting students' bodies and checking they are all doing the asanas correctly. Hynes says it's important the instructor does that in a way students are comfortable with.
Thompson says: "Your mind and body will be a good judge of the real thing in terms of how you feel after class. If you feel stretched, energised, relaxed in both body and mind, then that's a good indicator."
Monica Haar, of the Iyengar Yoga Centre, says instructors should explain poses very thoroughly and not include anything advanced in beginners' sessions. "They should run through things like how to extend your arms... not a sequence of full, advanced asanas straight away."
She says every class should have a different sequence of asanas, based on the skill of the students. Hynes has had people tell her about "beginner" classes where the instructor got carried away and tried to get the students into a full headstand. She says it's important students are not pushed beyond their abilities. "The challenge should be appropriate for your level."
Thompson recommends doing a course rather than a one-off class when starting out. "Be open-minded and give your body and mind time to relax fully into yoga. You will be asking it to move in ways it might not have done for several decades. Be patient with your body and it will reward you."
You should also be able to find an instructor who is a good personality fit. Hyne describes her own style as driven and strong. "I look to teach people by giving them knowledge and skill, make sure they've got it and then progress."
Thompson says yoga spin-offs are fine for people who just want the physical side of the practice, but genuine yoga offers much more than that. "I believe in teaching a rounded yoga class that focuses on breathing, relaxation, positive thinking and meditation as well as the asanas themselves. For me that makes it such a beautiful holistic practice with benefits not just for the body but for the mind, emotions and spirit."
Health for humanity
Yogathon from August 13-27, 2011. Starting from 10am today, the Hindu Council of New Zealand is aiming to get Kiwis collectively performing 100,000 repetitions of the "Surya Namaskar" (Sun Salutation).
To register for this unique nationwide event
Register at yogathon-nz.org/registration, email yogathon.nz@gmail.com; or go to Mt Eden War Memorial Hall; Henderson Intermediate School; Kawai Purapura Wellpark Albany; Wetlands Room - or Barry Curtis Park, Flat Bush; Rotorua West Bowling Club; or the Celebrating Age Centre, Hamilton.