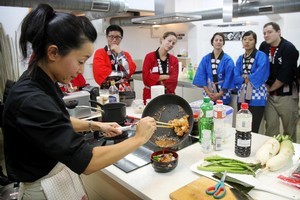 Aucklanders have a growing familiarity with Asian cuisines, and many of us approximate at home the dishes we buy at food halls and little restaurants. But we don't always know the finer points of technique or the exact signature ingredients - and some of us can't really cook.
So I jumped at the chance of attending a Sri Lankan cookery demonstration. My partner is hooked on curries from the KPS Sri Lankan Takeaway at Balmoral. It's a taste nothing else can satisfy and quite different from his other Malaysian laksa-and-roti yearning.
These Sri Lankan curries can be so fiery I simply can't eat them although I love the flavours. The demo at Ponsonby bookshop Cook the Books, promised something fresher and lighter - think coconut, chilli, lime, coriander.
Just before 7pm the bookshop is lit up and people are already drinking a glass of wine. Chef Grant Allen (of the pop-up dinners) regularly cooks here for special occasions and groups.
The natural extension was demonstrations of national cuisines and themes. You don't need to take your apron: these are more social events.
Ten of us are seated around a pleasant table while Grant talks and demonstrates and Cook the Books co-owner Felicity O'Driscoll cooks, presents plates and morsels, and gives informative asides.
Grant has not been to Sri Lanka and sees the class as an introduction or stepping-off point. In some classes he is joined by food tour leader Mary Taylor, who has been travelling and working in Sri Lanka for more than 15 years and leads regular insider tours there with her company Food Matters.
Rich and long-cooking curries are not on the menu, this is food for the end of a working day or a no-fuss dinner party menu not necessarily served all at once, Sri Lankan-style.
And a very grown-up and increasingly hilarious way it is to learn, with a bunch of interesting people and a chatty, informative and entertaining host. Grant starts with the spice mix, which is the Sri Lankan base, talking about raiders, traders and invaders and their culinary influences - Portuguese, Arab, Tamil, British, Malay, Dutch. I am able to ask about those pesky chillies - the smaller the hotter is the story.
To one side of me is seated Tony Richards, at the event as a birthday present from his sister Sarah (across the table). Although they are a cooking family, a class was a new experience and he was thrilled. "It's a brilliant gift in terms of something completely different," he says. "I never knew these things existed. All my friends are getting them for presents now."
On my other side, the owner of a well-known Auckland bar has brought her mum, after spotting an ad on Mother's Day.
Grant gets hands-on with tamarind; makes an incredible fresh sambal, "hoppers" - small pancakes from a rice flour dough left to work overnight - and unlocks the appeal of the potentially slimy okra.
We end with fresh melon served with ginger slurry - lively and thankfully digestive - and leave with a pot of fresh spice mix, a set of recipes and hints on where to buy ingredients.
In other parts of town, community adult education, in spite of funding cuts, is still a cheap, fun way to learn anything from ethnic cooking to basic skills your mother never taught you.
Weekend one-off classes are held most terms and some are "family friendly" meaning youngsters can attend.
"A lot of people just want to get out of the house and they meet people and learn something new," says Rutherford's community education director, Andrea Cameron.
Community ed's strength is personal contact. Glen Verner, who trains chefs, still loves to cook and teach at Rutherford High School's community education.
At Selwyn Community Education, June Renwick's classes are booked out months ahead, and Yin Wong is an experienced tutor with insight into all aspects of Asian cooking and culture.
"Hands up who eats Japanese food once a week?" Most of the class raise a hand. "What do you like about Japanese food?" It's fresh, natural, healthy, we respond.
This is the opening to Sachie Nomura's "brown belt" class in Japanese cooking for 12 pupils at her upmarket Parnell kitchen. The place is immaculate, modern and beautiful, with that Japanese attention to detail, such as the freshly laundered and folded kimono jackets we put on as aprons.
There's something hip and trendy, too, about Japanese food. And the food we create in two-and-a-half hours does have that just-cooked, alive taste.
Sachie demonstrates each dish then the class divides to four cooking benches to re-create, more or less successfully chicken teriyaki (succulently glazed) agedashi tofu (crisply deep-fried, with artful toppings) sunomono (salad of cucumber and octopus) and sesame icecream.
Her white to black belt classes can be tackled as one-offs. The belt status doesn't really equate with levels of difficulty. Other classes cover standards such as tempura (vegetables in batter) miso soup, sushi and Japanese small dishes.
There are some entertaining stories from the vivacious Sachie - not a trained chef but taught by the chef she lived with for 10 years. A revelation was using long, cooking chopsticks to feel the vibration of ingredients to gauge if they are cooked.
By the time we eat the meal, we are really hungry. Six friends are here for several birthday presents, and the three men appear to enjoy cooking as much as their partners. For those who can't finish, there are plastic boxes for taking the food home.
Thirty-something Rebecca Peters, who works in advertising, has done other cooking classes, and this is her favourite. She was "spoiled rotten" as a kid, so is now catching up on her culinary education. A class is something enjoyable for herself that also expands her repertoire, as she loves to cook and entertain. "My boyfriend's quite smart. He sent me along to encourage me to cook Japanese for him at home." She'll be back with her girlfriends for a hens' night.
Upstairs at the Auckland Fish Markets, the Auckland Seafood School's practical skills classes - knife techniques, filleting, smoking, choosing seafood, barbecuing - are the most popular.
"People want to learn about species they have never tried before and might be uncomfortable handling," says manager Jo Cooper.
The four regular chefs may take a class around the market, to see what has come in and how to cook it. Local celebrity chefs like Ray McVinnie (MasterChef New Zealand judge) Geoff Scott (Vinnies Restaurant) cookbook author Annabel Langbein and broadcaster-writer Peta Mathias also teach a whole range of cuisines. "They are just so entertaining," says Cooper.
The chef works, talks and answers questions for an hour from the front of the purpose-built auditorium, which has big mirrors over the demonstration bench. Then the class moves to the kitchen, where the chef circulates around the eight workstations.
All then sit down with a glass of wine to eat and talk with the chef.
"If we're lucky, Peta will sing a song for them as well," says Jo. "I think that's a fantastic way to spend a Saturday."
Learn to cook
Cook the BooksWorkshops restart in September with Moroccan, Sri Lankan, seasonal vegetable dishes and braising workshops. Book online, $45-$55, 2 hours, with glass of wine - don't have dinner beforehand, 139 Richmond Rd, Ponsonby, ph (09) 360 6513, www.cookthebooks.co.nz.
Sachie's Kitchen, weekdays and weekends, 2 hours, hands-on with meal, $85 or 6-class concession, Suite 1.4, Axis Building, 91 St Georges Bay Rd, Parnell, ph (09) 302 7680, www.sachieskitchen.com.
Auckland Seafood School, weekday and weekend classes, with meal. From $60-$115, Level 1, Auckland Fish Market, Jellicoe St, Auckland, ph (09) 379-1497, www.afm.co.nz.
Edgewater College community education. Saturday classes include making fresh pasta, chocolate lovers, $59. 32 Edgewater Dr, Pakuranga, pre-book, ph (09) 576 4731, www.shortcoursesandworkshops.co.nz.
Northcote College community education, 6-10 Kauri Glen Rd, Northcote, ph (09) 481 0144, www.learn4life.co.nz. Saturday cooking classes include brunch, high tea, cupcakes, homemade pasta pizza pesto, Indian vegetarian cooking, Italian cooking, Japanese cooking and sushi making $40-$45.
Selwyn College community education, prepare Chinese yum char delicacies, seafood, breads and dips, paella, sushi, classes from $54-$112, 203 Kohimarama Rd, Kohimarama, ph (09) 521 9623, www.selwyncomed.school.nz.
Onehunga High community education, 24 Pleasant St, Onehunga, ph (09) 636 9060 www.ohs.school.nz or adultlearn.co.nz Classes include Indian soups, sushi $45-$65.
foodmatters.co.nz Tours to Bali Ubud Writers Festival, October. 2012 food tours in May to Sri Lanka and June to Bali.