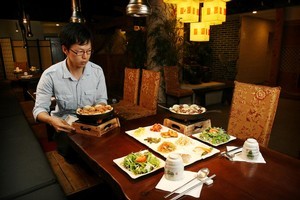 When people ask me where to find the most regionally typical food in Auckland, I pack them off to the nearest Korean restaurant. Over the past 15 years Korean food has quietly risen to become one of the most well-represented in Auckland, and I think is now one of the defining ethnic cuisines of the region. Yet most non-Korean Aucklanders remain oblivious to its many charms. With National Korea Day this Monday, I decided it was timely to explore Korean food.
What sets it apart from its better-known Asian counterparts? Perry Kim, co-owner of one of the city's best known Korean joints, Faro Restaurant in Lorne St, says the most important difference between Korean and Chinese foods is about perception rather than ingredients. "Chinese food cultures are based around main dishes, which are served with rice. In Korea, the rice is the main. Always. Everything else is a side dish."
Meals typically consist of steamed short-grained rice, soups and several side dishes (which non-Koreans would regard as mains).
Banchan are served to every table, regardless of what else is ordered: small bowls of tasty morsels, such as sticky sweet soy beans, cubes of chestnut starch jelly dressed with soy and ginger, cold potato noodles with soy sauce and sesame oil, pickled seaweed, and hundreds of other combinations. The only constant to banchan is the most famous of all Korean foods - kimchi, cabbage fermented with salt, chilli and garlic. It should be salty, sour, slightly crunchy, garlicky, spicy and fragrant. To most Koreans, a meal without kimchi would be unimaginable.
Restaurants offer a selection of soups, noodles, stir-fried and rice dishes, usually around $12-$15 a dish. Banchan often change daily, most places serve around six per table.
There is a common misconception that Korean food is relentlessly spicy, but many dishes are quite mild. Perry believes it all comes down to how you approach dining. "Koreans always order two or more dishes for the table - some hot, some mild. This allows everybody to enjoy a variety of flavours and textures."
Because many non-Koreans order one dish per diner, if you happen to order a spicy dish (which often tend be the more-familiar looking things on a Korean menu), you may walk away assuming all Korean food is hot. In reality though, there are plenty of options for the less adventurous palate, including the famous beef dish bulgogi or the fabulously filling DIY rice dish bibimbap.
Korean barbecue restaurants specialise in galbi - grilled meats (often over a charcoal "faro" at the table), most famously beef ribs. To Koreans, Galbi is usually a special-occasion food, and this is reflected in the prices. The best way to enjoy Korean food is with a group. This way you can try lots of different flavours, which is how the food is intended to be eaten.
Garlic is the standout ingredient in Korean food (a LOT of garlic), along with onion, ginger, sesame oil, soy sauce, and most distinctively gochujang - a paste of fermented soy beans, chilli and glutinous rice with a rich, yeasty flavour and deep heat.
Perry explains that Korean table etiquette is quite different from that of other Asian cuisines, as the flattened metal Korean chopsticks are exceptionally tricky to master.
"Use chopsticks to pick up side dishes, but always eat rice and soups with a spoon". Using chopsticks to pick up rice is not considered offensive - just coarse and common, as is picking up your rice or soup bowl.
Finding Korea
Where to eat: The best place to find Korean restaurants in central Auckland is from around upper Queen St, in the blocks of shops from Wakefield St to K Rd. Brian Choi of Auckland's Korea Society recommends Bon-ga-ne, (430 Queen St, ph 09 368-7420) and Choon-Hyang-Gol, (7B Triton Dr, Albany, ph 09 476-7670). Also check out Northcote, Browns Bay, Albany and Link Road off Wairau Rd. Many food courts have one or more Korean stands too. Faro Restaurant on Lorne St is one of Auckland's few Korean fine dining restaurants (www.faro.co.nz). Almost all Asian supermarkets (and many regular ones) stock Korean ingredients. For Korean recipes and food lore go to: koreanfood.about.com/. For ingredients, try The Tofu shop - nine branches Auckland-wide www.tofushop.co.nz/index.htm
Korea Day: The Korean Society of Auckland celebrates the 66th anniversary of Korea's Independence Day, Monday Aug 15 3.30pm-6.30pm (Suite #2, 2 Shea Tce. Takapuna)