Art and artistry combine for a top makeup man.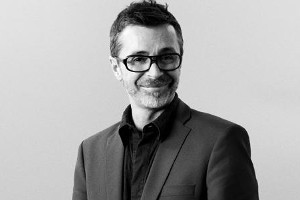 Makeup maestro Luc Bouchard loves to watch the scene in the movie A Single Man where Julianne Moore artfully applies eyeliner to transform one side of her face.
Remodelling appearances is what he does for a living, but playing with proportion and colour is also his passion. Sometimes he wields a makeup brush, sometimes a paint brush. "I look at shadows and at bone structure and that's what stimulates me."
The New York-based French Canadian is a senior artist for M.A.C and was flown by the company to Taiwan to host its first Asia-Pacific regional trends presentation where he spoke to Viva about the latest makeup looks and how he stays enthused about making faces.
"What I'm interested in is the eyes and the face, it's always been, since I was young. I was fascinated."
What particularly intrigued him about Moore in director Tom Ford's mannered study of 1960s repression is how her look ties in with the current referencing of previous eras.
"It wasn't literal, it was much more flattering.
"The idea is to refresh the trend, you're thinking of that woman from the 60s and the way she looked and how she would look now."
So out goes the caked-on foundation, baby blue eye shadow and claggy pale pink lipstick and in comes new more wearable formulas and sweeping lashes.
As the industry leader in both designing runway makeup and translating it for consumers, looks from M.A.C's regional trend presentations (previously only done in Europe and America) filter from the fashion capitals right around the globe. Bringing in Bouchard, who works on the top shows, underlined that link. The same autumn-winter trends were explained in Auckland last week, but the earlier showcase in Taipei was on a bigger scale, with the presence of Asian celebrities - including singer A-Mei - generating plenty of media interest and acknowledging the importance put on this fast-growing region.
Bouchard talked to a media audience drawn from across Asia about the season's four key looks, but afterwards, with Viva, his painterly enthusiasms came to the fore when explaining how he balances fashion demands and artistry.
"With the show thing you're designing a makeup look that will kind of be uniform, but be adapted to everybody. So the base, the inspiration is different, it usually comes from the designer, the power of the clothes, the shapes of the clothes, the mood of the clothes, the story that they want to tell.
"When I paint, I paint alone, I'm totally isolated with my dog and a bottle of wine; makeup's different, it's in front of people."
He credits his rediscovering of painting about three years ago as having "re-energised my makeup". The two preoccupations balance each other, he says, explaining that it was to unleash creativity among M.A.C's makeup artists that they were taken off for a painting session while in Taiwan. "What they got out of it is confidence, it's about just doing it, not thinking about it, because with makeup after doing it for a while you get too conscious of what you should do."
Bouchard's canvases, first exhibited around New York Fashion Week in February, focus on the face, specifically the eyes (see inset). A recent example has the mood and patina of a Renaissance work.
"I took a picture of this girl backstage in Paris without any makeup on. She had red hair, she had a face that was no brows, no lashes, big lips, very pale pale skin. Something moved me about her."
This emotional connection and working by instinct is what he wants to share with other makeup artists to ensure they don't become formulaic. "Painting, you have to be moved; makeup, you have the stimulation of the person in front of you.
"With painting, there's no limit. That's where it gets effective, where you have no limits, you can do anything, try it, you have to let it go, you can't control it. Which is the hardest part for some people."
The boy from a small village in Quebec was only too happy to let go of his own parentally inspired foray into computer programming by turning his hand to makeup to help out a photographer friend who had seen his sketches of faces. With no kit, the 19-year-old relied on the model's advice and products to find his feet. Down the track, and properly schooled, he was invited to be part of M.A.C's original training team in 1992. Later his computer skills came in handy for managing the company's artistic training and development, but when he tired of the administration he freelanced for top magazines out of New York for four years before rejoining M.A.C as a senior artist.
He has worked on a who's who of designer collections from Europe's top names to New York favourites like Donna Karan, Vera Wang, Badgley Mischka and Oscar de la Renta and New Zealander-made-good-in-the-Big Apple, Rebecca Taylor.
Bouchard also draws inspiration from architecture, specifically the organic and geometric work of the legendary Oscar Niemeyer, whom he became enthused with during a trip to Sao Paulo Fashion Week.
"It's about adapting to the shapes that nature presents you with, converting them into something that is stronger and more emotionally loaded."
Constructing a fluid, painterly makeup involves playing with the face's natural proportions and altering them for dramatic effect. "Eyes are always the feature I spend the most time on. I'll always find them the most captivating part of the face - I just keep working at them until the point that they really speak to me. That's when you know a makeup's finished."
But what does all this mean for women doing their own makeup?
Bouchard believes a similar approach can be taken at home. "It's about what style she wants, how she wants to look."