Help your hair from within, advises an expert.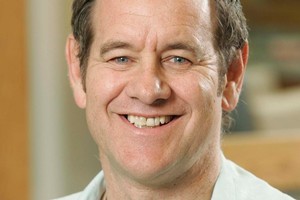 Nigel Russell is a refreshing voice who says anyone with a hairy problem needs to forget the modern expectation of a quick cash fix and look a little deeper.
"Hair and scalp reflect how you are, and the skin and the nails, so it's an outer reflection of what's actually going on internally," says the Auckland trichologist. He investigates the causes of changes in hair health, including irritated scalp conditions and the growing problem of hair thinning in younger women.
"Rather than just rush out and buy a product, as the first thing I'd always work from the inside out," he says. The long-time hairdresser's interest in the scientific side of the business and in wellbeing generally led him early on to study to become one of only around a dozen qualifed trichologists in Australasia.
Russell has now essentially turned his one original career into three - or is that four - inter-related jobs. He works four days of the week as a stylist at Servilles, Takapuna, from where he also conducts his trichology consultations.
Then there's his business, Holistic Hair, which develops, distributes and now exports a healthy hair product range. Over the past couple of years, a sideline has been meeting requests from the film industry for special products including a body oil used to give the shiny look of sweat in the TV series Spartacus and the movie Avatar, and a powder for refreshing actors' wigs. His volumnising Sea Salt Spray has fluffed up the likes of Outrageous Fortune's Cheryl and Pascale West.
Hairdressing's immediate gratification of making clients look good keeps Russell in the salon, but what is even more satisfying to him is combining beauty with health. He says women these days want to take a more balanced approach to their appearance and lifestyle. Doctors and dermatologists are also seeking advice, which is a change from the days when many had little idea what his work involved.
Although hair loss is mainly seen as a male problem, Russell says it is becoming more apparent in women, though very, very seldom is it untreatable in younger women. But unlike the heavily marketed-to men's realm, women with thinning hair are not well catered for.
"Thirty years of hairdressing has shown me there's a lot of issues there that haven't really been properly addressed. There's lifestyle issues, dietary issues, emotional issues that don't always get recognised, or they say it's just part of ageing."
Some thinning of hair and a retreating of the hairline with age is inevitable but with younger women, diagnosis can reveal other causes.
"The follicle over time will atrophy, the hair cycle lengthens, regrowth happens less and less which is genetically pre-programmed, but if you introduce outside conditions such as thyroid conditions or hormonal imbalances this may speed up the process."
A consultation session often involves getting a blood test to look for the likes of iron deficiency. Like naturopaths, trichologists can prescribe dietary supplements and Russell may start clients on multi-B vitamins or something more specific. Other problems behind hair loss in younger women include polycystic ovary syndrome or the side effects of drug use, including the contraceptive pill.
"The reality is that there's no product on the market that you can apply to the hair that is going to make it any stronger, if it is thinning out from internal conditions. There's certainly some fantastic products out there that support the hair growth."
He mentions prescriptions such as Rogaine, but also the herb sawpinetto and says the hair industry itself provides regimes and products that can help with volume.
For women whose hair problems are caused by poor treatment of the hair, the solutions are more easily found in switching styling techniques and products.
Rest and restoration
"I continually speak to clients who have a bathroom cabinet full of products. My rule of thumb these days is 'a little of everything'," says Nigel Russell. He recommends women don't just chuck everything out if they are recommended to try a new regime, but rotate what they already have.
"If your budget means you can't afford $38 for a shampoo, then go and find a suitable shampoo at the supermarket - but have one Rolls Royce product, make sure the kids aren't using it, then alternate it with what you've got in the cupboard until it is used up."
Good products do make a difference, says Russell, but the most important thing is to find something that matches the needs of your hair, and this can be found at all price points. Hair also gets used to what is being used on it and will eventually stop responding as well to it, so that is another reason a little rotation will not go astray.
A common mistake is for women to use colour care products, but forget about the condition of their scalp. They also need to remember that hair at the ends can be years old, but that on the scalp is new, so treat hair and ends differently, massaging shampoo just to the scalp and conditioner to the ends. He advises against over-washing and says three to four times as week is more than enough, with tricks such as using dry shampoo or styling powders helping tide women over. Frequent washers should consider rotating a colour-care shampoo with a compatible hair-type shampoo for best results.
Some women will react to certain ingredients or colouring, but this is less common these days and many formulations have been modified, but Russell is still a believer is checking out if what is added is necessary. He is not anti the likes of silicone, which is common in many styling ranges because it adds shine and smoothness, but says over time it will become less effective.
Product build-up is not damaging of itself, but can prompt over-styling, with women putting more effort into blowdrying - because they have over-coated their hair - to add body.
His Holistic Hair range keeps things simple and uses essential oils for their effects, not just their aroma. "If you've got the right ingredients and there's a purpose for them and they're serving that purpose you will see change." His range includes a treatment oil for protecting ends rather than adding shine as is the vogue. There's also a cider vinegar rinse, which was a nightmare to develop in stable form, but draws on a traditional ingredient that helps restore the scalp's slightly acidic pH balance.
His advice is to look at what ingredients are going to get into the hair and start to repair it from the inside out compared with what is going to sit on the outside and make it pretty. "There's a vast difference, I believe."
* A 45-minute consultation with Nigel Russell at Servilles, Takapuna costs $108 and includes information, analysis and recommendations.