Find more restaurant reviews with our Google map
Herald on Sunday rating: 2/5
Address: 269 Parnell Road
Phone: (09) 358 4804
Website: iguacu.co.nz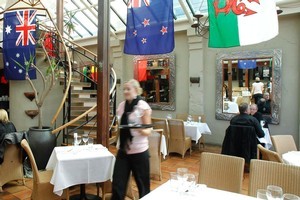 I have three words to say to you," said the Professor as she finished the last of her broccoli. "Cobb. And. Co."
I couldn't help mentioning that the second word was meant to be "&", not "and".
"That's not the point," she said, "and you know it."
She was cross because I'd told her that next week I am taking two very attractive Spanish women to TriBeCa because I want to impress them. I don't have to impress the Professor any more because she's stuck with me, but I do feel a bit sorry for the poor woman. She has to endure a lot of bloody awful meals in the cause of being my companion. This, I am sorry to say, was another one.
I went to Iguacu more than six years ago and was unimpressed: by the huge menu (it's a pretty reliable rule of thumb that the more a chef offers to do the worse it will be done); by the overwrought ideas (scallops with brandy mustard sauce? crab with blue cheese?); and by the Caesar salad (although that's nothing new - I've only had one worth the name, at Euro, since I started this gig).
But places change and Iguacu seems to endure. When, momentarily disoriented, I asked a local lurching down the street where the place was, his eyes lit up as though I had just cooed the name of his first love. Who knows, I told the Professor, it might be better than TriBeCa.
Iguacu occupies a space that looks like a cross between a fire station and a provincial RSA. Beneath a glass ceiling, exposed ducting is inadequately camouflaged by the application of gallons of white paint.
A dying yucca adorns a stairway which, the green-fingered Professor tells me, is an achievement since yuccas are harder to kill than cockroaches.
Flags of various nations hang from the rafters, lending the impression that any moment a Barmy Army might burst in bellowing "Enga-land, Enga-land, Enga-land".
I think it's a safe bet that this will occur regularly in September and October. If it does, however, the Poms will get a bad impression of Kiwi cuisine, because the food at Iguacu is awful.
The Professor expressed interest in a salmon soup, which came in a "bread bowl". This is what it sounds like: a cobb loaf, beheaded like a boiled egg and dug out so as to accommodate the liquid. The technique was irresistibly reminiscent of a "cordon blue cooking" night-school class of the 1970s and the taste of salmon was a subtle allusion, easy to miss among the pureed kumara base. I chose the kokoda - the raw fish salad that the Samoans call oka and the Cook Islanders call ika mata: it was tired and tasteless, devoid of spice and imagination.
The Professor's second dish, an entrée-size sashimi, proved my theory that you should leave such dishes to the Japanese experts. The fish was fresh enough but the presentation, including huge slices of ginger, was crass. I played it safe with a char-grilled rib-eye, which was not inexpertly cooked and so big I left half and asked for it to be bagged up. I asked after it as we paid the bill and after much faffing around involving several staff members, it transpired they had binned it.
It seemed a fitting end to a meal that was barely average - I thought a side of tomatoes and crumbled feta was a practical joke, it was so plain and thoughtless - and, it should be said, pretty expensive.
A lot of the mains at Iguacu nudge or top $40; the desserts are $15.50. I don't think the Professor was exaggerating when she summed it up in two words: "A palling".
Need to know
Value: $$
Food: Bad
Ambience: Barn
Bottom line: Cobb & Co, but dearer.
$ = $20-$40; $$ = 40-60; $$$ = $60+.
(Price guide reflects three courses for one person without drinks.)
Also try
Auckland's most-expensive suburbs (Remuera, Newmarket, Parnell, Mission Bay) offer slim pickings for a decent dinner, with the exception of Antoines and TriBeCa.
In Parnell try: Gion, 197 Parnell Rd (09) 379 3344, for original and tasty Japanese and Red Brick Kitchen & Bar, 46 Parnell Rd (09) 377 2170.