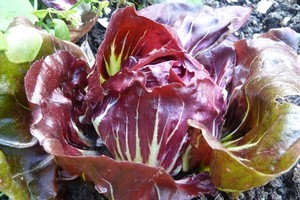 How to grow it: A dramatic winter plant coming on now is chicory, or as it is known in Italy, radicchio.
This vegetable does very well over the colder months, the chill giving it even more dramatic colouring.
Chicory 'Red Verona' is a gorgeous vegetable, with dark ruby-red leaves and striking white veins. It forms a compact head similar to an iceberg lettuce.
You can get loose-head chicory for leaf picking, such as Chicory 'Red Treviso Early', whose leaves are green in summer but in winter turn red.
Chicory is hardy and will cope in heavy soils. But, as always, the better you treat your soil, the better the plant.
How to cook it: Chicory is a salad staple in Europe. It has quite a sharp flavour but can be blanched - where the young shoots are covered to exclude light - for a milder taste.
I saute the leaves in olive oil with broadbeans and pancetta for a quick addition to pasta.