Taking the kids out for dinner doesn't have to be a traumatic - or dull - experience marked by bad food and service, discovers Virgil Evetts.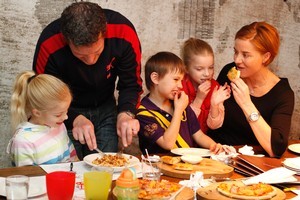 I'll be honest with you. Despite being a parent, I'm still conflicted by the notion of overtly child-focused eateries. I've always believed cafes and restaurants are essentially grown-up spaces. Children are welcome, of course, but only as long as they can keep it together. With a little guidance, all but the youngest children are quite capable of adjusting their behaviour to match the setting. "Child-friendly" then, is a place that appeals to children and adults alike, without skimping on ambience or quality of food.
I like eating out and don't want to restrict it to special occasions involving babysitters and crippling bills, or put it off for however many years it takes my daughter to get up to speed on the etiquette front. So I asked every parent I know where they eat and why, whittled down the list and hit the pavement. The following are all places that go the extra mile for kids and/or appeal to their eclectic tastes, but still turn out good food and a grown-up atmosphere.
In the former site of the legendary Atomic Cafe, this cute place has a Parisian vibe, a genuinely interesting menu (with plenty of vegetarian choices) and a nice enclosed courtyard out back, which sports a clean, roomy sandpit and an old-fashioned blackboard for the kids. Both were getting a good workout from some knee-high regulars when I visited.
Although One 2 One doesn't offer a specific kids menu, the kitchen is happy to prepare pint-sized portions and toast soldiers if you ask nicely, and many items will appeal to younger tastes anyway. The Singing Cowboy does his thing here on Tuesday mornings, and may I just say, the guy's still got it.
Opening hours: Monday 6am-5pm, Tuesday to Friday 6am-11.30pm, weekends 7am-5pm.
Location: 121 Ponsonby Rd, Ponsonby.
Phone: (09) 376 4954.
Prego is a true Ponsonby landmark. With more than 25 years on the strip, it has seen competitors come and go, and earned a multi-generational army of regulars along the way. In the true spirit of la cucina Italiana, Prego is in fact all about family. Disposable kids' menus (complete with colouring pictures and pens) appear on cue whenever children cross the threshold, and the well-starched wait staff are warm, welcoming and patient.
The food at Prego is very good Italian contemporary, of the mostly pizza and pasta kind, served in plush surrounds with a knockout wine list and aforementioned stellar service to boot. Although the kids' menu is sure to please, Italian food is, for the most part, child-friendly anyway. Surprisingly, considering the rather blue-chip clientele and prime position, the prices here are really quite reasonable too.
There are no general bookings taken but bookings for large groups are available (10-16 people) - two group bookings per day.
Opening hours: 12-late - open every day except Christmas Day and Boxing Day. Best times for kids and families: 4.30pm-6.30pm.
Location: 226 Ponsonby Rd, Ponsonby.
Phone: (09) 376 3095.
I usually have as much disdain for franchised food as the next middle-class liberal, but I like Lone Star. They have such a proudly contrived tacky-cute vibe that you can't help but enjoy yourself, if not for the food then ironically for the garish and cliched country and western fit-out. Although a succinct and well-structured kids' menu is available, all dishes at here are generous, mostly well-balanced, and of the approachable, robust kind. Kids' food in a nutshell really.
The service is consistently good - they're an efficient and pathologically cheerful bunch.
The menu at Lone Star is predominantly Tex-Mex, and within that rather homely context is pretty good. You'll be infected by its strange appeal soon enough. Your kids will be smitten from whoa to go, and will probably demand return visits regularly.
Opening hours: Monday to Friday 5.30pm-late, weekends 5pm-late.
Location: Nationwide - see website for nearest location.
Truth be told, taking small children out at night isn't much fun. They get bored and fractious and all your carefully cultivated routines crumble. The next day is often a wailing write-off.
But tantrums or not, sometimes you want a bit more than frittata and a flat white.
For these occasions yum cha is just the ticket. It offers variety, atmosphere and is widely loved by children of all ages and appetites, and best of all, it's done and dusted in an hour.
In the Auckland CBD the biggest by far is Grand Harbour. This cavernous, brightly lit, raucous place serves an endless stream of dim sum, from shatteringly crisp spring rolls to delicate prawn and coriander dumplings, the perennially popular barbecue pork buns and all the other usual suspects.
Yum cha is always great for a big family lunch and makes a perfect choice for kids' birthday parties too. The yum cha tradition is built around family gatherings and catch-ups, so behaviour-wise pretty much anything goes.
Opening hours: Yum cha served from 11am to 3pm daily.
Location: Cnr Pakenham St and Customs St West, Viaduct Harbour.
Phone: (09) 357 6889.
Housed in the grand Carnegie Library building in Onehunga, this cafe has gained a reputation for being something of a local benchmark in child-friendly eateries. There is much to like here with a safe enclosed play area with books and toys indoors, and a small fenced playground outside. I wasn't knocked off my feet by either the food or service here (a waitress received 12 irritatingly noisy text alerts while I was there), but overall both were adequate-to-good.
The use of free-range eggs and organic fair trade coffee gets a big tick of approval in my books, and my flat white was very good. One of the major stresses of eating out with children is the feeling that your kids are bothering other diners.
The Library tackles this by providing two completely separate dining rooms, only one of which is set up for children. Smart move and much appreciated by many a considerate parent and unencumbered punter alike, I'm sure.
Opening hours: Monday-Friday: 8am-5pm, Saturday: 9am-4pm, Sunday: 9am-9pm (Sunday dinner).
Location: 55 Princes St, Onehunga.
Phone: (09) 636 7292.
Food courts
I'm referring here to genuine food courts, run mostly by new immigrants and primarily patronised by new immigrants pining for a taste of home. These places never offer kids' menus, sandpits, toys or rarely even high chairs. Food halls are about food and only food. And what food!
Quality is nearly always exemplary and prices preposterously low. Most children will love the variety on offer and, if given a modest budget, will relish making the most of every last cent on a wild array of mismatched but delicious dishes. These places are, in my opinion, an essential part of any Auckland food education, and my 10-month-old has already acquired a healthy taste for hainan chicken rice and char kway teow.
Newmarket Plaza Food Court
5-11 Kent St, Newmarket. Open 10.30am-9pm daily.
Food Alley
9-11 Albert St. Open 10.30am-10pm daily.
Atrium Food Court
21-25 Elliott St. Monday to Wednesday: 7am-6pm, Thursday to Friday: 7am-7pm, Saturday: 8am-7pm, Sunday: 9am-5pm.
Food City
Pearn Cres, Northcote Shopping Centre. Open from 10.30am-10pm daily.
Ponsonby Food Court
106 Ponsonby Rd, Ponsonby. Open from 10am-10pm daily.
The no no list of dining with kids
Just because an establishment goes out of its way to accommodate the needs of children or has an informal ambience, it doesn't mean etiquette and good manners go out the window. Nobody else is anywhere near as enamoured of your children as you are.
Running around the dining room
Not only does this annoy the hell out everyone, it's dangerous. Many a scalding soup or wine glass-laden waiter has been felled by rampaging rugrats.
Screaming and other cacophonies
No reasonable person would begrudge a wee one the odd grizzle, but prolonged noise needs to be curbed or the source removed. You may not wish to interrupt your conversation to pop outside until the bawling abates, but such is the burden of being a decent human being.
Seating your children at a separate table
Unless you're at a wedding this is seriously bad form. Without adult supervision a group of kids will take all of three minutes to start brawling, sobbing and setting fire to the drapes.
Waiting staff are NOT au pairs
To most waiters, a child is a potentially difficult customer, not an A-list celebrity, as some parents seem to believe. A waiter's job is hard enough without being press-ganged into surrogacy.
Mess
Spills and splatters are inevitable wherever children (and quite a few adults) and food come together. However, allowing your children to deliberately create mess is totally unacceptable. Always offer to help clean up any spills caused by your kids.
Ordering off-menu
It's reasonable to ask for smaller portions or less seasoning for kids, but demanding dishes not already on the menu is seriously off. If you want a personal chef go hire one, and leave restaurants to do what they do so well.
Dietary restrictions
Most restaurants will do their best to accommodate your myriad middle-class dietary restrictions if warned in advance. But don't walk in off the street and expect your desired gluten, dairy and nut free-linguine al pesto to be forthcoming. Don't expect much at all actually.