Planning your garden takes careful consideration, writes Justin Newcombe. Step one is all about charting traffic ...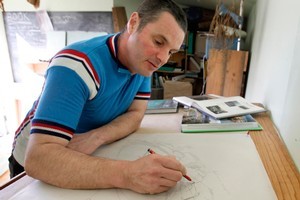 Justin Newcombe draws up garden design plans on his drawing board. Photo / Steven McNicholl
Designing a garden, like anything, gets easier with practise. There are many things an experienced designer will process instinctively as they work through the components that make up a project. First up are the things you can't change: the pre-existing elements such as prevailing wind, sun and shade, soil conditions, and the position of the buildings (if they already exist). Then there is what we want to impose on to the site - the wish list of things like swimming pools and outdoor living areas. Lasta re are utility areas such as driveways, paths, garden sheds, clotheslines and storage - the bits that make the garden work. And all this is bound up in a curious little wrapping called aesthetics.
Underlying the design equation is hidden the small but incredibly important component of traffic flow. Traffic flow around the landscape sets the scene for a lot of important design decisions. An ill-considered choice at this juncture can lead to a landscape which doesn't function efficiently. Mistakes are costly to remedy once you've installed the garden, so before you get carried away with the pretty stuff like stone features or paths inserted with mondo grass, spend some time thinking through the flow diagram to get a garden which really gets every square metre working for you.
Start by figuring out where you get the heaviest traffic flows on your section. The design must manage the traffic, either to reduce or block it or to encourage more traffic to a certain area as you see fit.
Think of a front path. In some houses, this could be something very few people use (the occasional guests or strangers, not your mates or family) so even though it's "The Big Entrance" the path may need to be wide enough only for infrequent traffic. On the other hand, if everybody uses this path it might need to take two-way traffic. If an existing path is only one lane but carries enough traffic for two, it may need an upgrade. Or if you want pedestrians to use the driveway instead of the path it would be designed quite differently from the heavy traffic model. Remember, though, that there is no point in going against the flow. Putting a garden in between the main door of the house and where you park your car will only give you a miserable garden as firstly the dog, then your kids then certain people who should be setting a better example, trample their way to the house via the shortest route, across the garden.
All these things can be clearly seen and appreciated by spending 10 minutes drawing a flow diagram of your property. Start with a footprint of your site. Draw in where the most frequent journeys occur. This is usually from the car to the door. This would be indicated with the largest, darkest arrow. Less frequent journeys, say from back door to clothesline, are indicated with smaller lighter arrows. The weekly trip to the compost bin may be indicated using a dotted line. While the flow diagram is not the be-all and end-all of any site assessment I find it's frequently overlooked, which is unfortunate because its often the best place to start.
* Next week I'll show you how to complete the design to go with the flow.