Fashion showroom director Jacqui Secker Roberts shares her style secrets.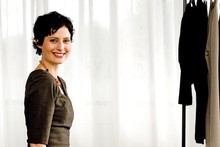 Jacqui Secker Roberts is the director at new fashion showroom Eden & Stokes, where she represents various local and international fashion brands including Carlson and Working Style. Previously based in Sydney, Secker Roberts moved back home to Auckland in 2009 to raise her family, and began work at Eden & Stokes this year. Her style reflects her two roles: feminine dresses and mandatory heels for work, and something more practical when at home. "My workwear is a nice contrast to my off-duty and very practical "mum" uniform of coat, jeans and boots."
What was the last item of clothing you bought?
A fantastic little dress from Carlson - it will be great for work, but I'll be able to wear it out in the evenings too.
What item of clothing or accessory do you want to buy next?
I'd love some more shoes - there are three pairs I have my eye. Each has an exceptionally high heel, and they're all elegant with a modern twist.
Who does the best shoes?
I think local retailers like Mi Piaci and Heavenly Soles do a great job of stocking shoes that strike the right balance between value and style.
Who are your favourite designers?
Tanya Carlson is a favourite, her pieces are always a great investment.
What endures throughout the seasons?
Genuinely stylish, well-cut garments made of quality fabric.
Your favourite shop?
The makeup counters at Smith & Caughey's or Mecca.
Whose wardrobe would you most like to raid?
For eveningwear, Marion Cotillard. For daywear, anything owned by Kate Bosworth or Gwyneth Paltrow. Each has a distinctive sense of style which I admire.
Most cherished item?
It's a close tie between my Cartier watch and my Chaumet diamond ring.
Most stylish city?
It's hard to go past Paris in the style stakes, and I think Madrid is amazing.
Describe your best outfit.
My wedding dress. It had a cream lace bodice with a low V-neck and delicate long sleeves, and the skirt was pale green. I wore a large, vintage art-deco belt buckle, which I turned into a brooch on my left hip.
What is your handbag?
An aqua-green, patent leather Coach handbag.
Your favourite stylish place?
My new favourite is Ebisu in the Britomart precinct.
When it comes to style, what does New Zealand get right?
I like to think we are interested in clothes that actually suit us rather than trying to conform to someone else's definition of sexy dressing.
And what does it get wrong?
We probably wear too much black. I am trying very hard to inject more colour into my wardrobe.
Who are the best-dressed man and woman in New Zealand?
My husband is a good dresser - he looks great in a suit or in jeans and sneakers. And Sara Tetro - she always looks impeccable.
What one item from your wardrobe do you immediately feel great in?
I have a knee-length, military-style coat, which works with dresses and heels as well as with jeans and boots.
Do you have a favourite decade?
I love art deco styling, in particular the jewellery of the 1920s.
By Zoe Walker

Email

Zoe