The winemaker's art is not just choosing the best grapes but blending them skilfully to achieve complexity in the wine.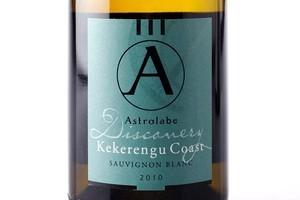 I have two impressive samples of sauvignon blanc in front of me. But for Astrolabe's Simon Waghorn, they're not quite good enough ... yet. He whisks them away, blends them together in different proportions, and voila, two good glasses combine to become one superb sauvignon.
It's the skilled art of assemblage - that happens around this time of year in many of our wineries - which sees winemakers select and blend from a sometimes staggering palette of components to craft their final wine. A sip of this sauvignon is proof that the whole can certainly be greater than the sum of the parts.
I'm sitting in on a bench blending session as Waghorn and Astrolabe assistant winemaker, Tim Adams, work through a room full of sauvignon batches. They're searching for not only the best examples, but those which will prove the most harmonious when mixed together and suited to their final vision for the wines they want to create.
Like many of Marlborough's wineries, Astrolabe sources its sauvignon from numerous vineyards across the region - taking in the super-pungent passion-fruit packed examples from the Wairau, the more textural style of the southern valleys and zesty, minerally tomato stalk-reminiscent samples from Awatere.
Within the wines from individual vineyards, even more lots emerge as different harvesting and winemaking techniques are applied to various portions, giving them a wide array of blending material to choose from.
"Blending from multiple sites within Marlborough, where climate and soils vary widely, tends to allow a winemaker to craft a complex and complete wine, where the personal taste and style preferences of the maker can be achieved," explains Waghorn. "The more different components from different sites that are added in a big blend, the more the angular or singular attributes of individual sites are "rounded-off". The wines become more subtle, complex and layered, and, by careful selection, complementary components can be knitted together to form a "house' style."
While single vineyard wines can delight with the different character they can show every year - a variation more apparent in those from cooler climates like ours - for those seeking consistency, blending can be an important tool. It's a technique that's traditionally been employed by some of the worlds classic wine regions, such as Bordeaux, whose producers not only draw from different lots of wine, but complementary grape varieties as well.
While back in the early days of the label, Waghorn had to put most of his base material into the final wine, he notes that now he has sufficient grapes, he's able to be pickier. That's another positive about blending: when winemakers have enough grapes, they can channel lesser or less suited wine into second or third labels or sell it off as bulk.
Even when a wine hails from a single sub region or even vineyard, it can still be an amalgamation of more than one vat. In Astrolabe's case, its Kekerengu Sauvignon comes from just two vineyards in this tiny southern sub-region, but a hand picked barrel fermented element, throws another option into the mix. Single vineyard wines often command more kudos, but of the four sauvignons Waghorn makes, he admits that he takes the most personal pride in getting his largest blend spot on.
"It feels like you are really utilising all your skill and experience when you fashion a complete and uniquely personal blended wine from a choice of quite different component wines," he says. "If you lined-up 10 different winemakers and asked them to put the blend together from the same components, they would probably all have a different take on it ... and that's certainly part of its magic. Blending allows a winemaker to put their personal stamp on a sauvignon blanc."
BLENDING IN
HOUSE BLEND
Astrolabe Voyage Marlborough Sauvignon Blanc 2010 $25
In Astrolabe's consistently impressive blend made from vineyards across Marlborough, ripe and succulent passionfruit laced with notes of red capsicum and fresh oregano is reined in by a tight core of lime and mineral.
SUB-REGIONAL STYLE
Astrolabe Discovery Kekerengu Coast Marlborough Sauvignon Blanc 2010 $28
From a new viticultural outpost halfway between Blenheim and Kaikoura, comes this dry and taut sub-regional sauvignon. Grown on limestone soils it's a more restrained, flinty and citrusy style, fusing fruit in a greener spectrum with notes of oyster shell.
SINGLE VINEYARD EXPRESSION
Astrolabe Experience Taihoa Marlborough Sauvignon Blanc 2009 $36
A single vineyard wine from Kekerengu with a dried herb profile, underpinned by zesty grapefruit. Its barrel fermentation has added weight, hints of spice and a toasty, savoury richness.
(Astrolabe wines available from Caro's, First Glass, Village Winery, Point Wines, Bacchus, Liquorland, Glengarry, New World Remuera & Victoria Park, Super Liquor.)