Makers of makeup are shifting focus with a new range of models in their advertising campaigns. But is the ethnic breakthrough merely skin-deep?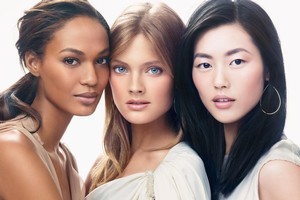 The fashion and beauty industry has long been criticised for promoting a narrow ideal of beauty: the world's highest-earning models have been predictably white and blonde, led by pneumatic Brazilian Gisele Bundchen, Heidi Klum and Kate Moss.
Which is why the Three Graces chosen to front a recent Estee Lauder product launch are so arresting: Chinese model Liu Wen, Puerto Rican-born Joan Smalls and archetypal French beauty Constance Jablonski.
The ad aims to convey that "diversity is beautiful". The American beauty giant says the campaign is a nod to the late Lauder herself, whose "unshakeable belief" was that "every woman can be beautiful" (the slogan of the Idealist skincare campaign). At the launch, her granddaughter Aerin, the company's creative director, spoke about a new chapter for the 65-year-old company: "Estee's choice of models throughout the brand's evolution was always extraordinary ... we continue this legacy with a new group of diverse faces that truly represent a modern vision of beauty."
The message is not new. But the industry's commitment to reflecting reality is often questioned, with supermodels like Naomi Campbell complaining of racism. She told Glamour magazine two years ago: "You know, the American president may be black, but as a black woman I am still an exception in this business."
Black models have featured regularly on couture runways and occasionally on magazine covers for decades, but seldom in the lucrative advertising jobs that make models millionaires. Beverly Johnson was the first to make the cover of American Vogue in 1974, followed by Iman, a star from the Seventies. French Vogue took until 1988 before it put Campbell upfront, a year after she made the cover of British Vogue. (The British title featured its first black covergirl back in 1966, little-known Donyale Luna, a 20-year-old from Detroit).
Campbell has often said that she earned much less than her fellow "supers" of the late 1980s and early 1990s, because she was not signed to as many campaigns as her white counterparts, especially cosmetics and fragrance contracts. The industry-tracking website Models.com still lists only a handful of coloured models as top earners, fewer than make its hottest faces list, showing there is still a gap in translating perceived appeal to actual earning power.
This year fashion editors have been hailing the arrival of the Asian fashion pack, pointing to Liu, reportedly now the 10th-highest-paid model in the world (in no small part due to her Lauder contract), as well as Du Juan - the first Chinese model to appear on the cover of French Vogue. Godfrey Gao, a Taiwanese actor, is also a face for Louis Vuitton. Other models of note are Fei Fei Sun and Shu Pei. (The supposed Chinese breakthrough was undermined somewhat by a recent blunder in British Vogue, which confused pictures of Liu Wen and Du Juan in an article about their success.)
Chanel Iman, a half African-American, half Korean model from LA fronts the latest DKNY Be Delicious fragrance in a campaign shot by Kiwi Regan Cameron. Shows such as America's Next Top Model and the local spin-off have helped emphasise a more varied model look, and more companies, notably M.A.C and Bobbi Brown, regularly use all races, but it is still rare internationally for non-Caucasian professional models to gain the big deals.
Much of the increasing ethnic diversity we see in the faces fronting big global product pushes coming from the entertainment realm, including bankable Latino faces such as Eva Longoria and Jennifer Lopez.
Revlon stands out as a trailblazer, having signed actor Halle Berry in 1996, with the actor still a favourite frontwoman for the company. L'Oreal now has a galaxy of celebrity faces including Beyonce and Bollywood favourites Aishwarya Rai and Freida Pinto and Nivea announced Rihanna as a spokesmodel in this its centennial year.
Geoffrey Jones, a Harvard Business School professor and author of Beauty Imagined, says the popularity of the "white, blonde and blue-eyed" look has been declining for some time as the global cosmetics industry, in which sales approached £240 billion (NZ$457 billion) last year, adapts to the growing markets such as China and Latin America.
The latter is expected to overtake North America in size within four years.
"When China first liberalised and cosmetics companies first entered, consumers wanted western brands because they were associated with success and aspiration," says Jones. "But in recent years they have become increasingly concerned with the local; they want brands like Estee Lauder or L'Oreal Paris, but they also want them to have a distinctive Chinese appeal."
The cosmetics industry was battered by the financial crisis, with sales down particularly in mature western markets - a weakness that has made it all the more important to conquer emerging markets. L'Oreal's new chief executive Jean-Paul Agon set the challenge to add a billion new customers in the next decade.
Sola Oyebade, the chief executive of Mahogany Models Management, Europe's largest agency for models of colour, argues industry power brokers are not convinced of their selling power - although the "black issue" of Italian Vogue in 2008 was so popular that an extra 40,000 were printed. (The "Black Allure" gatefold cover featured Naomi Campbell, with younger models Liya Kebede, Sessilee Lopez, and Jourdan Dunn.)
"I welcome that Estee Lauder has or is attempting to make the brand more visually acceptable to the global market," he says, but adds: "I don't think things are changing ... this was a calculated business decision."
The pull of Asia is illustrated by the luxury goods market with Prada this year opting to list on the stock exchange in Hong Kong rather than in its native Milan on the basis that 40 per cent of its sales were in the region. The beauty market in China is put at £3 billion and growing fast.
Against that backdrop it is easy to understand the rise of Liu, who has graduated from an average adolescence of homework and ping-pong in Yongzhou, a city in Hunan province, to international stardom. She got her big break in 2005 when her mother entered her in a modelling competition to stop her slouching. Since then she has become the first Chinese Victoria's Secret girl and the first on Estee Lauder's roster of "brand ambassadors".
Now based in New York, she has worked on her English by watching TV and films - particularly the teen vampire saga Twilight. She told one interviewer recently: "I didn't think before that an Asian girl could do a beauty campaign. I do the campaign for the world, not only for Asia," she added, reinforcing her achievement. In China, Liu is not considered a "classical" beauty; the desired aesthetic is a doll-like face with big eyes and pale skin. That beauty is in the eye of the beholder is a truism the beauty giants are all too aware of as they cash in on the hang-ups of different races.
Estee Lauder's larger rival L'Oreal spends more than £600 million a year developing products to feed consumers' hunger for new shampoos and lipsticks. It has more than a dozen "evaluation centres" around the world where it studies the idiosyncrasies of national beauty routines in mocked-up bathroom sets. The results are surprising.
"A Korean woman uses 23 products and will spend 45 minutes getting ready," says Patricia Pineau, its head of communication for research and innovation.
The lengthy session in front of the mirror involves the painstaking use of eyeshadow to "design a double eye to make eyes look more open".
When Lauder started building a cosmetics empire in the second half of the 20th century, only Hollywood actors and the French had global appeal. That is no longer true and Leonard Lauder, the founder's son, who is credited with transforming the family firm into today's near-£5 billion business, talked of the arrival of "beauty pluralism" in Women's Wear Daily. The company has opened a research centre in Shanghai to reinforce its "strong commitment to local consumers by developing products tailored to the specific needs of Chinese and Asian skin".
The image of the beauty industry is set to change further, says Jones. "Major western markets have become multiracial in a way they weren't 10 to 20 years ago and using models of different ethnicities is a way to hit those markets big time."
Global faces
Iman
Credited as the world's first ethnic supermodel, Iman Abdulmajid was born in Mogadishu, Somalia in 1955, the daughter of a diplomat. She moved to the US in 1975 and appeared in US Vogue in 1976, quickly becoming one of the world's most high-profile models.
Liya Kebede
The first black model in Estee Lauder's history, Kebede, a 33-year-old Ethiopian, is one of the world's highest-paid models and has appeared on the cover of US Vogue as well as modelling for Givenchy, Gap and Anne Taylor. She also played the Somali supermodel Waris Dirie in the 2009 film Desert Flower.
Du Juan
Hailed as the first Chinese supermodel, Juan, who is 28 and was born in Shanghai, was the first Asian model to appear on the cover of French Vogue as well as Italian and Chinese Vogue. She has led advertisements for Louis Vuitton, Yves Saint Laurent and Hermes and is a catwalk staple for fashion giants including Chanel, Givenchy and Jean Paul Gaultier.
- OBSERVER, additional reporting Janetta Mackay