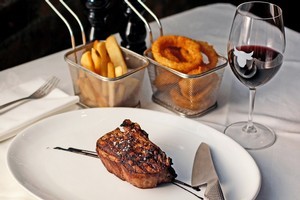 I may be a committed carnivore, but the idea of a steakhouse rarely excites me. And it certainly alarms Oliver, who has only recently graduated from being a vegan to a vegetarian.
"But, don't worry Mum," insisted my son Ben. "This steakhouse is different."
And he was right. Indeed, with its starched linen table cloths, five-star service, fancy fish dishes and equally fancy prices, the Jervois Steak House contradicts most of the things we associate with steak restaurants.
Our table was long and roomy, with comfortable chairs, shining cutlery and large white table napkins. Our waiter, Peter, was infinitely patient as we studied the menu over a bottle of Lake Chalice merlot.
Steaks are described, not just by cut, but by breed and feeding. If you have your heart set on fillet, you can choose between petite eye fillet (grass-fed), Savannah angus eye fillet on the bone (bigger and meatier) and the rib eye (150-day grain-fed Black Angus), which is roasted.
The sirloin comes from grass-grazed Black Angus cattle topped up with 300 days of grain-feeding. Even the rump is "finished" on 90 days of grain, to produce the requisite tenderness. And we all know about Wagyu.
Suddenly, the "animal to plate" association became too close. I found myself bypassing the marbled flesh and grain-feeding altogether by ordering the special braised ribs.
Our entrées arrived with perfect timing. The calamari schnitzel turned out to be a large, flat piece of tender, breaded calamari, the paua ravioli a delicate and fragrant blend of paua and pasta while Oliver's light and fresh caprese salad was the perfect antidote for what was to come.
However, despite our waiter's careful explanation, the crab was a disappointment. Although the crab meat was tender, sweet and obviously fresh, the two enormous orange pincers, which had to be prised open first, were a turn-off. Luckily Jessica loved hers.
But now it was time for the main event. The steaks arrived sitting in solitary splendour on their big, white plates. Jessica and Brian's petite eye fillet (200g) looked tiny alongside Ben's fillet on the bone (370g), which was tender as veal, tasty and perfectly cooked: a masterpiece. Meanwhile, my stunning entrée-size braised ribs proved more than enough for a main course.
The side dishes at Jervois definitely deserve a mention. Served in mini frying baskets, both the fries with trufffle oil and onion rings were crisp-cooked and seriously delicious. The candied kumara came studded with pecans and was creamy and surprisingly tasty. Both the rocket salad and peanut slaw were fine.
Despite the huge ingestion of meat, our desserts were a high point. Both the chocolate fondant and especially the peanut fondant were a big hit. Meanwhile my nougatine semifreddo was exactly the cool, feather-light concoction I needed to top off an excellent dinner.
We decided that the flaw with the Jervois Steak House is that it is neither a traditional steakhouse nor a five-star restaurant.
While you get all the frills and superior service of fine dining, instead of being presented with a carefully thought-out meal, diners must make their own decisions. Not just what meat to eat, but also what sauce, what vegetables, what accompaniments and what mayonnaise you want to go with it. And all of it, including tomato sauce, turns up on the bill.
It's all very American, as was our waiter's heavy-handed attempt to tease us into tipping.
Having said all that, the Jervois Steak House selects, cooks and showcases some of the country's best beef. We'll definitely be back for more.
Rating out of 10

Food: 8
Service: 8
Value: 7
Ambience: 8

Our meal: $456.00 for a bottle of Lake Chalice Merlot, plus two glasses of wine, five entrees and main courses plus three desserts.

Wine list: Excellent and especially strong on reds.

Verdict: Jervois Steak House does what it sets out to do with style and determination. Not for the faint-stomached.