Expand your culinary boundaries with two exciting new cooking classes.
Julie Biuso's kitchen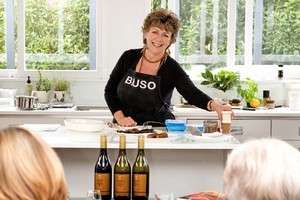 I love learning new things. Regardless of whether you're a novice or an expert, extending your knowledge is a great way to stay invigorated and interested in life. The trick is simply to find a great teacher - one whose style of teaching inspires you. That's why I signed up for one of Julie Biuso's cooking classes, Best Italian.
Who better to learn from than this stalwart of great cooking and devotee of Italian cuisine, a woman who left New Zealand at the age of 16, enrolled in the prestigious Le Cordon Bleu cooking school in London, then proceeded to travel and eat her way around France, Spain and Italy. It was here she fell in love with the food and a man, both of which she brought home with her.
For the past 35 years Biuso has devoted her life to food, building a solid reputation as an accomplished cookbook author and food editor of some of our prominent food magazines.
But Biuso is nervous. She's concerned that we're in danger of not being able to cook good food from scratch any more, so earlier this year she made the decision to invite people into her kitchen at home to share her wealth of knowledge through a series of intimate cooking classes.
When I arrive at the Biuso residence on the North Shore, on a cold and drizzly Saturday afternoon, I'm greeted first by the heady and comforting aroma of onions caramelising and then by Biuso.
Her wide smile and personable manner instantly put me at ease as she ushers me into her kitchen. As the others begin to file in (10 in total - the class sizes are kept deliberately small), I'm struck by how wonderfully intimate and privileged it feels to be sitting in the kitchen where she tests and photographs the recipes for her cookbooks, and makes and shares meals with family and friends.
Seated in full view of her workbench, we're introduced to the format for the three-hour class. It will be demonstration as opposed to hands-on, yet with the amount of tasting, sniffing, nibbling and quaffing that ensues, it feels very interactive.
The beauty of Biuso's classes is that in three hours we get through eight recipes and the information gleaned from her knowledge is incredible. As each recipe unfolds, Biuso deftly handles any questions we have and offers plenty of advice and information with regards to ingredients and cooking techniques. Forget stern or exacting, her style as a teacher is approachable and relaxed, with a cheeky sense of fun.
First she wakes our taste buds up with a simple fennel and pecorino salad, then whips up a classic Tuscan tomato soup served over bread. This is followed by erbazzone, a spinach and cheese puff pastry pie that provides the opportunity for a pastry rolling lesson, and then we munch our way through the spectacular result as it emerges piping hot from the oven.
When mistakes happen - garlic over-sauteed while she's regaling us with another hilarious story of the Italian in-laws, or puddings that "go grainy" due to her using a different chocolate than her usual - she rolls with it, laughing and saying "that's what happens sometimes in real life". And on we go to another recipe.
Silky wide-ribbon pappadelle with artichokes, sage and cream is followed by a heavenly fried and stuffed eggplant dish that comes out of the oven just before Biuso dashes outside to rescue one of her chickens which is on the wrong side of the fence.
As the afternoon wears on, the coffee is topped up and the wine flows and stories and knowledge are passed around and shared among the group.
It's a convivial atmosphere and the dishes cooked are all divinely flavoured, rich and deep in that home-cooked Italian tradition and, better still, practical and possible for cooks of any level to attempt.
I left with a notebook full of tips, a bag of goodies and feeling enthusiastic, in the knowledge that I had eight fabulous new meal ideas to add to my repertoire.
Hot tips
* When rolling pastry, use even pressure and short, one-way strokes, not back and forward which will toughen the pastry.
* To reduce the amount of oil used when cooking eggplant, dip each slice in oil before adding to a dry pan or grill plate.
* When cooking with puff pastry, use blocks and roll it out yourself. The rise is much more spectacular than when using pre-rolled pastry.
* When seeking a smooth consistency for tomato-based soups and pasta sauces, pour canned tomatoes into a bowl and, using your hands, gently sift through the pulp to remove any skins or cores.
* Classes (Italian, Desserts, Soups, Entertaining) run Wednesdays and Saturdays. Cost $125. For further information or to be added to the mailing list to receive notification about upcoming classes contact Biuso at biuso@clear.net.nz.
- Nici Wickes
Despite the fact I've scoffed a boatload of curry in my lifetime, I'm ashamed to admit that until recently I've never actually made one. But it took less than an hour at Sachie's Kitchen, Parnell's new Japanese cooking school, to learn how to make a simple, tasty curry I've already easily replicated at home. Yes, chef Sachie Nomura can work miracles, even with the most novice of cooks.
During her two and a half hour lesson I also mastered katsu (deep-fried with breadcrumbs) chicken and vegetables and a cabbage salad with its own special dressing, then got to sit down and gobble the lot.
The petite Nomura greets our small Saturday morning class with a cheery, energetic hello. She's one of those rare personalities it's impossible to imagine cross, and she puts everyone at ease at once.
Each pupil dons a name tag and a kimono-style apron, and is assigned to one of the four high-tech kitchen stations. My cooking partner Linda Teoh has signed up for all six of the lessons Nomura currently offers. Happy that part of her lesson fees go to charity Nourish the Children, Teoh is up to lesson number five and is enjoying them very much. "I like how its hands-on and you can have some fun with the cooking," she says.
First up is the curry. We gather around the front bench to watch Nomura quickly demonstrate how to get under way. She has a gentle and clever sense of humour and peppers the lesson with little anecdotes about her family, her future plans, and her passion for food.
We chop up a few veges and a small dish of meat (in this case carrot, potato, onion and chicken), stir fry them for a few minutes, then bring them to the boil in a litre of water.
We leave this to simmer for 30 minutes or so while we get on with our simple salad - lettuce and very finely chopped cabbage dressed with seaweed and a sauce made up of 11 ingredients including lemon juice, vinegar, cooking sake and sesame seeds. The cabbage, Nomura tells us, is often served with oily Japanese dishes because it cleans your internal organs as it's digested. This makes it the perfect accompaniment for the deep-fried katsu that we make next.
Vege-wise we use beans and mushrooms, but you can use almost anything seasonal for katsu. Everything is threaded on to skewers - not essential but it adds to the overall effect - taking particular care, of course, to make sure the chicken is spread out so it gets cooked properly.
There are deep fryers on the benches - though you can achieve the same effect with a pan of hot oil - and after coating each skewer with flour, egg and breadcumbs, they're fried for a few minutes until crispy and golden. Nomura has provided little baskets which we artfully arrange with the katsu after lining them with tempura paper to absorb some of the oil. Presentation is key, she tells us, to Japanese food preparation.
All that's left is the final step of the curry, which has been bubbling away while we've been working on the other dishes. This too is simple - we just scoop some of the hot broth into a ladle in to which we dissolve a couple of cubes of Japanese curry sauce mix (medium-hot, which is actually not hot at all), and hey presto, the curry takes shape as we know it. Scooped over and around a serving of rice, it is ready to rock.
The preparation and sharing of food is such a nice activity to enjoy with a group. We load up the Kitchen's big square dining table with our tasty grub and start tucking in while we chat. It's delicious - and there is plenty to take home as well.
Other dishes covered by the classes - which are $85 each or $425 for all six - include sushi, Japanese tapas, teriyaki, sesame icecream, tempura and Japanese pancakes, and Nomura has big plans for hosting guest chefs of other Asian cultures and organising a gourmet food tour of Japan towards the end of next year.
In the meantime, she's realising her aim to make the preparation of simple and fresh Japanese food accessible for everyone - even a rank amateur in the kitchen.
Hot tips
* You know the katsu chicken is cooked when you hold it in the air with your chopsticks and can feel a little vibration through them.
* Japanese breadcrumbs (panko) provide a much crispier result with the katsu than other types of breadcrumb.
* To impress your guests, add sesame seeds to the breadcrumbs when making your katsu. This adds to the taste and the presentation.
* We used one wide-blade knife for everything - even peeling veges - and used chopsticks as utensils when whisking eggs and stir-frying.
* When deep-frying katsu it's best to just do small portions at a time - every time you add anything to hot oil its temperature drops, so if you add too much, it will just take longer to cook.
- Shandelle Battersby