Stephen Jewell talks to American author Charlaine Harris about why readers must not confuse her True Blood novels with the television series.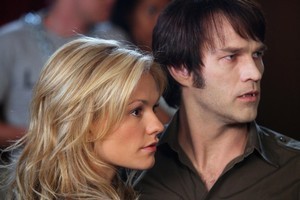 For a series rooted in the small Louisiana town of Bon Temps, it's ironic that True Blood's core cast hails from New Zealand, Australia and England. But no one is more impressed with the accents of Wellingtonian Anna Paquin, Ryan Kwanten from Sydney, and Essex-raised Stephen Moyer, who play Sookie Stackhouse, her brother Jason and vampire lover Bill Compton, than Charlaine Harris, the American author of the novels on which the popular series is based.
"I was born and bred in the south, so it took me a while to acclimatise myself but they've all done a trememendous job," laughs Harris, who lives in Arkansas. "I just can't imagine that part of acting. I couldn't do it myself. It's crazy, isn't it? But I get to see them from time to time and they're all such fun to hang around with."
A seasoned mystery writer, the 59-year-old had already penned several novels before Dead Until Dark, the first instalment in the Sookie Stackhouse series, appeared in 2001.
"I've been a published writer for about 30 years now," recalls Harris. "My books had sold respectably but I was kind of at a crossroads. I wanted to write something different that would be exciting for me and hopefully re-energise my reading public, what there was of it. I thought it would be fun to pull the supernatural into the mix, write less of a conventional mystery and see what happens. I worked on the character of Sookie until I came up with a young woman I thought I could live with for a few books."
Harris drew on her childhood love of ghost stories and other folklore, introducing vampires like the moralistic Bill Compton and his ruthless rival Eric Northman, along with werewolves like the maverick Alcide Herveaux and shapechangers such as enigmatic bar owner Sam Merlotte. "I've always been interested in the part of the world where we can't see," she says. "Mystery writers are generally required to stick pretty closely to reality so it's been a big pleasure for me to shuck off those bonds and do something completely new. To take these universally accepted supernatural figures and place them in the south to see how they interact with a different of environment."
With all 11 of the Stackhouse novels to date having featured in the New York Times best-seller list, Harris already boasted a sizeable readership long before Six Feet Under creator Alan Ball turned them into a Golden Globe-winning TV series. But since then an even larger audience has been exposed to her work, leading to some confusion over the significant differences between the two versions.
"People mix them up quite a lot," says Harris. "There have been some considerable changes and people were going, 'wait, Godric isn't Eric's maker in the books but he is in the show?' People really need to keep them separate in their minds when they're talking on my messageboard."
With the novels told from Sookie's first-person perspective, Ball and his team of writers have opened up the narrative, fleshing out the back-stories of supporting characters such as fiery bartender Tara Thornton and her flamboyant cousin, Lafayette Reynolds. Co-executive producer Alexander Woo recently insisted they haven't deliberated deviated from what happens in the novels as they are weaving their plots out of the same primordial soup that Harris is sampling.
"Many of the storylines we've created from scratch because we have a cast of 20-odd people that we have to write for," he told SFX magazine." That being said the books have wonderful, amazing stuff that we are happy to use."
For her part, Harris is happy to let them do their work. "I truly don't think it's my balance to strike," she says. "A lot of people don't want to watch the television series because they think it will scramble their vision of what happens in the books. Some people don't want to read the books because they love the show and don't care to read them, which is okay too. Some people say that they watch and read them both but they're separate events, which is the best way to do it."
Crucially, Bill will remain more of a constant presence in Sookie's small-screen life following their bitter break-up than he does in the novels as Harris sends him off to Peru to lick his wounds at the conclusion of her third book, Club Dead.
"One of the exciting things that Alan has done is that people who have read the books really don't know what is going to happen in the show and it would be boring if they did," says Harris, who also places less emphasis on the love triangle between Sookie, Bill and Eric. "I don't really see it as that kind of dynamic but a lot of people have done after they've read the books. Of course, if you're watching the show that definitely still pertains but the books have gone beyond that."
Harris is several novels ahead of the TV version, with the recent release of the 11th book in the series, Dead Reckoning.
"It has some grim stuff in it with the ascendance of Victor to the Regency of Arkansas," she says, referring to the vampire community's latest ruler. "There are some very severe problems with him as he is trying to eradicate Eric. Eric is struggling back but has to toe the line because he is in a chain of command. And Sookie has come to terms with some changes in her own personality as the way she lives her life has been changed forever. She's not the person she was."
Harris is hard at work on the next instalment. "I started it a couple of months ago and I'm proceeding through it pretty quickly," she says.
"I'm pretty excited about it because I can see the end of the series coming and that re-energises me."
Dead Reckoning (Gollancz $36.99) is out now.