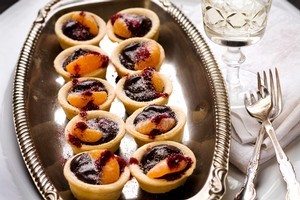 Serves 4
Shortcrust pastry
150g butter
200g plain flour
pinch salt
1 Tbs caster sugar
2 Tbs water
100g dark Belgian chocolate
1/2 cup cream
1/2 cup milk
1 tsp honey
mandarin segments, with the pith removed
plum powder - available from gourmet food stores
caster or icing sugar
1. Preheat oven to 180C. To make the pastry, put the butter into the bowl of a food processor with the flour, salt and sugar.
2. Process until just combined. The mixture should resemble breadcrumbs. Add just enough water for the pastry to begin to hold together then stop the machine. Remove the pastry, wrap in plastic and refrigerate.
3. After 30 minutes, roll out and line greased tartlet cases. Bake for 15 minutes or until golden then let cool.
4. Combine the chocolate with the cream, milk and honey. Stir over a gentle heat until smooth or microwave.
5. Spoon the chocolate into the tartlet cases. Add a mandarin segment to each, then a dusting of plum powder and a little icing or caster sugar.