Some fresh and interesting canapé ideas for entertaining your guests over the winter months.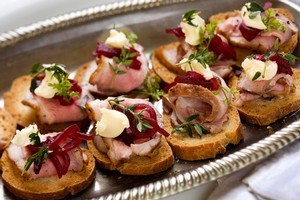 When it comes to entertaining, there's nothing like a few elegant canapes to increase the wow factor. Pop the bubbles darling, and try some of these dainty treats.
Divine whitebait from our shores is delicious and needs to be quickly prepared. The flavour is fantastic and all that is needed is some frothy butter in a pan, whisked egg, salt and pepper, and a few herbs.
Warmed bread wrapped around the fritters is the more low-key way to eat these treats, but because we're out to impress I have re-invented the basic whitebait sammie and turned it into a brioche canape. The fritters are still simple and tasty but small and sandwiched between lightly toasted thin slices of brioche. A spoonful of lime hollandaise and a sprinkle of fresh herbs finishes them off nicely.
The next offering involves duck breast which is rich and full of flavour thanks to the fat underneath the skin which makes it a luxurious treat.
Duck is easy to sear in a hot pan until golden, then all you need to do is turn it over and continue cooking until tender.
To finish off the menu, I have whisked up the finest dark chocolate with cream, then spooned it into small tartlet cases. Take all the pith off the mandarin segments before sinking them into the chocolate. Dust with a little plum powder if you fancy, then a dusting of caster or icing sugar to create a decadent mouthful to enjoy with a dessert wine and a coffee.