Rebecca Gibb talks to the makers of some of our best organic wine about why they do it, and asks the vital question" does it taste any good?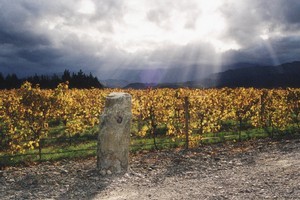 Patting cows and admiring piles of dung was not what I had envisaged when leaving Auckland behind for rural Marborough.
I thought I was there to tour organic vineyards for the vital purpose of tasting wines, but instead found myself transported to the set of The Good Life. Had I mistakenly been picked up by Richard Briars and Felicity Kendal at Blenheim airport, or are cows, sheep, and a gaggle of geese really what organic wine is all about?
Even if you're more of a Penelope Keith character, organics has become a category you can't ignore: in 2009, organic food and drinks contributed $485 million to the New Zealand economy, up from just $140m in 2005.
While organic farms cover more than 124,000ha just 100ha of the country's vineyards are certified as organic, representing only 4.5% of our vineyards.
Yet trade association, Organic Winegrowers of New Zealand has announced an ambitious target, aiming to turn 20% of New Zealand's vineyards organic by 2020.
Lars Jensen of biodynamic and organic wine estate Richmond Plains in Nelson, explains: "People are starting to question where their food is coming from." But does that apply specifically to wine? Do we care what's in it and where it comes from?
Awareness if organic wines is certainly lower than organic food. There's a belief that all wine is organic, and in the right amounts, is good for you. However, conventional wine producers use fungicides to keep rot away, herbicides to stop weeds competing with vines, and pesticides to keep nasty bugs from attacking the grapes. And that's certainly not "organic".
Wineries who practise organics can't use any of those chemical products, and instead use alternative methods, such as weeding manually, and using more imaginative "natural" techniques to keep pests away.
You can spot an organic vineyard a mile off - it looks a bit scruffy compared to the beautifully manicured "show" vines next to cellar doors that sport a herbicide-induced landing strip under the vines.
But if you drink an organic sauvignon blanc next to a conventionally-made sauvignon blanc, can you tell the difference?
No one's sure - not even the professionals. Organic vineyards generally produce lower yields (which equals more intense wines) and are better tended but even the producers admit that it doesn't necessarily taste better or different. Some lesser producers' organic wines may be undrinkable, as Therese Herzog of Hans Herzog, points out: "I wouldn't say every organic wine is a good wine. An organic wine can be horrible."
However, there is something in the smell and taste of an organic and biodynamic wine that you can't quite put your finger on. They tend to be balanced and have an unexplained purity - or is that just a figment of my imagination?
Perhaps it is the attention to detail: producers estimate time spent in the vineyard increases by as much as 50 per cent when moving from conventional method to organics.
On the other hand, maybe there is something going on in the vineyard that can't be explained.
Wendy Tillman, biodynamic co-ordinator at Seresin Estate in Marlborough, claims: "I think you see a texture, intensity and liveliness that you don't get in conventional wines. It's also knowing that there's no residues in the wine and it was cared for."
Other producers say the wine is more "lifted"; others believe their wines have become more delicate, but no one's quite certain.
There's no denying that buying organic - whether food or drink - is a greener, more ethical, and possibly more healthy choice. These producers are using fewer sprays and chemicals in the vineyard, increasing the vitality of the soil, the area's biodiversity, and ensuring the long term future of the land.
Claire Allen of Marlborough's Huia, says "There's something happening: the vines seem to get happier and happier and the canopy seems to be more balanced. The soil is alive."
In the winery there's also a hands-off approach, with as little as possible added to the wine. In many wineries, you'll see yeast, sugar, acid, enzymes and sulphur dioxide added to the juice to ensure the wine gets from grape to glass without any glitches. Organic producers try to keep their additives to a minimum but it's virtually impossible to make a stable wine without making some minor adjustments, particularly sulphur.
Allen adds, "We have to make wines that are viable, that people want to drink, and which taste as good as non-organic wines. We can minimise the additives we use but no one wants a cloudy wine or a wine that oxidises in your glass."
Some say organic wines contain less sulphur than their non-organic counterparts, and may help you avoid a hangover but that could be an old wives' tale, too.
How do you know if a wine is organic or not? There are few wine stores that have an "organic sector" to help you shop ethically. Producers aren't much better at advertising their green credentials: you'll have to read the back label in detail to find out whether a producer is organic or not, which doesn't help the busy shopper when faced with the sea of wines on the shelf.
In New Zealand, organic wine producers sport a small Bio-Gro organic accreditation symbol. Biodynamic producers, who work with lunar cycles, viewing the vineyard holistically, may display the Demeter accreditation - but this appears on the back of the bottle (how helpful).
After the cows, sheep and geese, it turned out I had been collected by the right person at Blenheim airport, and there were wines to be tasted.
Selecting an organic wine from a line-up of conventionally made wines is almost impossible but you can sense the organic producer cares about their wine from the contents of your glass. Buying an organic wine means you are contributing to the future vitality of vineyards, and, although not yet proven, fewer chemicals in the vineyard may even help you have a Good Life.
Top 10 NZ organic/biodynamic wineries
Felton Road Central Otago
Fromm, Marlborough
Hans Herzog, Marlborough
Huia, Marlborough
Muddy Water, Waipara
Millton Estate, Gisborne
Richmond Plains, Nelson
Rippon Estate, Central Otago
Seresin, Marlborough
Te Whare Ra, Marlborough
Vynfields, Martinborough