Frank Liew, owner of Qubic Store, shares his favourite things with Viva.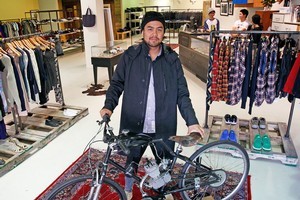 Frank Liew is a connector. The co-owner of sneaker and street fashion boutique Qubic Store in Newmarket, Liew also works on projects and events, helping to bring respected DJs, artists and creatives to New Zealand.
He's also a bit of a new media expert, recently speaking at a conference on Communications and New Media in Melbourne, blogging for HypeBeast and contributing to different magazines.
Most recently he and partner Ivy Ong gave Qubic a makeover, using almost all recycled materials - think of a cash register built into an old gramophone desk, a front counter made of steel and wood sourced from old door panels, vintage doors turned into display tables, shoe racks made from old wooden floor boards, and changing rooms made of timber from the set of Spartacus, created by local artist Murray Green. Liew talks us through some of his favourite things, from a bike that sits in the window of the store to various gifts from some of his well-connected creative friends.
10 FAVOURITE THINGS
1. Moto-bike
This was the result of a couple months of brain storming, cutting, welding, and fooling around by my friend Tim at T. White's Bikes. It sits in the window for us to use for quick post office runs or commuting. Every day we have people who come in specifically to ask about it. Yes, it works. Yes, it's real.
2. British Remains black rubber brick
With the classic "London Brick" as a symbol of construction, rebellion, and many other things relating to classic British youth culture, Andrew Bunney and Daryl Saunders wanted to juxtapose this hard, edgy tool/material/weapon by recreating it in a "soft" form. This is a 1/20 series and if I remember correctly, the artists also said it was made by an adult toy manufacturer.
3. Ivy's home-made candle
My partner Ivy loves to make home-make candles to burn in the store from time to time, and she loves experimenting with different scents. We always make them in used tins, as part of the recycled theme of the store fit-out. This one is a kiwi-ginger-lemongrass-green tea scent. I think the strangest concoction we made was chocolate ginger, but it turned out to be pretty popular among the crew.
4. Futura Customised Playstation3 mock-up
When we brought NYC artist and contemporary art legend Futura down to New Zealand a few years ago for an event, he wanted to leave something with us, and took this wooden Playstation3 mock-up from the sponsors (the only one that exists, as we're told) and customised it. For someone whose current work is valued almost into the six figure territory, it's nice to have a one-of-a-kind memento from his visit lying around.
5. Totti by Tanja Jade
I've always loved Tanja Jade's (ex-Misery) work over the years, both as an artist and as a friend. We own a few of her pieces, but this one is certainly one of our favourites. It was part of a series of 15 or so that she sculpted for one of her last shows as Misery.
6. "The Equalizer" bike tool (unreleased)
This was an all-in-one bike tool/wrench we developed for a project with a Hong Kong-based creative company that unfortunately was never released in the end. Customs said it was too much like a weapon, but we'll leave that in the eye of the beholder.
7. Terry Richardson for Supreme & Muppet Studios
Every year controversial New York-based photographer Terry Richardson shoots a campaign for an NY brand called Supreme along with a third party. These third parties have ranged from Mike Tyson to Lou Reed to Lady Gaga, but my favourite has to be the print they produced for the Muppet Studios. I got the chance to see the actual puppet at their studio, but they gave me a print instead.
8. The Hobo Style by Leo Yoshida
This is an interesting book by a friend of mine; an actor/screenwriter in Tokyo called Leo Yoshida. The book chronicles a trip to the USA's Midwest by Leo and his father Katsu, where they researched and catalogued pictures about hobos - modern-day nomads and transients who ride on freight trains from town to town seeking temporary work. Not homeless people as we commonly use the word, but happy-go-lucky individuals who can't stay in one place for long and who get by, leading comfortable lives in the process.
9. "Rats Get Fat While Good Men Die" 1/50 print by Mike Giant
I'm not entirely sure if this is a Hunter S. Thompson quote, but this was a print produced by San Francisco-based artist Mike Giant which I bought from one of his shows. When you think about it, you can see it as both a positive and negative life mantra. It's up to the person reading it to decide which one they wish to adopt.
10. Kaws tile
Kaws has been one of the most prolific artists of the contemporary art movement, with his paintings and rendition of modern day classics like The Simpsons, Disney and Family Guy reaching six-figure amounts in gallery and museum shows, and with private collectors like Pharrell and Nigo (Bathing Ape). This is a tile that he designed for his "OriginalFake" store opening in Tokyo, Japan, which was given to a small group of guests and friends at the opening.