Electrician-turned-award-winning chef Mark Best is heading across the Tasman to show us his style. He gives Viva an insight into what drives him.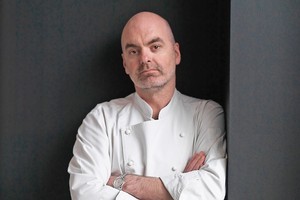 Staying on top of the foodie game in a city as competitive as Sydney is no easy feat, but Mark Best, with his restaurant Marque, is doing just that. It was voted Restaurant of the Year 2011 in the Sydney Morning Herald Good Food Guide Awards and one of the World's Top 50 Best Restaurants in the revered 2010 San Pellegrino Restaurant Awards. He tells about his career path and what to expect at the special dinner he will be creating at Queenstown's Matakauri Lodge in July.
What are your fondest memories from growing up?
I loved visiting Nanna and Pop every school holidays. They lived in Tanunda, in the Barossa valley. My favourite holiday was Christmas as Nanna was a wonderful and inventive cook. She was of Barossa German heritage, so her food was very European but never heavy. Pop had the most incredible home garden, which supplied all they could consume. I loved his dilled gherkins and pickled onions. It was such a treat to help when they were made. I remember being able to consume my bodyweight in gherkins and mettwurst.
You worked as an electrician in the gold mines before discovering cooking. What was the "defining" moment or event when you realised that cooking was your thing?
I think it was the first time I went down the mine shaft at the Regent. I was an apprentice, asked to go to the bottom of the skip, turn around at the bottom and squat there. The miners then piled in above. They stunk like death and then the skip plunged to the bottom (1200m), like it was in freefall. I am quite claustrophobic but almost had no time or room to panic. That was a defining moment. There was never one point that I decided I wanted to be a chef. It just snuck up on me.
Circumstances seemed to corral me in that direction and one day I found myself helping for a day at the Macleay St Bistro in Potts Point. I sat at the staff table after a busy lunch service with the owners, eating something with a glass of wine.
I had a glimmer then that this was the direction I should go.
You opened your first restaurant, the critically successful Peninsula Bistro. What do you know now that you wished you knew then?
My partner Valerie and I opened Peninsula in 1996. I wish I'd known the winner of that year's Melbourne Cup.
You then headed off to France.
What did you do there? How did this affect your approach to cooking?
I had corresponded with Alain Passard at Arpege for a year - this was pre-email - and he agreed I could do a work placement there. I ended up staying for four months, unpaid. It was an epiphany and the experience completely changed the way I approached ingredients and cooking. That experience still informs my work.
You opened Marque in Sydney in 1999 and this year it has been named Restaurant of the Year in the Sydney Morning Herald. Tell us about your philosophy behind Marque and what makes in unique?
We are unique in that we are still family-owned, with no other interested parties nor investors. Valerie runs the front of house and I run the kitchen. This has given us complete control of the customer experience and means that creatively I have no one to answer to but myself. Marque is a very basic restaurant model. The best ingredients, service and ambience we can achieve. No gimmicks, theatrics or bullshit.
How does being Restaurant of the Year affect/change what you do?
It doesn't. The accolade is a reward for what we have done.
Your food has been described as stimulating the mind and the taste buds. Please can you elaborate on this?
I have an intolerance for cliche including the culinary kind. The cuisine at Marque is usually described as being modernist. I disagree and think it is quite classic at its core but what we do is remove the usual context. I change the form and customers don't recognise what they are eating until they taste it and then you can see the light turn on.
You have also described Marque as being very idealistic. Please can you explain this?
I think my answer above covers this. Early on we were not very busy and I was told that I was "not giving the customer what they wanted". I responded with "f*** the customer". We just needed time to build a customer base of people who were a little more adventurous and who demanded something different. I am very lucky to have many such customers now, which allows me to do as I please.
Tell us about the process you go through in developing dishes for the menu, choosing produce, etc.
It is just a continuing conversation. You tend to think about things constantly. We also search for ingredients constantly. It's is seeing a new ingredient and asking yourself "how are we going to unlock the beauty in this?"
What inspires you and what food trends excite you at the moment?
Always the ingredient. We try to stay away from trends. On that path lies madness.
What is the most popular dish on the menu?
Probably our blue swimmer crab with almond gazpacho, corn custard and avruga. It is all white and seductive in texture. The original inspiration was a classic blancmange (I mean going way back when almonds were pounded then mixed with water sugar and calves' foot jelly and passed through a horse-hair sieve). It has the seductive nature of this dish.
What is your favourite ingredient at the moment and why?
I love everything from this season, from the root vegetables to lettuces: they are intense in flavour, texture is fantastic and I find them comforting.
How would your staff describe you?
As a person who does his best.
How is the food scene in Sydney different to other parts of the world?
I think it is the cultural diversity and our fresh and vibrant approach to ingredients that sets us apart. The Asian influence is very apparent here. It is a very interesting place to dine if you know where to look.
How has the Sydney food scene changed in recent years and where do you see it going in the future?
The biggest change has been the change in licensing laws. It has allowed the bar scene to flourish as well as given a low entry point to young chefs who have opened some fantastic small places.
They are relatively cheap but great and exciting ideas are coming out of the kitchens. I think we will get more of the same. I look forward to seeing the maturity of this current phase of Sydney chefs.
What can people expect when you come to Matakauri Lodge and what are you looking forward to most about coming to New Zealand?
They will get a taste of the Marque philosophy paired with wonderful New Zealand produce and the incredible wines of Pyramid Valley.
Tell us about how it came about that you are teaming up with Pyramid Valley Vineyards for the Matakauri Lodge event.
Mike came to visit one day and I happened to sit in on the tasting. I was entranced by his story and found his vision for quality compelling. It was a no-brainer who I would choose when asked to cook at the lodge.
What's the worst thing about life right now?
No rest.
What's the best thing about life right now?
My beautiful family.
What is your guiltiest pleasure?
Trash TV.
Can you share a sneaky tip for working in the kitchen?
Get a good pair of shoes.
When you're not in the kitchen, where can we find you?
In front of the TV.
* The Mark Best exclusive dinner at Matakauri Lodge takes place on Saturday, July 2. His food will be matched with wines from New Zealand's Pyramid Valley Vineyard.
The event costs $800 per person and includes luxury accommodation, the degustation dinner with matched wines and a full breakfast the next day.
To book, ph (03) 441 1008 or email reservations@matakaurilodge.com