MasterChef finalists share the audition recipes that set them on the road to success.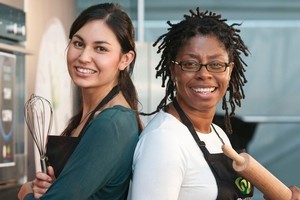 Nadia Lim's dried plum salt duck with fragrant Asian salad, roast capsicum sauce, chilli scallops and duck consommé
I found it really hard to decide on what to cook for the auditions as I rarely cook the same dish twice, so I decided to make something that represented my heritage, half Kiwi and half Malaysian-Chinese - NZ scallops, Chinese five spice and dried plum duck, and a salad with flavours of South East Asia. During Chinese New Year we eat these salty, tart dried plums, which lend an interesting flavour to the duck - you can get them in most Asian supermarkets. This was also the second time I'd ever made a consommé - they're much easier to make than you think. When the egg white raft has floated to the top and clarified the stock, just tip the whole lot into a sieve lined with muslin cloth or a paper towel instead of wasting time carefully ladling the stock out. This dish, as the judges said, is a bit like two dishes in one - so you could have the scallops with the capsicum chilli sauce as an entrée, and then the duck, salad and consommé with rice for a main.
Serves 2
Preparation time: 15 minutes cooking time: 30-40 minutes
Duck Consommé:
1 duck frame, chopped into pieces
2 tbsp hoisin sauce
3 stalks celery, roughly chopped
2 onions, peeled and quartered
1 carrot, chopped
6 black peppercorns
3-4 egg whites
Duck sauce:
1/4 cup red wine
1/4 cup Japanese plum wine
3/4 cup orange juice
Roast Capsicum Sauce:
1 red capsicum
1 red chilli
Zest and juice of 1 lime
Salt and freshly ground black pepper
Dried Plum Duck and Scallops:
1 whole duck, breasts removed with skin on - legs reserved for another use and reserve frame
6 Chinese dried plums (available from most Asian grocery stores)
1 tsp coarse sea salt
Freshly ground black pepper
1 tsp Chinese five spice
1 tbsp sesame oil
1 tsp butter
1/2 large red chilli, deseeded and finely chopped
6 scallops, roe removed
Fragrant Asian Salad dressing:
1/2 large red chilli, deseeded and finely sliced
1 tbsp Japanese rice wine vinegar
1 tbsp fish sauce
Juice of 2 limes
Zest of 1 lime
1 tbsp grated palm sugar
1/2 stalk lemongrass, very finely chopped
2-3 kaffir lime leaves, very finely shredded
Fragrant Asian salad:
1/2 mango, finely diced
Handful mung bean sprouts
1/2 Lebanese cucumber, quartered lengthways, deseeded and finely sliced
Handful coriander leaves
Handful mint leaves, torn
Handful basil leaves, torn
1 Preheat the oven to 180C. To make the consomme, brush duck bones with hoisin sauce, place in a roasting tray and roast in the oven for one hour.
2 Transfer the roasted duck bones to a large saucepan with celery, onions, carrot and peppercorns. Reserve juices and sediment from the roasting tray for the sauce. Add just enough water to the saucepan to cover the bones (it's important not to add too much water as you don't want thin, watery stock).
3 Simmer for three hours, skimming fat regularly. Strain the stock, discarding the bones and vegetables, and return to the pan. Skim off as much fat as possible.
4 Whisk egg whites thoroughly into the stock. Place over medium-low heat and bring to a slow simmer. When a raft of egg whites just starts to form, whisk it a couple of times to break it up and help it set evenly. When the raft has risen to the top, carefully break it and strain the consommé through a coffee-filter paper and set aside.
5 To make the duck sauce, scrape the sediment to loosen from the bottom of the reserved pan. Deglaze the pan with wine, orange juice and any juices from the resting duck. Reduce until slightly syrupy. Strain the sauce through a fine sieve and keep warm in the oven until serving.
6 Preheat the oven to 220C. To make the roast capsicum sauce, roast the capsicum and red chilli until blistered and slightly charred, 15-20 minutes. Place in a plastic bag and leave to cool.
7 Peel the capsicum and chilli and deseed completely. Place in a blender with lime zest, juice and a few teaspoons of the duck sauce and blend. Taste and adjust seasoning if necessary and keep warm.
8 To make the duck, score the skin of the duck breasts diagonally with a sharp knife. Pull the skin off the dried plums and pound with coarse sea salt in a mortar and pestle to a fine salt. Sieve the plum salt to remove any large bits. Rub into the duck, along with the black pepper and five spice.
9 Heat the sesame oil in a cast-iron frying pan over medium-high heat and sear the duck breasts, skin side down, for 1 1/2 minutes. Turn and sear the flesh side for 20-30 seconds. Flip back to skin-side down and place in the oven for 5 1/2 minutes. Remove from the oven and keep warm while resting.
10 To make the dressing, combine all the ingredients in a mixing bowl. Set aside.
11 To make the salad, combine all the ingredients in a mixing bowl. Set aside.
12 Heat a small frying pan over high heat and add the butter and chilli. Sear the scallops for 45 seconds on each side.
13 To serve: slice the duck breasts diagonally and place on a plate. Dress the salad and place on the opposite side of the plate to the duck. Drizzle the roast capsicum sauce down the middle and top with scallops. Pour the consommé into a cup and place on the side.
Jax Hamilton's jerk chicken & coconut rice with mango salsa
It was an absolute joy to present this plate at my audition. The main ingredients of this dish represent typical Jamaican cuisine and also the food that was nostalgic of my childhood mealtimes. Caribbean food is all about deep marinades and intense flavours, which I absolutely love. The succulent chicken thighs are juicy and tasty with the surprise of the spicy jerk stuffing, alongside the creamy, nutty coconut rice, then topped off with the salsa's freshness of sweet mango and the zing of hot chilli. Sun, sea and sand all on one fork.
Serves 4
Preparation time: 25 minutes
Cooking time: 25 minutes
To make jerk seasoning:
5 spring onions, roughly chopped
1/4 cup brown sugar
4 cloves garlic
4 Scotch bonnet peppers or red chillies
1/4 cup allspice
1 tbsp freshly ground black pepper
1/2 tsp nutmeg, ground
1/4 tsp cinnamon, ground
Salt
Lime juice to taste
8 chicken thighs, skin on, boneless
Olive oil for frying
To make coconut rice:
1 cup canned black beans, drained and rinsed
6 cloves garlic, peeled
1 sprig thyme
250ml coconut cream
1 cup basmati rice, washed
To make mango salsa
1 ripe fresh mango or 1 x 425g can mango
1 red chilli, deseeded and diced
1 spring onion, finely sliced
Juice of 1 lime
Salt and freshly ground black pepper
1 Preheat the oven to 180C. To make the jerk seasoning, place all the ingredients except salt, lime juice and chicken in a blender and pulse to a smooth paste. Taste and season with the salt and lime juice. Spread a good measure of jerk seasoning on the skin of each chicken thigh. Fold the thighs in half and secure with a skewer. Set aside.
2 To make the coconut rice, place one cup of water in a saucepan with the black beans, garlic and thyme and bring to a simmer. Simmer for two minutes, then add the coconut cream and rice. Turn the heat down, cover and cook for 20 minutes until the liquid is absorbed and the rice is cooked. Drain and remove the thyme sprig.
3 Heat a large ovenproof frying pan over medium-high heat. Pan-fry the chicken skin-side down in a little olive oil until golden. Turn, then place the pan in the oven for 20 minutes.
4 To make the salsa, remove the skin from the fresh mango, if using. Dice the mango into 5mm pieces. Add chilli and spring onion. Season with lime juice, salt and pepper and gently toss to combine.
5 To serve, firmly push the rice and bean mixture into a greased ramekin, then turn out on to a serving plate. Remove the skewers from the chicken and slice each thigh in half. Place four chicken halves on each plate and drizzle with the pan juices. Top the chicken with the salsa.
* Recipes and images from MasterChef New Zealand: The Cookbook Volume II (Random House, $55), out this week.