Fashionable events worth checking out this week.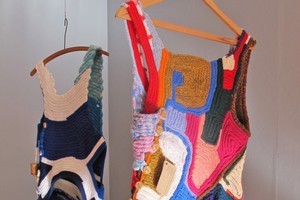 Knit wit
Anti-consumerist fashion designer Emma Churchill's new exhibition "French Knitting" at Lopdell House aims to challenge our approach to what we buy and encourage us to explore the production processes that go on to create those items we do buy. Churchill, who graduated from Massey University in 2009 with an honours degree in fashion design, drew inspiration from a range of sources including her mother "an oblivious non-consumer" and the 1915 Piet Mondrian painting Pier and Ocean. On until 29 May, Lopdell House, cnr Titirangi and South Titirangi Rds, Titirangi, ph (09) 817 8087.
A new twist
Who said men's fashion was predictable? Not Andreas Mikellis who, as part of his master of philosophy research project has a pop-up shop in Ponsonby called "A Manual for Sartorial Disruption". It's a fascinating exhibition of experimental menswear and it's only on until the end of tomorrow - so be quick! 239 Ponsonby Rd, Ponsonby.
Fashion fix
Tomorrow night, Thursday, sees the launch of artist Ema Frost's art and jewellery line "Frost + Dinkie" at The House of Hedone on High Street. Along with Frost's collection there will also be the chance to see the ranges of emerging designers Maaike, Brady, Dalston and Neverblak. Get along between 6pm-8pm and stylist Jade Smythe will be there to help you with your winter look. The House of Hedone, 5b High St, City.
Bookworms
Foodies and fashionistas are in for a treat with next week's Auckland Writers & Readers Festival (11-15 May). Among the line-up of international and New Zealand authors are a bunch of food writers and fashion commentators who are sure to impress with their words of wisdom. Here are a few of our top picks:
Friday May 13: 11.30am-12.30pm
Kick it all off by spending an hour with Madhur Jaffrey, born in Delhi and famous for being a TV food personality and author of numerous wonderful cookbooks. Later (7.30-9pm) spend an evening with AA Gill, acclaimed food writer and restaurant critic, known for his wit and strong, sometimes controversial, opinions as he talks with our very own food personality Al Brown.
Saturday May 14: 2.30pm-3.30pm
Explore the history of our fashion pioneers and heroes with authors of The Dress Circle, Lucy Hammonds, Douglas Lloyd Jenkins and Claire Regnault with author Peter Wells chairing the session. From this session head straight to High Tea: Delicious Words (3.30-5.30pm) featuring a panel of food writers including AA Gill, Al Brown, Annabel Langbein and Sarah-Kate Lynch as they discuss why recipe and food books continue to be so popular and what the impact might be of the rise of the internet and TV food shows. Chaired by Lauraine Jacobs (Cost $65).
Sunday May 15: 11.15am-12.30pm
Saving the World is a powerful session that looks at what we've done and what we haven't done to protect ourselves and our environment.
Authors Paul Gilding, Naomi Oreskes, Grant Redvers and Fred Allendorf will discuss our future in light of the current natural, political and economic climates we live in. Chaired by Sean Plunket. These are but a few of what's on offer, so check out writersfestival.co.nz and book yourself in for some treats.