Each week Wendyl Nissen takes a packaged food item and decodes what the label tells you about its contents.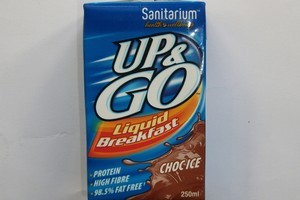 Since I started writing this column Up&Go liquid breakfast has received more requests to be analysed than any other food item.
"My kids have one every day and I'm wondering how healthy they are," said one mother.
"I really don't like this product because it has so much sugar and it's like giving your child a milkshake for breakfast," said another.
In its advertising campaign, Up&Go is endorsed by the All Blacks and on the box it states "with the protein, energy and dietary fibre of two Weet-Bix and milk".
It should possibly also state that it has 11.7g more sugar and 13 more ingredients than a simple bowl of Weet-Bix and milk.
Up&Go
$8.99 for six 250ml cartons
Filtered water
This water has been filtered to remove impurities.
Its listing at the top of the ingredients panel means that this is mostly water.
Breakfast cereal (5pc)
It's tempting to think that Sanitarium has simply ground up two Weet-Bix and some milk and put them into this carton but the ingredients list below shows they haven't. None of these four ingredients are found in Weet-Bix.
Wheat maltodextrin
This is a sugar taken from a starch - in this case wheat.
Inulin
This is a substance which naturally occurs in root vegetables particularly chicory. It is added as a source of soluble fibre.
Corn syrup solids
This is basically a sweetener. Corn syrup is a sweet, thick liquid that comes from corn. When it is dried, the powder is known as corn syrup solids.
Hi-maize starch TM
This is a trademarked product which is a resistant starch taken from a certain type of corn. This product is used in processed foods to add fibre.
Skim milk powder
This is low-fat milk powder.
Cane sugar
This sugar is taken from sugar cane rather than corn as in the other sweeteners in this product.
Soy protein
This protein is taken from soybeans and is popular with bodybuilders as an additive in protein shakes.
Soy protein has had a controversial past because it contains phytoestrogens. Some studies suggest high levels of these may increase the risk of certain forms of cancer while other studies contradict this.
Vegetable oils (sunflower, canola)
[contains antioxidant (tocopherols), contains soy]
These are common oils used in processed foods and they contain the antioxidant tocopherols - Vitamin E. I'm not sure what the reference to soy is doing here as neither canola nor sunflower oil is taken from soybeans. It may mean that the antioxidant has been added into the mix and it comes from soybeans.
Fructose
This is a sugar obtained from fruit which the body absorbs more slowly than sugars such as sucrose.
Cocoa (0.5pc)
This is in here as a flavouring and is the stuff you use at home to make hot cocoa and chocolate cakes.
Minerals
(phosphates of calcium and sodium)
These are supplements added, I presume, to provide calcium and phosphorous.
Flavours
(contains soy)
This will be an artificial flavour obtained from soy.
Acidity regulator (332)
This is potassium citrate to control the pH of the product.
Vegetable gums (460, 466, 407)
These are cellulose (460) which is thickener but also a source of dietary fibre. Large concentrations can cause intestinal problems, such as bloating, constipation and diarrhoea. Because of this, it can't be used in weaning foods which might be why this product has a warning on the label in small print "Not suitable as a complete milk food for children under 2 years". Sodium carboxymetylcellulose (466) has similar properties to cellulose. Carrageenan (407) is a gel which comes from a type of seaweed and is disliked by health activists. The Joint Food and Agriculture Organisation of the United Nations and the World Health Organisation expert committee on food additives state that, "based on the information available, it is inadvisable to use carrageenan or processed eucheuma seaweed in infant formulas [WN1]". There is also evidence from studies on rats, guinea pigs and monkeys that degraded carrageenan (poligeenan) may cause ulcerations in the gastro-intestinal tract and gastro-intestinal cancer [WN2]. Anyone with irritable bowel syndrome is advised not to eat this on a regular basis.
Salt
Vitamins (C, niacin, A, B12, B6, B2, B1, folate)
These are to add to the nutritional value of the liquid breakfast.
My recommendations
Is it too hard to get a child to sit down at the kitchen table and eat solid food these days? Are we raising a nation of astronauts in training who must develop a taste for liquid food? I remember my Nana would set the table the night before with bowls, cutlery and even a milk jug with a doily over it in preparation for the busy morning meal. It is easy to presume that because Up&Go is made by the same company as Weet-Bix that this product is mulched Weet-Bix in a carton. It's not. Weet-Bix has five ingredients: whole grain wheat, sugar, salt, barley malt extract and added vitamins and minerals. This product has 19 ingredients including carrageenan which has some serious health studies linked to it, loads of sugar and artificial flavourings.
And although the advertising would have you believe it is as good for you as Weet-Bix and milk, there are some differences. When stacked up against two Weet-Bix with cup of reduced fat milk, Up&Go has less protein (9g to 11.5g), more fat (3.8g to 2.3g) more calories (191 to 180) a lot more sugar (18.5g to 6.8g) and more fibre (3.8g to 3.2g). That fibre is mainly from additives like inulin and processed starch rather than the 97 per cent whole grain wheat in Weet-Bix.
So sit your child down for five minutes for a proper meal instead of throwing them in the back of the car or packing them off to the bus with a box of this. And if your child won't entertain the thought of anything but a liquid breakfast, whiz up a smoothie with a banana and frozen berries.
Highlights
* Much higher in sugar than a bowl of Weet-Bix and milk.
* It takes 19 ingredients, including additives, compared with six for Weet-Bix and milk.
* Despite both products being manufactured by Sanitarium this liquid breakfast is not simply a couple of Weet-Bix mulched into a drink.
Do you have a food product you would like to feature in Wendyl Wants to Know?
Email wendylwantstoknow@gmail.com with suggestions. Unfortunately Wendyl cannot correspond with readers.