As winter approaches, it's time for silverbeet to show its true worth, writes Justin Newcombe.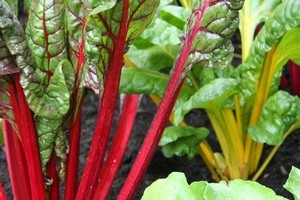 Fancy growing a crop that nobody wants to eat? I do it all the time and it's a pretty lonely row to hoe for this ugly duckling of the garden.
When summer is in full swing and you are concentrating on devouring unlimited supplies of firm, young, sweet garden flesh, the stoic, comparatively unenticing appearance of silverbeet can look little better than a stain on the carpet "ewww ... what's that". However as the worm turns and winter's frosty murmur whispers its way across the back yard, those ruffled green auricles take on a new lustre, a more alluring appeal.
During the great "... in between times ..." that the garden goes through a couple of times each year, the status of the silverbeet is raised to that of a centrepiece, a mainstay, a pillar and the best friend of any diminished larder.
Suddenly those dowdy green, slightly bitter leaves are looking for all money like a symbol of abundance, gleaming like an oasis in a desert while the junior members of the veggie patch struggle on to a wintery maturity.
Another name for silverbeet is Swiss chard, a name designed to differentiate it from French chard.
Both are also known as sea chard, perhaps a nod to their Mediterranean origins.
I like silverbeet as a name, even though the plants not exactly silver.
In case you are wondering silverbeet is related to the beetroot and comes in many colours with stems ranging from red to yellow. Although the leaves are still the same dark green, the new hybrid has the name of rainbow beet (or rainbow chard depending on what you previously called it). The new colour makeover may cause you to feel better about growing it, especially when the weather has gone pear-shaped, but the yields are a little less and so is the shelf life. Old school silverbeet has a knack of hanging in the background until it's needed.
I like to cut all the foliage off at once (but not the stem), then let fresh new shoots regenerate. This takes three to four weeks and I need enough plant to harvest at least once a week. Harvesting this way makes your plants last several seasons, as the plants will not flower and die back.
The very young leaves can be eaten raw. The older ones are bitter, but this is rectified by a little cooking. The consensus is that a saute with a little butter, garlic, pepper and salt is the go and there are many dishes using silverbeet, from quiches to Greek roll things.
It seems they all need to include heaps of cheese, butter or both which leads me to believe silverbeet is a little tasteless on its own. On the plus side my son, who hates even the thought of eating almost any vegetable, thinks tasteless is a good start. So silverbeet is one of the blessed few vegetables to pass through his pearly gates - though there's usually a lot of green saliva. Ewww.