Madhur Jaffrey's latest cookbook simplifies Indian cooking while staying true to the spirit of her homeland.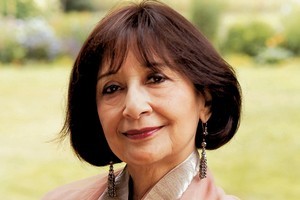 Like many of us, Madhur Jaffrey has discovered there are never enough hours in the day to make lavish, complicated meals. So, over the years, the celebrated actress and food writer has honed her abilities and refined her methods, allowing her to conjure up something delicious in a matter of minutes. Now the 77-year-old has collected all those recipes in her latest book Curry Easy, which attempts to demystify the sometimes-rarified art of Indian cuisine.
"I'm like everybody else as I work a lot and I'm very busy," she says. "I cook every day and I needed to find ways of cooking things that are convenient for me."
Proclaimed as one of 2010's best cookbooks by the New York Times, Curry Easy represents a natural progression from 2005's Simple Indian Cookery.
"I've been cooking now for 40 to 50 years and there are certain things that I've worked out so I thought I'd better write a book about them for other people," she says.
"I wanted to make them simple enough not just for myself but for everyone else as well."
While the recipes in Curry Easy cut many corners, Jaffrey insists they are true to the spirit of her homeland's long-standing ways. "The usual way to make a curry is to brown the onion, garlic, ginger and spices and then add the yoghurt and tomatoes," she explains. "Put that altogether and that's the sauce. That requires a lot of time but I realised that you could actually put all the seasoning for a particular curry on the meat, rub it in and then leave it in the refrigerator overnight.
"The next day you put it in a hot oven, brown it on each side, then cover and braise it slowly so you end up with a lovely curry. I'm sure the Indians would have done that themselves if they had refrigerators and ovens back then. We all have them now so we can do it with greater ease."
Comprised of recipes from India, Pakistan, Bangladesh and Sri Lanka, Jaffrey also sought out each country's more basic meals. "Every nation has dishes that take two days to make and some that don't take quite so long to prepare so I picked those," she says. "I then put the new ideas and simpler dishes together in this book."
Crucially, Jaffrey has reduced the frequently extensive list of ingredients. "For most Indians, there are often 40 or 50 spices in the cupboard but I've tried to cut it down to the essentials," she says. "I haven't excluded things that people might not find very easily such as asafoetida, which is important in Indian cooking because it's a digestive.
"Indian food is not just eaten to nourish the body, it has medicinal value as well and there are certain things you eat with certain foods. You combine them because they're either for heating or cooling and they have certain properties that you balance out."
Though Jaffrey claims there is little that cannot be bought online, supermarkets are also carrying larger and more varied lines of products. "There's no need any more for anyone to leave their houses," she laughs. "It actually frees me to put in certain things that are essential. But you shouldn't try to get all the spices at once and fill up your shelf. If you've never made Indian food before, just look at the dish you want to make and get the things you need for that. People who are just starting Indian cooking sometimes overwhelm themselves but you don't have to do that. If you can make a lovely curry and a rice, don't do too many vegetables. Just have a simple Indian salad or some yoghurt with cucumber in it."
Jaffrey also recommends serving Indian accompaniments with Western dishes. "Let's say you're doing a leg of lamb on a Sunday," she says. "There's no reason why you couldn't cook a bean, aubergine or a potato dish from the book to have with it."
Born in Delhi, Jaffrey first moved to New York with her former husband, actor Saeed Jaffrey, in the early 1960s. Now married to violinist Sanford Allen, she published her first book An Invitation to Indian Cooking in 1973. Since then she has written nearly 30 cookbooks and presented several television programmes, including 1982's Madhur Jaffrey's Indian Cookery, which helped make her a household name.
In 1986, she opened midtown restaurant Dawat, which offers a more time-honoured experience than flashier Pan-Asian-style establishments like French chef Jean-Georges Vongerichten's feted Spice Market, which gloriously combines flavours from all over southeast Asia and the Indian subcontinent.
"People take what they want," says Jaffrey. "America is a very new nation so the food is evolving even faster there than it is in most other places because there's nothing that has been there longer than 250 years - so it's more subject to be influenced than older cultures.
"What happens in countries like China and India is that we have our traditions so we take other countries' ingredients and ideas and make them Indian or Chinese. In America, nothing has had time to set, so new things come along all the time in new forms."
Jaffrey attributes curry's universal appeal to its sheer adaptability. "The Japanese have their own version of it and you'd be surprised by how popular it is there," she says. "They eat it at least once a week and that includes the children. There are some familiar smells but it's a kind of curry that Indians wouldn't easily recognise. People change it to suit their own needs. You find that all over the world in places like Trinidad and Guyana. Of course, it came from the indentured Indians who were taken there. They had very little to cook with but they changed it depending on whatever they could get and made food with whatever they could grow or find easily."
Curry has become one of Britain's most popular food styles, vying with perennial staples like fish and chips and Sunday roasts. Proclaimed a true British national dish, the creamy, lightly spiced chicken tikka masala is said to have been invented in the very first English Indian restaurants in the 1970s to satisfy the more conventional British palette.
"Nothing is authentic," says Jaffrey. "Everything changes as it moves around. Half the spices in India are original to India but the other half came from the New World or from Egypt or the Middle East. Potatoes, tomatoes and chilli all came from the New World. But you can call it Indian because we've made it Indian."
However, the budget boozy atmosphere of many British Indian restaurants is different to Jaffrey's more relaxed experience. "Certainly when I was a student in London, the association with curry was that it was cheap and you'd drink it with beer," she says, recalling her stage school days at RADA in the late 1950s.
"Chug it down and eat hot food as they go well together. That has never been the Indian way of looking at food. Generally we don't drink as we eat although I do serve wine with my meals if I'm entertaining."
With delicately flavoured Curry Easy recipes like grilled masala salmon, Jaffrey dismisses the myth that Indians don't eat fish. "We have a huge coastline," she says. "If you look at a map of India, it's like a big 'V' and the whole 'V' part is coast. Everybody there lives on fish from the smallest sardines to huge big fish like shark. Everything is eaten including bivalves. If you go to Kerala in southern India, you'll find these wonderful oysters. It's a real tradition to eat lots of fish. The British restaurants have somehow not picked up on that and there are very few that cook fresh fish.
"Indians also eat a lot of game, which you wouldn't know from 90 per cent of the restaurants."
Jaffrey is looking forward to sampling some local produce when she visits Auckland next month for the Writers & Readers Festival. "I've been to Australia before and it has marvellous seafood so I assume New Zealand does too," she says. "This will be my first time in New Zealand. I've heard so many descriptions of different parts of the country and I want to see as much of it as I can in the time that I'm there.
"I also want to try the local food scene and from what I've seen New Zealand also produces some really good white wines."
Though now mostly known for her cooking, Jaffrey has continued to star in films over the past three decades, most notably several Merchant Ivory productions such as 1983's Heat and Dust and 1988's A Perfect Murder. Most recently she appeared alongside Christopher Walken and Philip Seymour Hoffman in the Yaron Zilberman-directed A Late Quartet, which will be released later this year. "It's about a string quartet," she says. "I play a doctor as one of their members has Parkinson's disease. It's an interesting story with a good cast."
* Madhur Jaffrey will appear at the Auckland Writers & Readers Festival, Aotea Centre, May 11-15. Curry Easy (Ebury Press: $57.99)