The Herald's royal correspondent Alanah Eriksen visited London's luxury department store Selfridges to find an outfit for the royal wedding.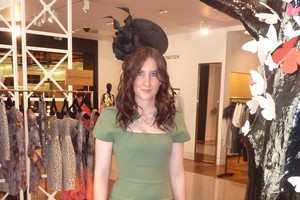 The Queen has given it her royal stamp of approval. And her granddaughter Princess Beatrice - fifth in line to the throne no less - even took a student job there.
So you can bet that one would shop at Selfridges for one's wedding attire if one happens to be attending Prince William and Kate Middleton's nuptials in 13 days.
The owner, Galen Weston, and his wife Hilary happen to be among the 1900 invited guests to Westminster Abbey, so I couldn't wait to see what posh frocks they had - and what celebrities would be wearing them.
But any hope of meeting a name-dropping shop assistant at the 102-year-old department store, which dominates a block of London's Oxford St, quickly disappeared.
I was told that anyone who's anyone uses a personal shopper to bring them outfit choices in a secure room away from prying eyes.
Walking through a bevy of heavily-made-up, sweet-smelling, hair extensioned staffers on the beauty floor, I met my personal shopper for the day, media assistant Sophie Jewes (one of seven at the store).
She whisked me up to one of the six floors of fashion.
Passing through the throngs of Gucci, Victoria Beckham and Marc Jacobs, Sophie explained that it would be a good idea to try on some British designers - but not Alexander McQueen.
The only reason being that it's the brand Kate's likely to be wearing on the day.
The first tip about dressing for a royal wedding - do not try to upstage the bride.
So no white clothing. But no black either - it's "too funeral", Sophie says. But from there the rules for dressing for a modern-day royal wedding seem less strict.
The invitation said "uniform, morning suit or lounge suit".
For ladies, a morning suit means smart day dress - a suit, or a dress with a jacket, with hat and gloves, high heels and a matching handbag.
And a lounge suit is smart day dress, such as a flowy dress, but hats are not compulsory.
Sophie says a jacket isn't essential, as long as you follow the golden rule - "leg or cleavage".
Although don't take that literally - no cleavage should be on display at all.
But if you're showing a bit of arm, cover your legs; if you're exposing leg, cover your arms.
Time to put those theories to the test - once we remove the huge security tags from the garments.
Sophie had already put five pairs of shoes (starting at £455 - $937) in a changing room for me to try - partly because the enormous footwear department is miles away.
We picked out four dresses - a floral Stella McCartney (£1560 - $3213), a pale blue Vivienne Westwood (£840 - $1730) and a moss green number (£1205 - $2482) and a purple frock (£110 - $226) by French designer Roland Mouret.
Maybe I don't understand fashion, but I couldn't find the leg holes for the Westwood dress and it looked and felt like a fitted sleeping bag.
And the McCartney one felt shapeless.
But the green Mouret was perfect.
Paired with an essential Philip Treacy hat (£990 - $2039) - or rather, a squiggly head attachment - and six-inch, navy Alejandro Ingelmo heels, the outfit was complete.
Unfortunately Selfridges wouldn't part with the £2680 ($5520) outfit - but at least I have a few tips for when I shop for a cheaper get-up to wear while among the hundreds of other journalists scrambling to get a glimpse of the happy couple.