Tired of taking the kids to the usual big museums during the school holidays? Virgil Evetts discovers Auckland contains many smaller collections worth a visit.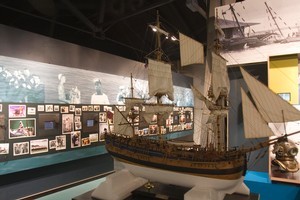 Auckland may not be quite as well endowed with museums and galleries as say London, Paris or Washington DC, but it's hardly a cultural wasteland either. Within the boundaries of the greater Auckland region there are 55 museums, including small subject-specific collections, district museums, historic houses, art galleries of national significance; and of course the well-trodden halls of Auckland Museum, Motat, Auckland City Art Gallery and the National Maritime Museum.
Almost all museums are cash-strapped to some extent, and this can lead to some smaller places appearing a little tired and threadbare. Try to look beyond this at the richness of their collections. New Zealanders have a strange sense of entitlement when it comes to museums, and as group resent paying for entry. In this regard we all need to grow up a little - running a museum of any scale is staggeringly expensive. If we want quality museums, we need show our support at the door.
The following are a selection of Auckland's less well-known treasure troves:
The Royal New Zealand Navy Museum
In the past you could be excused for not knowing the Royal New Zealand Navy Museum existed. Unpublicised and tucked away in spot so secluded that even many Devonport residents didn't know it was there, the rather fine collection languished in obscurity. But no more.
Now relocated to an ultra-modern site at the foot of North Head, and lapped by the waters of Torpedo Bay, the Navy Museum is fast gaining a reputation for the quality of its collections and its world-class display standards. Although usually not much moved by things military, I've happily spent many hours here.
The seamless blending of Boys' Own Adventure with the grim realities of war-time service is both effective and affecting. This a small but perfectly formed museum, and easily one of best in the country right now.
Even if you're not looking for a message, the Navy Museum will still appeal.
There are plenty of levers to pull, buttons to press and enormous guns to ogle. The detailed models of frigates past-and-almost-present were a big hit with a school group I trailed about the place, as was the colossal slab of armour plating blown from a gun turret on the HMS New Zealand during an angry exchange with the Germans.
The Navy Museum also boasts a decent cafe, complete with a first-class parenting room, and is within walking distance of Devonport Museum and the caves of North Head.
Admission: Entry by donation
Hours: Open 10am-5pm daily (closed on Good Friday, Christmas Day and Boxing Day)
Address: The Navy Museum is at the end of King Edward Parade at Torpedo Bay.
Phone: (09) 445 5186
Getting there: The Fuller's Harbour Discovery cruise stops at Torpedo Bay wharf three times daily.
George Grey Special Collection
The top floor of Auckland's Central City Library is home to one of the finest collections of rare books, manuscripts, maps and correspondence held in the southern hemisphere. Included in the collection are numerous medieval illuminated texts, Shakespearean folios, letters from some seriously impressive people (including Charles Darwin, David Livingston, Florence Nightingale and others) and some of the earliest examples of Te Reo in print.
These items, and thousands more, were gifted to the library by Sir George Grey, former Governor of New Zealand and rake of formidable repute.
Despite being a womaniser and probable bigot, Grey certainly had good taste in literature, art and acquaintances. Only a small sampling of the collection can be displayed, but any item can be requested for viewing in the reading room for neither charge nor quibble. This is an extraordinary level of access to such precious and lovely things.
Although more of a grown-up sort of place, the vast library below should appeal to children - especially now that all library card holders Super City-wide can borrow a book here. If you're looking for a sales pitch think multiple copies of Harry Potter and various brooding teen vampire sagas.
Admission: Free
Hours: Mon-Fri 9am-5pm, Sat 10am-4pm, Sundays: Exhibition Room only 10am-4pm; Reading Room closed.
Address: Level 2, Central City Library 44-46 Lorne St, Auckland City.
Ewelme Cottage is the smallest but possibly most important of Auckland's Historic Places Trust properties. Located on Ayr St, and within an easy stroll of Auckland Museum, the cottage was built in the 1860s for the alarmingly named Reverend Vicesimus Lush. Most unusually for an historic house, Ewelme cottage still boasts many of the founding family's original furnishings and chattels, including over 2000 books, lots of everyday odds and ends, and a portrait of Mrs Lush with creepily roving eyes.
Like any self-respecting older abode, Ewelme Cottage is rumoured to harbour a number of well-mannered ghosts. They must have been at the shops last time I visited, as my only company was the knowledgeable custodian and a quiet German couple.
Ewelme Cottage effortlessly exudes the sort of authenticity and charm many museums spend up large to affect - and it's as cute as a button to boot.
Due to its relative obscurity (not helped by Ayr St's perilous parking situation) you may well have the place to yourself when you visit.
Just around the block on Laurie Ave is Ayr Park, a little-known back street oasis, with rolling lawns and, in autumn, a magnificently fruitful fig tree.
Admission: Adults: $7.50. Accompanied children free, unaccompanied children $2. School groups $2.50 per person (adults and students). Groups: $4 per person
Hours: 10.30am-4.30pm Sunday only.
Address: 14 Ayr St, Parnell Auckland. (09) 379 0202
Housed in a former church and hidden away in a rocky gully, is Devonport's rather charming district museum. It has that creaking sense of stillness and the age-scented air one wants in a museum.
The Museum's collections include a wide range of everyday items from Devonport's long Maori and colonial past, including personal items and furnishings from local homes, pre-European stone adzes, pottery, old shop windows and fittings, as well as many evocative images of Olde Devonport. As a keen cook I was much taken with the enormous kauri butcher's block on display (easily big enough to quarter a cow), one of 17 sliced from a 500-year-old tree and used for decades in a local AMC outlet. And as well as collecting local ephemera, the museum maintains a vast genealogical archive, tracing the histories of the district's families, businesses and homes.
The tight layout, trip-trap mezzanine catwalks and "secret valley" location should make this place a hit with kids, and staff take a refreshingly relaxed approach to visitors touching collection items. The adjoining Mt Cambria Park is another little-known gem of urban greenery, perfect for picnics or kicking a ball around.
There's no cafe on site but the excellent 5 Loaves is a five-minute walk away on Church St.
Admission: Entry by donation
Hours: Open 2pm-4pm, weekends
Address: 33A Vauxhall Rd, Cambria Reserve, Devonport.
While Ewelme Cottage offers a snapshot of a spartan life in Victorian Auckland, Highwic presents just the opposite: mover-and-shaker grandeur. The palatial property with its sweeping grounds was built in 1862 by one Alfred Buckland (at the time one of Auckland's wealthiest and most prolific landowners), in the pointy and locally rare Gothic Revival style.
The house features a cavernous ballroom complete with fussy period trimmings, a shamelessly masculine billiard room, dormitories for the servants, a roomy kitchen, a fernery and lots and lots of space.
The grandness and scale of Highwic comes as quite a shock if you approach via the dingy back streets of Newmarket, and is by a very long measure the fashion district's most gorgeous thing. When Cameron Brewer finally gets around to announcing the secession of Newmarket, Highwic will serve him well as palace and command centre.
Highwic is conveniently close to both Auckland Museum and Ewelme Cottage. If you're not prone to museum fatigue, make a day of it and tackle all three.
On Easter Sunday April 24 Highwic is having a Victorian Day, when volunteers will be wandering the grounds in Victorian dress, hosting children's games, tennis and croquet and serving tea in the billiard house.
Admission: Entry fees, adults: $8.50, children: Free.
Hours: 10.30am-4.30pm from Wednesday to Sunday
Address: 40 Gillies Ave, Epsom, Auckland (entrance from Mortimer Pass)
Phone: (09) 524 5729
Other hidden treasures
Frank Sargeson's Cottage
Former home of the important New Zealand writer and presented in very much the state of creative disarray he left it upon his death in 1982. A fascinating behind the scenes look at the life of a great and gifted New Zealander.
Tours arranged through Takapuna Public Library: (09) 486 8460
Address: 14a Esmonde Rd, Takapuna
This village is a recreation of a typical colonial settlement of the mid 1800s, featuring over 30 original buildings including cottages, schools, a church and general store. On "Live days" the site bustles with dedicated costumed staff and volunteers.
Admission: Adults $14, Seniors $11, Children (over 5 years) $7, Students (tertiary) $11, Family (2 adults/2 children) $36 on day of entry. Group concession (10 or more adults) $11 per adult
Address: Corner of Lady Marie Drive and Bells Rd, Lloyd Elsmore Park, Pakuranga
Opening hours: Open every day from 10am with last admission at 4pm.
Contact: Ph: (09) 576 9506
Email: village@fencible.org.nz
TSB Bank Wallace Arts Centre, Pah Homestead
Featuring an ever-changing array of free exhibitions drawn from the magnificent collections of the James Wallace Arts Trust. Fabulous, eclectic contemporary New Zealand art, housed in a sprawling Victorian country house. A true national treasure.
Admission: Free entry
Opening hours: Tuesday to Friday, 11am to 4pm. Saturday, Sunday and public holidays from 10am to 5pm.
Address: 72 Hillsborough Rd, Hillsborough
Contact: (09) 302 5271
Email: enquiries@wallaceartstrust.org.nz