While other students were busy partying their way through university, Dunedin mates Richard McLeod and James Arnott launched their business empire. Alan Perrott meets the young entrepreneurs who now have an Auckland location in their portfolio.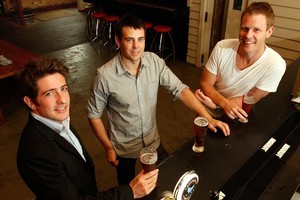 They wanted girls and got a business empire instead. It all started when Richard McLeod and fellow scarfie James Arnott decided to pool their finances and have a crack at something big. "Let's buy a bachelor pad," they decided. So they did.
But it was way too easy: there must be something bigger a pair of 20 year olds could do. "Oh look, the Captain Cook Tavern is up for sale. It's Dunedin's and probably the country's most notorious student pub, why not buy that? And why not drop out of university while we're at it? We'll be surrounded in ladies ..."
Put it all down to "total naivety", says McLeod.
Now 28, the pair have had to grow up fast. At last count they were employing about 200 people to run their string of pubs and licensed burger joints in Dunedin, Queenstown and, most recently, Auckland, while two former partners, David and Ben Bulling, have already sheared off to form their own construction company.
Who said drop-outs were losers? "Yeah, we were just students who thought buying a pub might be great for getting women," says McLeod, as he visits their new venue, Fort Street Union, for the first time. "There wasn't much more than that to it, to be honest, except that we'd also be able to shout our mates beers. It was a bit of a boyhood dream, I guess ... and a recipe for total disaster. You could say that it should never have worked, yet ... well, here we are."
And here they are indeed, with an historic rooftop site nicely situated next to the Fort Lane precinct, which is undergoing a total overhaul. Youthful enthusiasm aside, they have some cause to feel bullish about their five-year plan to bring 40 bars and 30 burger joints under their Cook Brothers banner.
Arnott puts their aggression down to skiing. He has skied for New Zealand at the top level (McLeod reached the juniors) only to fall short of making the Olympics after 16 years of constant winter.
"I gave that dream everything I could and didn't quite make it. I guess it's a bit of a chip on my shoulder now - I'm still gutted thinking about it - but all that experience, discipline and travel made us grow up really quickly. It definitely changed our mindsets anyway. Other than that we're still the same competitive guys who want to compete against the big boys and beat them."
And they have form when it comes to getting what they need.
"When we bought that first flat [in Dunedin] we rented it to some students," moans Arnott. "They became a real pain in the arse. We had to send the Cook's bouncers round to get the rent ... we were under a bit of financial pressure."
Their pressure levels weren't helped by the drawn-out process they endured to get the keys to the Captain Cook Tavern in 2004.
"I still don't really understand how they ended up selling to us," says Arnott. "[Dominion Breweries] even gave us a massive loan [80 per cent of of the initial sublease acquisition price, according to a report written by two Otago University students] and dropped the price. They were putting a hell of a lot of trust in us."
Then the reality of 100-hour working weeks set in. "We were up to our eyeballs just trying to work out where the money was going," says McLeod. "We had no experience in hospitality, but we're competitive buggers and we knew there were heaps of knockers who reckoned we wouldn't last six months."
Among those knockers were staff members who didn't take kindly to being ordered around by relative kids. Still, the pub's fortunes took off, with turnover increasing 60 per cent in the first two years. It was enough to make them feel bullet-proof. Well, aside from ignoring a few too many noise complaints which, when combined with the fallout over a "drink us dry" challenge they issued to 2005 Lions supporters, almost cost them their licence.
Otherwise, "those first years were amazing", says Arnott. "Our first two projects turned into massive goldmines. It probably gave us more confidence than we should have had - we felt indestructible - because the next two years were disasters."
Those two years saw them launch an ambitious $1.5 million apartment project, the start-up of their own burger chain, Velvet Burgers, and their second Dunedin bar, Alibi. Feeling a wall at their backs, they asked their accountant for advice. According to Arnott, the accountant scanned their balance sheets then looked up and said: "You guys are stuffed. You're not going to make it out of this one."
"But we went back to work, got stuck in, and battled it out all the same."
After a long slog they had figured out how they work best, taken a few business courses and plotted their next move. Home.
The pair originally met at Wakatipu High School and had always planned to one day set up back in Queenstown. Their opportunity came in 2010, when a family friend needed a new tenant for his building. Within months they were the proud sponsors and hosts of one of biggest events on the locals' calendar, naturally, a ski race. "I'd have to say that being able to put something back into the old home town felt pretty cool," says McLeod, who has since moved back there to stay with his mum.
Then the Fort St site popped up.
Previously Nomads, a bar owned by the neighbouring backpackers hostel, it was a chance to leapfrog straight into the heart of the Auckland CBD. There was even room for an associated Velvet Burger outlet underneath - now being run by yet another Otago University drop-out, George Eason - while all the restoration work was completed by their former partners' construction company.
Then Andrew "Red" Roborgh came on board: another young bloke who agreed to run the venue after spending the previous three years travelling the world researching bar trends.
"It feels like we have enough ducks in a row to actually make this work now," says McLeod. "I know we might come across as your average Kiwi guys running headfirst into things, but we do do a lot of homework on this stuff. Everything we do exposes us to new risk and if we start losing too much money we know we'll be in the shit ... but I guess that is all part of the buzz. There's definitely no regrets over anything we've done or tried to do. Actually, I consider myself pretty bloody lucky. I'm running a business with 200 people ... Wow."
If their timing is impeccable with the impending arrival of the World Cup crowds, the Cook Brothers' future remains in the balance, says Bart Littlejohn. As owner of Sails Restaurant since 1991 and national vice-president of the Restaurant Association of New Zealand (which advocates for the hospitality industry in general), he has seen many venues arrive with great fanfare and then promptly fall over.
Right now, bars are opening everywhere in the hope of cashing in on the World Cup. The real test, says Littlejohn, will come next year.
"So, I'd say good on them, but they will need to be well bedded-in by next May because that's when everything changes. They will need to well ahead of where they have to be financially by then. It's a very stressful business around here, they'll get a whole pile of people coming in with very different expectations which makes for a difficult balancing act. But if they are successful then they should get the funding for further expansion because then they'll be working with economies of scale."
Which is exactly what Arnott has in mind, even after already doubling in size over the past six months.
"We know we're taking a massive risk, we take them all the time. It's like 'here we go again, everything's on the line', which is stressful but it's also really fun. So if we do well I'd like to think we'll start getting some rewards, a bit of money and maybe some time off. I had four days in the Coromandel a few weeks back, that was first downtime I've had in over a year. But for now, we have this [40-bar] goal in mind and that's driving us pretty hard."
So, all going to plan, Arnott can brush that Olympics chip from his shoulder and McLeod might be able to move out of his mum's house. They might even find the time to meet some women.